Started a scholarship program and founded a non-profit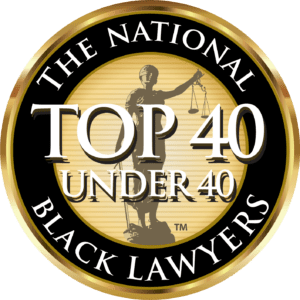 Recognized on National Black Lawyers "Top 40 Under 40"4 list, 2023
Has taught other attorneys
Attorney Nichad Davis
---
Nichad Davis is a personal injury and civil rights attorney who fights to protect the rights of others.
Nichad has always been driven to help others. Born in Fairfax, VA, he was one of five children and learned at an early age to advocate for himself and others. When times were tough, he knew that having a solid education and strength of character were keys to overcoming poverty and adversity.
A Passion for Civil Rights Is Born
Nichad's family moved to Greensboro when he was young, and it was there that his passion for civil rights would be nurtured and encouraged by his grandfather and role model, Estell Harper. Estell, a professor at North Carolina A&T State University, played a pivotal role as a counselor and faculty advisor to the Greensboro Four, the four young Black students who staged the historic 1960 sit-in at a segregated Woolworth's lunch counter.
Nichad recalls witnessing impassioned speeches about "freedom and justice" and hearing about famous civil rights activists, such as Jim Brown, convening in his grandfather's living room. He knew early on that his destiny included fighting for the rights of others.
A Belief in the Importance of Education
Nichad understood the value of education and applied himself wholeheartedly while in college. He attended the University of North Carolina at Charlotte where he majored in Psychology and graduated with honors. He received multiple awards, such as the Martin Luther King Service Award and the University Transition Opportunities Program (UTOP) Mentor of the Year Award.
One of the most pivotal moments in Nichad's life was his study abroad experience. Nichad traveled to South Africa on an Odyssean Study-Abroad Scholarship as a student and research assistant at Stellenbosch University. He returned home eager to create change in the world and began his career as a 7th grade Teach for America instructor in Eastern North Carolina.
Nichad also coached his school's football and basketball teams and volunteered with educational programs, such as DUKE T.I.P. and Freedom Schools. These experiences further ignited the desire in Nichad to fight for educational equity, economic justice, and civil rights.
Law School Beckons
After three years with Teach for America, Nichad turned to the practice of law to reach his goals of promoting justice. He earned his J.D. from the Norman A. Wiggins School of Law at Campbell University where he was the recipient of the Janette Soles Nelson Public Service Scholarship, awarded to students committed to public service and academic excellence with leadership potential.
Nichad was an active member of the Mock Trial team and he competed nationally, earning recognition and awards such as the National Black Law Students Association (NSBLA) National Championship and Nation's Best Advocate awards. While at Campbell, he was also inducted into The Order of Barristers (law school graduate honor society), received the David Teddy Innovative Leadership Award, and was awarded the International Academy of Trial Lawyers Award for distinguished achievement in the student advocacy program.
"My true purpose is to be an advocate for people who are facing painful circumstances and need someone to stand up for them."
Before joining the Law Offices of James Scott Farrin, Nichad litigated civil rights, personal injury, wrongful death, and education and employment discrimination cases. He brings with him "other side experience" gained while working as a law clerk and attorney at an insurance defense firm. He combines this work experience with an undeniable energy and an eagerness to help others.
Firm Partner Coleman Cowan describes this zeal by saying, "Nichad is driven by a desire to help the injured and oppressed get back on their feet and stand up for their rights, no matter the challenges to face or the forces to overcome."
The legal community has recognized Nichad's professional and civic accomplishments as well. In 2023, he was recognized on National Black Lawyers "Top 40 Under 40"4 list. The previous year, he was honored on Black Business Ink Magazine's "40 Under 40 Most Influential African Americans in the Triad"5 list. In 2022, he was invited to teach a North Carolina Advocates for Justice (NCAJ) CLE course to other lawyers on wrongful death claims. Nichad was also selected to the 2023 NCAJ NEXT Cohort, a program designed to educate and empower today's promising trial lawyers for meaningful leadership roles in the future.
Helping Others Beyond the Office
To combat the systemic inequality and barriers to success many young people face, Nichad founded the Rose From Concrete Scholarship Fund to provide academic scholarships and internships to graduating seniors at James B. Dudley High School. He also started a non-profit organization, the Davis Academy, to promote equity and help close the achievement gap inherent in America's educational system. In addition to these endeavors, Nichad mentors students, volunteers with the Black Suit Initiative (a leadership and community engagement program focused on middle and high school Black males), and offers his guidance to the Campbell Law School Mock Trial team.
At home, Nichad is a devoted husband, father of two, and avid college football fan. He and his family live in Greensboro and love to travel to North Carolina's beaches and mountains.
Read More
---
5For more information about standards for inclusion, visit: blackbusinessink.com