SOCIAL SECURITY & DISABILITY OVERVIEW
A Simple Guide to Applying for Social Security
Disability Benefits in North Carolina
Having a permanent or long-term disability can affect your life in a number of ways — physically, financially, and emotionally. The following will provide you with a basic understanding of the Social Security application process for Disability benefits.
Tip: Social Security Retirement is the thing most people get when they reach an eligible age. Social Security Disability has totally separate rules.
What Qualifies You for Disability in North Carolina?
Before the Social Security Administration (SSA) even evaluates whether you have a qualifying disability, they must determine whether or not you are eligible to apply for benefits. But wait. Isn't that the same thing?
No.
Imagine a restaurant is awarding food to anyone named Steve who can also solve a tricky riddle. If you know the riddle's answer but your name's not Steve, don't bother entering the competition. Similarly, before the SSA will dive into your medical records and assess your potential disability, there are base requirements that need to be met.
Here's how it works: Disability benefits are a type of insurance. People pay for the insurance through payroll taxes. If you stop paying by not working enough for a long enough period of time, you lose eligibility.
It's the same thing that would happen if you stopped paying your auto insurance premiums. Your insurer would eventually drop you. If you got into an accident afterwards and put in a claim, they would reject it. Similarly, your Disability insurance policy lapses if the premium hasn't been paid due to insufficient work.
What is a sufficient amount of work? The amount of work you've completed in your life is divided into something called "quarters of credit." How many quarters of credit have you accumulated? Is that enough? If you've stopped working, are you still insured? Or has enough time passed that your insurance has expired? An attorney can help you do these calculations and determine what it means for your claim.
Tip: If you don't have enough quarters of credit, you may be able to
apply for Disability benefits
through Supplemental Security Income (SSI). Initial eligibility for SSI is based on financial need.
Read: Will I Be Denied Disability If I Have a Parole or Probation Violation?
What Are Common Disabilities That Qualify for Social Security Disability?
The SSA keeps a list of "medical impairments" that generally qualify applicants for Social Security Disability (SSD) benefits. These conditions range from neurological illnesses to immune system disorders.
But that doesn't mean you can't qualify for benefits if your disability isn't on the list. Many conditions and illnesses may still qualify. However, you must have proper and complete supporting evidence and records if you hope to be approved.
In determining whether or not you are disabled, the SSA may analyze many factors, including:
Age
Education
Work history
Abilities and skills
Physical and/or mental limitations
If the SSA determines that an applicant cannot perform their past work and can't perform any other jobs in the national economy, the applicant may be considered disabled.
Tip: SSD benefits include Medicare health coverage. Benefits may also be available to your dependents.
What Can I Do to Prepare to Apply for Disability in NC?
Work Records
Before you apply for benefits, you'll want to make sure you have everything you need. In addition to your Social Security number and proof of age, you'll need your work records: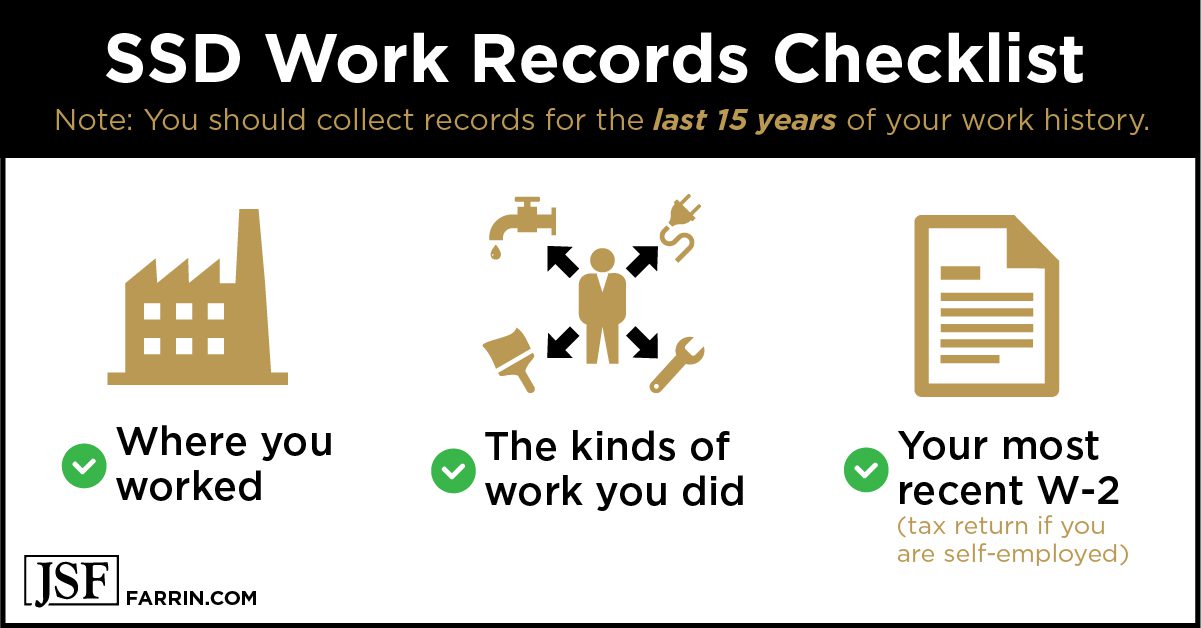 If you have family members that may be eligible for benefits, you'll need their social security numbers and proof of age, too. For a spouse, proof of marriage is also required.
Tip: Documents should be original or certified copies. The SSA will return your originals after they make copies.
Medical Records
One of the crucial items you'll need to complete your application is medical records. This includes contact information for doctors, hospitals, and clinics that gave you care, and when. This also includes lab and test results, a complete list of medications, and any other information that can help you establish your medical disability.
How Do I File for Disability in NC?
There are three ways to apply for Social Security Disability benefits:
By phone: 1-800-772-1213, 8:00 a.m. to 7:00 p.m., Monday through Friday
With your local office: Office Locator
Tip: Apply as soon as you become disabled.
Feeling overwhelmed? Here's a convenient recap in graphic form:

How Can I Get Approved for Disability Benefits in North Carolina?
Most Social Security Disability claims are denied. In North Carolina, only about 25% of initial Disability claims are successful. It's normal for applicants to want to give up after first getting denied.
However, there are many opportunities to apply and appeal for Disability benefits. There are different decision makers at each level, and this can be cause for hope at each new appeal. But one of the biggest possible difference makers — at any level — is whether the applicant has an attorney.
Who Makes the Decision on Your Disability Claim?
Your initial application is decided by a local Disability Determination Services (DDS) office. These offices are funded by the federal government to determine eligibility for Social Security Disability benefits at the state level. There is one office that serves North Carolina, located in Raleigh.
How Can the Disability Attorneys at the Laws Offices of James Scott Farrin Help With Applying?
A Social Security Disability claim can be tremendously complex, and our team knows the system and laws that regulate Social Security. In fact, Attorney Rick Fleming, Head of our Social Security Disability Department, is an NC State Bar Board Certified Specialist in Social Security Disability Law.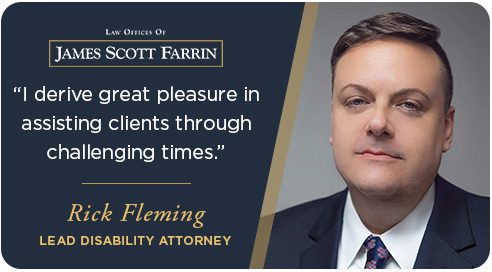 And that's not all. Nearly every person on our Social Security Disability team has prior SSD experience from having worked inside the Social Security Administration. This gives us insight into what makes an application more likely to be accepted.
Several of our paralegals in the Social Security Department have at least six years of experience as Disability Determination Services examiners for the Social Security Administration. Some of them were certified as "Level II" examiners — meaning they were involved in reconsiderations and conducting continuing disability reviews.
Get a Free Case Evaluation
Social Security Disability cases can be complicated. Knowing what to do can be confusing. We may be able to help. Contact the Law Offices of James Scott Farrin. We're on your side:
 Call 1-866-900-7078
Text Us