The Law Offices of James Scott Farrin in Winston-Salem, NC*
---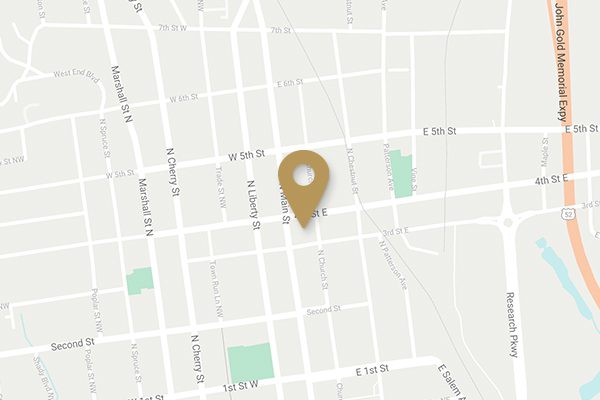 301 N. Main Street
Suite 2409-C
Winston-Salem, NC 27101
Phone: 336-201-9999
Toll Free: 1-866-900-7078
*By Appointment Only
When the towns of Winston and Salem merged more than a century ago, they created Winston-Salem. It's called the "Twin City" for that reason. Winston-Salem is growing in the heart of old tobacco country, and is home to about a quarter of a million people. With more people, comes more traffic, more construction, and unfortunately, more risk.
Unintentional injury is still the fifth leading cause of death in Forsyth County – behind things like cancer and heart disease. The rate of unintentional death actually increased by 26.4% from 2013-2017. If you're hurt in Winston-Salem, seek medical attention, then call the Law Offices of James Scott Farrin, 24/7, at 1-866-900-7078 for a free case evaluation.
Accidents and Injuries Happen Often on Winston-Salem's Roads
Statistics tell us that I-40, which goes through Winston-Salem, is the one of the deadliest Interstates in the country – it ranks 21st at 0.43 deaths per mile each year. That may not seem like much, but consider that I-40 spans 2,559 miles from California all the way to Wilmington, NC. Another statistically dangerous road, US Route 421, goes right through town, reopening after construction in February 2020 with a new name – The Salem Parkway.
About 77% of the car accidents and car accident injuries in Forsyth County happen in Winston-Salem. That doesn't mean you're necessarily likely to be injured in a car accident if you live in the area. It means that, if you are injured in a car accident in Forsyth County, it's probably going to happen in Winston-Salem. If you or someone you know has been hurt in a car accident through no fault of your own, contact a car accident attorney in Winston-Salem at the Law Offices of James Scott Farrin. We also have motorcycle accident lawyers in Winston-Salem ready to help.
Work in Winston-Salem May Change – But Who to Call if You're Hurt at Work Does Not
Once, Winston-Salem's jobs were dominated by the tobacco farms and textile mills that were the foundations of North Carolina industry. Some of those jobs still exist, with Reynolds and Hanes maintaining a presence. Most jobs in the area are in healthcare, education, and the financial industry.
There's always a risk of injury at work. The odds are low if you're working an office job, but the chance is always there. For those in healthcare, agriculture, and more labor-driven jobs, the odds increase. When you're hurt at work, the law provides a path to seek compensation. It's a good idea to consult with a workers' compensation attorney in Winston-Salem when you're considering a claim. We have several NC State Bar Board Certified Specialists in Workers' Compensation law on our team.
Just Because You're Injured Doesn't Mean You're Helpless
Dog bites. Medical malpractice. Defective products. The truth is, you don't have to be in a car accident or at work to get hurt. Injuries happen in everyday life. When they're caused by someone else's negligence or carelessness, that's where we may be able to help.
If you were hurt by something someone else did or failed in their duty to do, you may be entitled to compensation. A personal injury attorney in Winston-Salem can advise you of your rights and help you understand if you have a case, and its possible value.
Get Help Seeking Social Security Disability Benefits in Winston-Salem
So, you're not really able to work, or work enough to earn a living. You've worked, but now you're stuck. Well, Social Security Disability benefits may be available, and could help you make ends meet. All you have to do is apply for them and get approved.
But it's not always that simple. Preparing the application and gathering the evidence needed can be confusing, and some applications are denied. If you need help applying or appealing for benefits, contact a Social Security Disability attorney in Winston-Salem. Our firm's team is led by an NC State Bar Board Certified Specialist in Social Security Disability law.
Get a Free Case Evaluation
When you're hurt in Winston-Salem, you know what to do next: Call us at 1-866-900-7078 for a free case evaluation, 24/7. We've recovered more than $1.6 billion in total compensation for more than 60,000 clients.1
Our Winston-Salem Location
3091 N. Main Street
Suite 2409-C
Winston-Salem, NC 27101
Contact
For immediate assistance 24/7, call: 1-866-900-7078
To contact the Winston-Salem office directly, call: 336-201-9999
Parking/Check-in
Parking is free at this location.
*by appointment only
Practice Areas

Repeat James Scott Farrin Client, Online Google Review
This is my third time using them!
This is my third time using them! 1

Former Car Accident Client, Online Google Review
James Scott Farrin's legal knowledge
James Scott Farrin's legal knowledge, overall concern for me as a client, and professionalism from attorney staff gave me security that I made the right choice in legal counsel! … Their actions allowed me to be worry-free! I truly would recommend them to family and friends any day! 1

Former Auto Accident Client, Online Google Review
I love James Scott Farrin.
I love James Scott Farrin. I was treated like family. Everyone was loving, understanding, compassionate, and warm. Thank you, Mr. Paul, Mrs. Ann, and Danielle. 1
Testimonials do not reference all the feedback the firm has received. Each case is different and must be evaluated on its individual facts. Prior results do not guarantee a similar outcome can be achieved in the future.