Social Security Disability Attorney Winston-Salem*
---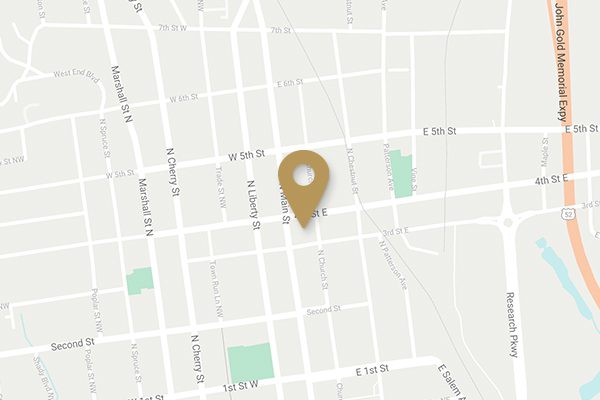 301 N. Main Street
Suite 2409-C
Winston-Salem, NC 27101
Phone: 3362019999
Toll Free: 1-866-900-7078
For those who have become too disabled to work, Social Security Disability may be available. The system was designed and intended to help those who could not work due to disability. Unfortunately, it can be a convoluted, time-consuming, and frustrating process.
Our Social Security Disability (SSD) team is proud to assist people seeking Social Security Disability benefits, so if you are looking for a Winston-Salem disability lawyer, we may be able to help you. Simply call 1-866-900-7078 anytime for a free case evaluation.
What Can I Expect When I File My Social Security Disability Claim?
The unpleasant truth is that most applicants for Social Security Disability in Winston-Salem, and across North Carolina, can expect long waits and denials – at least initially. According to data, only about a third (34.3%) of North Carolina SSD applications get initial approval. That's more than 4% lower than the national average (38.4%). Approvals at the "reconsideration" stage are just 12.1%, but applications that go to the "hearing" stage are approved 59.6% of the time.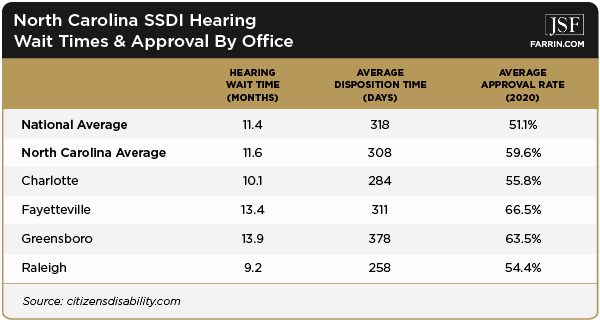 But the wait for such relief can be a long one. The chart below shows the wait time for a hearing once it is requested – it doesn't even include the time it takes to submit an application and go through the reconsideration stage if the application was denied. Note that Winston-Salem applicants would likely go through the Greensboro office – which has the longest waits at this time.
What Does a Winston-Salem Disability Lawyer Do for Me?
As is often the case, knowing the system enables us to manage the process, forms, communications, and other necessary steps efficiently. That's not to say we can "speed up" the process, but it does mean we can avoid unnecessary delays. We know how to assemble an application, gather the critical documents and evidence the Social Security Administration (SSA) needs, and generally keep your case on track.
Most critically, we advocate and work for you so you don't need to worry or fear the unknown. We don't simply accept an initial denial or a denial at reconsideration. We fight for you. You focus on your life. And when and if it comes time for a hearing, our goal is to ensure that you're prepared so your case has every chance to succeed.
How Much Might I Get in Social Security Disability Payments?
How much you may receive depends greatly on your individual situation. Many people confuse SSD with Supplemental Security Income (SSI) as well, and they have different qualifications and benefits. There are a few things you should keep in mind:
To be eligible for Social Security Disability, you must have worked and earned enough work credits.
Your possible benefits are impacted by what you've earned and paid into the system over the years.
The amount you may be paid is NOT impacted by how disabled you are.
When Should I Hire a Social Security Disability Lawyer?
Sooner is often better. Most people choose to submit their application before consulting an attorney, and turn to us once they've received a denial. The truth is, while we recommend consulting an attorney as soon as possible, you can hire one at any point in the process. You will want representation if your case advances to the hearing stage.
No matter where you are in the process, it can't hurt have your case evaluated – something we do for free.
Call an Experienced Social Security Disability Attorney, Winston-Salem!
Our Social Security Disability team is led by Attorney Rick Fleming, NC State Bar Board Certified Specialist in Social Security Disability Law. Several of our team members have prior experience working inside the Social Security Administration. If you're struggling with the SSA, tell them you mean business. Put our knowledge and experience to work for you. Call us anytime at 1-866-900-7078, contact us online, or reach out to our Winston-Salem office to learn more.
*by appointment only
Practice Areas

Former Auto Accident Client, Online Google Review
I love James Scott Farrin.
I love James Scott Farrin. I was treated like family. Everyone was loving, understanding, compassionate, and warm. Thank you, Mr. Paul, Mrs. Ann, and Danielle. 1

Car Accident Client, Google Review1
James Scott Farrin's legal knowledge
Their legal knowledge, overall concern for me as a client, and professionalism gave me security that I made the right choice!

Repeat James Scott Farrin Client, Online Google Review
This is my third time using them!
This is my third time using them! 1
Testimonials do not reference all the feedback the firm has received. Each case is different and must be evaluated on its individual facts. Prior results do not guarantee a similar outcome can be achieved in the future.