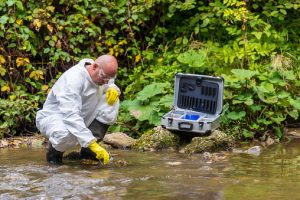 On October 3, 2017, the Law Offices of James Scott Farrin and our co-counsel The Hannon Law Firm, LLC have filed suit against The Chemours Company and duPont Chemical Corporation seeking compensation for property related damages and funds for a monitoring program for early detection of disease because of GenX and other toxic contamination released from the companies' Fayetteville Works Site. The GenX and other toxic chemicals, including PFOA and other perfluorinated chemicals, have contaminated water that the Cape Fear Public Utility Authority (CFPUA) in Wilmington, North Carolina uses to supply the majority of properties in Wilmington.
The CFPUA provides water to over 100,000 residents in Wilmington using surface water from the Cape Fear River. Testing done by North Carolina Department of Environmental Quality ("NCEDQ") has verified that PFAS and PFECAs including GenX released from the Fayetteville Works Site have contaminated the CFPUA water supply from the Cape Fear River.
Read the Nix v. The Chemours Company, et al. Complaint
On June 22, 2017, the US EPA measured over 720 ppt of GenX in the finished water delivered to properties serviced by CFPUA. In July, 2017, CPPFUA reported GenX in finished water from CFPUA at 250, 286, and 185 ppt. High levels of other perflourinated compounds including PFO2HxA and PFO3A were also found in July.
Over 100,000 Wilmington residents use water from the Cape Fear River. If you've been affected by the Cape Fear River contamination, call us for a free case evaluation.
North Carolina Law Firm Offers Free GenX Case Evaluation
If you think you have been impacted by the Cape Fear River contamination, call us right now for a free case evaluation. We will review your claim and try to answer any questions you have.
Contact us or call 1-866-900-7078 for your free case evaluation.
Text Us
You May Also Be Interested In
---
Investigating 3M Military Earplug Claims for Hearing Loss and Tinnitus
Potential Lawsuits Grow as GenX Concerns Escalate
How Injury Lawsuits Have Made Your Daily Life Way Better