A fourth person has died from the Legionnaires' disease outbreak recently linked to the NC Mountain State Fair held at the Davis Event Center at the Western North Carolina Agricultural Center. The fair ran from September 6–15 in Fletcher, near Asheville, NC. There have been 141 cases of Legionnaires' disease from around the surrounding counties, with 94 hospitalizations to date.
Legionnaire's disease is a severe form of pneumonia that people can contract when they breathe in aerosolized water (aka mist) containing the legionella bacteria. It usually cannot be passed from one infected person to another. Individuals typically begin to show symptoms between two to ten days after exposure to the bacteria.
A Legionnaires' disease outbreak has been linked to the NC Mountain State Fair that took place in September of 2019. If you or a loved one have been infected by Legionnaires' disease, call us today for a free case evaluation.
Symptoms of Legionnaires' disease include:
A fever that could be 104 degrees Fahrenheit or higher
A cough which might produce mucus and occasionally blood
Nausea, vomiting, and diarrhea
Confusion or other mental changes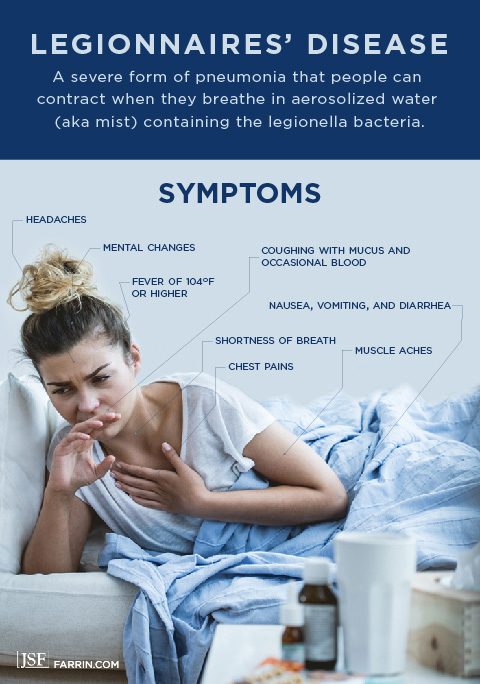 The outbreak was announced on September 24, 2019. State officials said that a hot tub display at the fair was the likely cause of the outbreak, although because investigations did not take place until 2-3 weeks after the fair, officials have not been able to pinpoint its source. Most of those infected had been near the display during the last five days of the fair.
The next event at the Davis Event Center was the Asheville Quilt Show, which ran from September 27 – 29. After one test from the women's restroom reportedly came back positive for the legionella bacteria, the Western North Carolina Agricultural Center managers have since claimed to have disinfected and flushed the water lines in the building. However, a new Legionnaires' case was reported in a person who attended the quilt show, but not the fair.
If you or a loved one visited the NC Mountain State Fair and contracted Legionnaires' disease, please contact the Law Offices of James Scott Farrin for a free case evaluation right away.
Text Us
You May Also Be Interested In
---
Symptoms of Camp Lejeune Water Contamination
What Conditions Automatically Qualify You for Disability?
Can You Get Workers' Comp If You're Exposed to COVID-19 at Work?