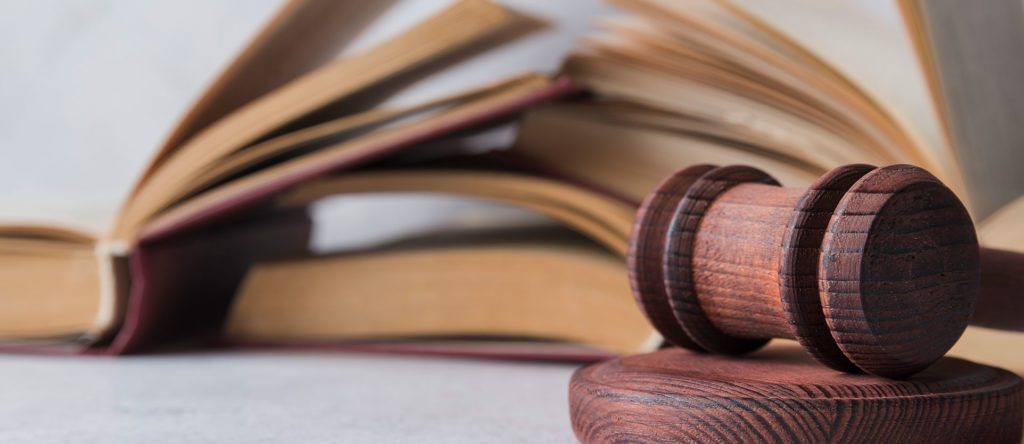 What do you do when a business harasses, deceives, or harms you?
Businesses have a duty to follow the law and treat you fairly. When they don't, that's when you call us.
Consumer Law Attorneys Protect Your Rights and Fight Abusive Business Practices
You have probably heard the phrase, "buyer beware." And for good reason. Every day, consumers are harassed, cheated, and mistreated by unscrupulous businesses.
Have you received annoying robocalls from telemarketers? Or have you been charged overdraft fees by your bank when you knew that your direct deposit paycheck had been deposited? Or perhaps you have you been badgered by debt collectors after you already paid off the bill or filed bankruptcy?
If any of these situations (and many more) apply to you, your rights under consumer protection laws may have been violated. And you may have a claim against the company, potentially entitling you to compensation.
As a consumer, when you purchase a product or service, you are entitled to certain rights – many of which are guaranteed by federal and state laws. For example, you have protections against false or misleading claims in advertising and labeling. And you have rights to prevent debt collectors from harassing you, to keep telemarketers from incessantly calling your phone, and to ensure that lenders charge you a reasonable interest rate.
Yet, some companies routinely violate these rights, often pushing the envelope as far as they can – including banks, credit card companies, lending institutions, and telecommunications companies.
You can fight back by hiring consumer rights lawyers to help you obtain possible compensation for the harms you've suffered.
Contact us today or call 1-866-900-7078 for a free case evaluation.
Denied a Loan Because of Inaccurate Info on Your Credit Report?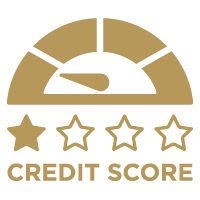 Unfortunately, credit reports sometimes contain errors, and a person's credit profile can suffer if these errors go undetected or uncorrected. Poor credit scores can result in high interest rates on credit cards, loans, and insurance premiums; rejections on loan and job applications; and harassment from debt collectors.
The Fair Credit Reporting Act (FCRA) is a federal law that regulates the collection of consumers' credit information and access to credit reports. Among other things, the FRCA protects your right to:
Access your credit report.
Dispute and correct any errors (inaccuracies and incompleteness) on your credit report.
Request a credit score.
Be notified if information in your credit report is used against you.
Seek monetary damages against those who violate the law, such as consumer reporting agencies, users of consumer reports, or those who provide info to consumer reporting agencies.
The law also regulates consumer reporting agencies by:
Prohibiting them from reporting outdated negative information – generally more than seven years old (or 10 years for bankruptcies).
Making them correct or delete inaccurate, incomplete, or unverifiable information – usually within 30 days.
Limiting whom they can provide information to.
The FCRA also provides certain rights for victims of identity theft and military personnel. For example, identity theft victims may ask businesses for a copy of transaction records (like credit applications) relating to the theft, and military personnel may place an active duty alert on their credit reports.
Harassed by a Bill Collector About a Late Payment?
Perhaps you've received a call where someone threatens you, harasses you, or claims that he or she will call your employer about a late or missing payment. This can be unsettling – and this type of behavior may also be illegal.
The Fair Debt Collection Practices Act (FDCPA) is a federal law that limits the actions of third-party debt collectors who are attempting to collect debts on behalf on another person or entity. The FDCPA regulates this kind of behavior by:
Defining when, how, and how often a third-party debt collector can contact a debtor
Limiting whom the debt collector is allowed to contact
Allowing a debtor to sue a collector who violates the FDCPA in state or federal court for damages and legal fees, generally within one year of the violation
Check out these relevant Q&As on the FDCPA.
Received an Unsolicited Telemarketing Call?
Most of us have experienced it. Right when you are sitting down to dinner, the phone rings … and you answer it only to be asked if you're interested in extending your car's warranty or investing in an "amazing" timeshare opportunity. This unsolicited inquiry feels invasive and may actually be illegal. Consumers who receive certain telemarketing calls, unsolicited text messages, unsolicited faxes, or pre-recorded and/or automated calls may be able to file a lawsuit against the telemarketer. Here are some examples of common unsolicited telemarketing calls:
Timeshare
Car warranty
Sweepstakes
Government grants
Advanced-Fee loans
Political party surveys
The Telephone Consumer Protection Act (TCPA) is a 1991 federal law that addresses the increasing number of telemarketing communications. The TCPA was amended in 2003 to establish a national "Do-Not-Call" registry which imposes financial penalties on all commercial telemarketers, including banks, insurance companies, credit unions, and savings associations for calling numbers on the registry.
In 2012, the TCPA was revised to require telemarketers to:
Obtain express written consent from consumers prior to robocalling them
Prohibit telemarketers to use "established business relationship" to avoid getting this permission
Provide an automated "opt-out" mechanism during each robocall
The Federal Trade Commission (FTC) and the Federal Communications Commission (FCC) create interpretive regulations that affect the TCPA's application to businesses including third parties acting on behalf of a financial institution. The FTC and FCC both enforce the TCPA through administrative actions, but effective enforcement also includes civil lawsuits by everyday telephone users like you.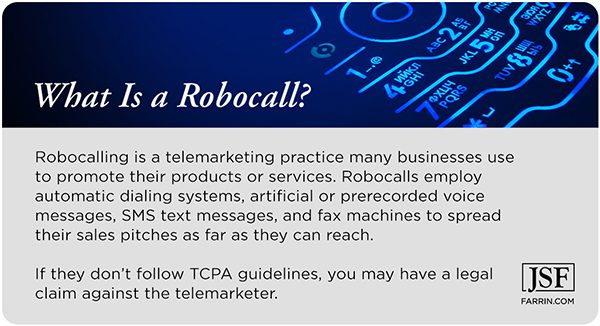 You May Be Entitled to $1,500 Per Robocall or Text Spam
If a telemarketer's communication to you is found to have violated the TCPA, you can potentially recover:
Up to $500 for each violation of the Do-Not-Call registry
Up to $500 per communication that violates the TCPA
Up to $1,500 per violation if you are able to show that the TCPA was knowingly and willfully violated
As annoying as these communications can be, they can also be illegal. Call the Law Offices of James Scott Farrin at 1-866-900-7078 for a free case evaluation.
Received Fraud or Scam Calls?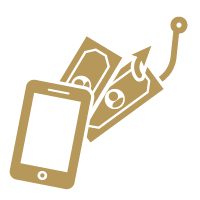 Sweepstakes and lottery scams entice consumers to wire money in order to receive their winnings, and they are, unfortunately, common. The FTC estimates that telemarketing fraud and scams cost consumers $40 billion a year. Common examples include:
Foreign lottery scams where the caller claims that you are the winner and asks for imaginary fees to process your "winnings"
Guaranteed government grant or advance-fee loan scams where you are asked for personal information or a small fee in exchange for a free government grant or loan from a "bank"
Computer tech support scans where someone calls and tells you that your computer needs updating and asks for remote access to fix the issue and then accesses your personal information stored on your computer
Robocall scams where you receive an automated call from "the IRS" claiming you have committed a crime and are directed to wire money or you'll be arrested
The Telemarketing and Consumer Fraud and Abuse Prevention Act (TCFAPA) is a 1993 federal law, also enforced by the Federal Trade Commission, to protect consumers from telemarketing deception and abuse. The act expanded the FTC's powers to protect consumers from interstate telemarketing fraud and required the agency to communicate regulations that:
Define and prohibit deceptive telemarketing practices
Prohibit telemarketers from engaging in an invasive pattern of unsolicited calls
Restrict the hours when unsolicited calls can be made
Require telemarketers to disclose the nature of the call at the start
Want a telephone number you can always trust? Call the Law Offices of James Scott Farrin at 1-866-900-7078 if you have been a victim of a telemarketing scam or any other consumer fraud. Our consumer law attorneys can spot these scams quickly and will fight to protect your rights as a consumer.
In the Military and Charged an Interest Rate Higher Than 36%?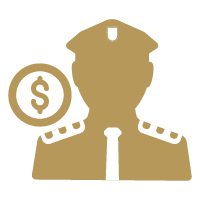 Unfortunately, the people who are protecting our country and rights are sometimes also the same people who are abused by unethical lenders.
The Military Lending Act (MLA) is a federal law enacted in 2006 to protect active-duty military families from wrongful and predatory loan practices. The MLA:
Applies to active duty members of the Army, Navy, Marine Corps, Air Force, and Coast Guard, members of the Reserve Component when activated 30 days and longer, and family members enrolled in the Defense Enrollment Eligibility Reporting Systems (DEERS)
Sets a 36% cap on the Military Annual Percentage Rate (MAPR) for most consumer loan products
Bans prepayment penalties
Bans mandatory arbitration
Bans mandatory allotments
Bans mandatory waivers of certain legal rights
Includes several other protections
Resources to Help Consumers Protect Their Rights
The Law Offices of James Scott Farrin has created the following list of links to state and national resources focused on protecting consumer rights:
Bureau of Consumer Protection – the FTC's Bureau of Consumer Protection works to stop unfair, deceptive, and fraudulent business practices by collecting reports from consumers and conducting investigations, suing companies and people that break the law, developing rules to maintain a fair marketplace, and educating consumers and businesses about their rights and responsibilities
Center for Justice and Democracy – a national consumer organization dedicated to protecting the civil justice system by: documenting attacks on civil justice; testifying; pioneering legal analysis; serving as a key media resource; and giving victims and the public interest community a voice
Center for Responsible Lending – an organization that works to ensure a fair, inclusive marketplace that creates opportunities for all credit-worthy borrowers and focuses on people who are targeted for unfair financial products
Consumer Financial Protection Bureau – a S. government agency that strives to ensure banks, lenders, and other financial companies treat consumers fairly
gov – federal information resources for consumers
Federal Trade Commission – the federal organization with a mission to protect consumers and competition by preventing anticompetitive, deceptive, and unfair business practices through law enforcement, advocacy, and education
National Consumer Law Center (NCLC) – the NCLC uses its expertise in consumer law and energy policy to work for consumer justice and economic security for low-income and other disadvantaged people, including older adults, in the U.S.
Neighborhood Assistance Corporation of America (NACA) – a non-profit, community advocacy and homeownership organization that fights against predatory and discriminatory lenders and helps people with credit problems become homeowners or modify predatory loans
North Carolina Attorney General – Consumer Protection Division – The division of the Attorney General's Office that protects North Carolina consumers by fighting unfair business practices such as identity theft, telemarketing, home loans, and consumer frauds and scams
North Carolina Justice Center – A progressive research and advocacy organization that works to eliminate poverty by ensuring that every household in the state has access to the resources, services, and fair treatment it needs to achieve economic security
Public Justice – A national non-profit legal advocacy organization that works to protect consumers, employees, civil rights, and the environment
South Carolina Department of Consumer Affairs – South Carolina's consumer protection agency which helps to formulate consumer laws, regulate the consumer credit marketplace, resolve consumer complaints, and promote a healthy competitive business climate with mutual confidence between buyers and sellers
Our consumer law attorneys care about your rights as a consumer. Contact us today for a free case evaluation if you feel that you have been a victim of consumer fraud.
Below are two state-specific resources focused on protecting consumers against fraud.
The SC Department of Consumer Affairs created a guide to help consumers avoid scams:

The NC Attorney General's Office developed the following list of consumer tips:
Consumer Rights Lawyers Fight to Protect You
Consumer complaints and legal action against companies that violate consumers' rights are on the rise. At the Law Offices of James Scott Farrin, we have attorneys who go to battle for consumers to fight overreaching corporate law breakers.
Several attorneys with our firm are members of the National Association of Consumer Advocates (NACA) – a national organization of attorneys who represent consumers victimized by fraudulent, abusive, and predatory business practices. One of our attorneys, Gary Jackson, founded the Consumer Area of Practice section for the North Carolina Advocates for Justice.
Our attorneys have handled consumer law cases through both class actions and individual claims, including:
Data breach
Telecommunications
Debt collection
Credit reporting
Claims of predatory lending against mortgage lenders and other financial institutions
Scams by for-profit schools
Other cases generally covered by consumer protection laws in which there may be a basis for a class action include:
Fraudulent financial schemes aimed at seniors
Discriminatory lending practices targeting minority communities
At the Law Offices of James Scott Farrin, our consumer lawyers fight for justice. If your consumer legal rights consumer have been violated, call us at 1-866-900-7078 for a free case evaluation. We help consumers fight back!
Text Us