Durham Truck Accident Lawyer
---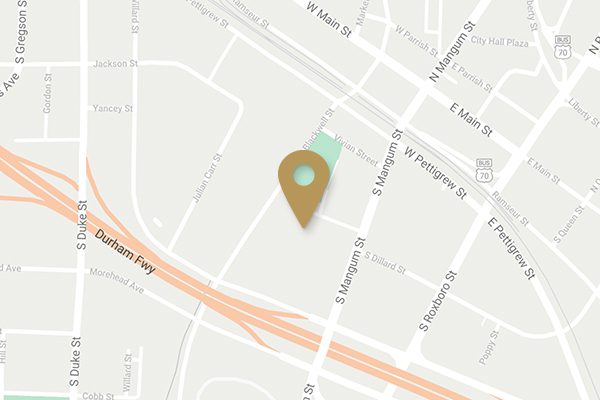 555 South Mangum Street
Suite 800
Durham, NC 27701
Phone: 919-688-4991
Toll Free: 1-866-900-7078
At first glance, you may think truck accidents and car accidents are pretty similar – both can involve vehicles, injuries, negligence – so both can be handled the same way, right? Unfortunately, this is not always true. Truck wrecks are not just big car wrecks. They are complex and often involve multiple insurance companies. Liability can be difficult to determine, and injuries can be severe.
The North Carolina DMV reported that there were 131 tractor trailer truck crashes in Durham County in 2019 which resulted in 20 injuries. In the previous year, accidents involving tractor trailers were higher (172), resulting in seven more injuries and four deaths.
So when you are driving around Durham, perhaps to visit a student at Duke University, catch a show at DPAC, or cheer on the Bulls over at Durham Bulls Athletic Park (which one of our office buildings overlooks), be careful and always give the big rigs plenty of room. If you do get into an accident with one of these semis, contact an experienced Durham truck accident attorney as soon as possible.
What Are the Main Causes of Truck Accidents?
Driver error and mechanical failure cause many of the semi wrecks you see out there on the Durham highways. Whether it's a trucker making too wide of a turn or the 18 wheeler's brakes blowing out, the results can be costly, and sometimes deadly. Here are just a few of the common causes of truck crashes:
Driver Behaviors
Mechanical Issues
Malfunctioning brakes
Tire blowouts
Overloaded cargo
Unsecured loads
If you have been injured in a wreck with a truck, take steps now to protect your rights. Call the Law Offices of James Scott Farrin at 1-877-900-7078 and talk to our team about your case. We do not charge an attorney's fee2 unless we are recover for you, and our initial case evaluation is free.
Who Is Liable for Negligence in a Truck Accident – the Driver or the Trucking Company?
Truck accidents are complicated because there can be many possible liable parties involved depending on the specifics of the wreck. In addition to the driver and trucking company, the owner of the trailer or cab, the driver's employer, or even the company that maintains the 18 wheeler may be negligent, and therefore at least partially responsible, for the crash. Contact a Durham truck accident lawyer to help you investigate all potentially liable parties.
Why Should I Talk to a Lawyer After a Truck Accident?
If you have been injured in a collision with a truck, odds are pretty good that the truck driver has already alerted his lawyers and insurance company. Or if he's not an independent owner-operator, he's probably been in touch with his employers who, you guessed it, have more than likely been in touch with their lawyers and insurance company.
To help protect your rights, you need to be prepared and informed, and a good way to do this is to talk to an experienced Durham truck accident attorney. Some of the ways a lawyer may be able to help include:
Identifying multiple insurance policies
Recovering the black box
Obtaining evidence such as driving logs and maintenance records
Working with accident reconstruction professionals
Requesting medical reports
Your fight to recover compensation for your harms and losses may depend on just how informed you are. Contact our Durham office today for a free case evaluation.
Where Do Most Truck Accidents Occur in Durham?
Where there are busy highways, there are semis and big rigs transporting cargoes and, unfortunately, causing crashes on occasion. Durham has its share of interstates and freeways traversing through the city – I-85, I-40, the Durham Freeway (NC 147), and U.S. 70, to name a few. Here is an article which highlights the most dangerous intersections in Durham and Raleigh.
Why Hire Us as Your Durham Truck Accident Attorney?
If you have been injured in a truck accident in Durham, give us a call at 1-877-900-7078 to discuss your rights. Our trucking accident lawyers may be able to help you:
Deal with the complexity of multiple insurance policies
Understand your rights when dealing with truckers insured in a different state
Investigate accident evidence
Recognize potential driving or equipment violations by the driver or trucking company
North Carolina follows the "contributory negligence" rule which means that truck accident victims may be denied recovering any damages if they are proven to have contributed in any way (even if only 1%) to the wreck.
The truck accident attorneys in our Durham office fight hard to protect our clients' rights, and our firm has had its share of successes.1 For example, we secured a $4.5 million commercial truck accident settlement for a man who was injured when he was struck by a tractor trailer.1
Contact us today, and let us help look after your best interests. We work on a contingency fee basis so that you do not have to worry about the cost of an injury lawyer upfront. This means we do not collect an attorney's fee unless we recover compensation for you.2 It's time to tell them you mean business.
Practice Areas

Former Auto Accident Client, Online Google Review
I had an amazing experience with James Scott Farrin.
I had an amazing experience with James Scott Farrin. They were consistent and answered all questions and catered to all my needs. Thank you so much. If you [need] any assistance with any accidents, I highly recommend James Scott Farrin for your legal team. 1

Former Personal Injury Client, Online Google Review
I am pleased and thankful for the excellent service
I am pleased and thankful for the excellent service that I received at the Law Offices of James Scott Farrin, from the beginning to the end. The entire staff was professional and proficient in every way. I would use you again and recommend your office to anyone.1

Former Workers' Compensation Client, Online Google Review
I want to thank everybody who worked on my case at James Scott Farrin.
I want [to] thank everybody [who] worked on my case at James Scott Farrin. They did a very professional and great job. I would recommend them to anybody that was ever looking for a lawyer, and I definitely would use them again. 1
Testimonials do not reference all the feedback the firm has received. Each case is different and must be evaluated on its individual facts. Prior results do not guarantee a similar outcome can be achieved in the future.