Durham Workers' Compensation Lawyer
---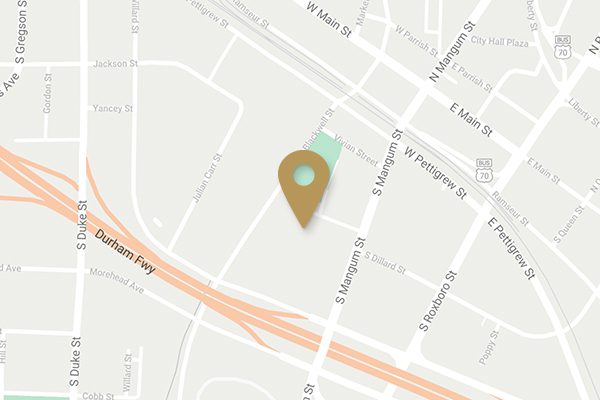 555 South Mangum Street
Suite 800
Durham, NC 27701
Phone: 919-688-4991
Toll Free: 1-866-900-7078
Durham, also known as the City of Medicine, is a thriving city in Research Triangle Park and home to Duke University. With plenty of development always underway and a booming healthcare industry, the city employs many construction laborers and nurses – two of the top 10 occupations that experience high injury and illness rates on the job.
When accidents happen at work, the effects are often felt at home also. The combination of mounting medical bills and lost wages is scary for any family. Workers' compensation exists, in part, to protect eligible employees hurt at work. Unfortunately, we frequently hear about injured workers not receiving all the benefits they may be entitled. If you have been injured, call an experienced workers' comp lawyer to help shoulder the burden so you can focus on healing.
Our workers' comp team can answer your questions about which benefits may be available to you and will give you a free and confidential case evaluation. Let us help you.
Can I File for Workers' Compensation Even if I Am at Fault?
Yes, in most cases you can file for workers' comp benefits even if you caused the accident. In North Carolina, workers' compensation is a no-fault system which provides injured employees who qualify with benefits regardless of who was responsible for the accident. However, there are specific situations that can disqualify you from collecting benefits, such as intentionally hurting yourself or being under the influence of drugs or alcohol at the time of your injury. An experienced Durham workers' compensation attorneys can review your injury case details and advise you on next steps.
How Do I File a Workers' Comp Claim in Durham?
Here are the basic steps to follow to file a workers' comp claim in Durham:
Submit a written report of the accident to your employer.
File a Form 18 with the North Carolina Industrial Commission within 30 days and provide a copy to your employer.
You should receive one of the following three responses:
Denial of NC Workers' Compensation Claims
Employer's Admission of Employee's Right to Compensation
Notice to Employee of Payment without Prejudice
Workers compensation cases can get complicated quickly. Call the Law Offices of James Scott Farrin at 1-877-900-7078 and let our team fight for your rights.
When Do I Need to Get a Workers' Compensation Attorney Involved?
It's best to call a workers' compensation attorney as soon as possible after your injury. They can:
help you understand your rights
pursue potential compensation for lost wages and medical bills
negotiate with the insurance company
ask questions about directed medical treatment
evaluate potential settlement offers
ensure that future medical treatment is considered, if needed
There is little, if any, downside to calling our Durham workers' compensation lawyers because we will provide a free and confidential evaluation of your case. If you decide to proceed with a workers' compensation claim, our firm works on a contingency lawyers fee basis which means that there won't be an attorney's fee2 unless we get you compensation. We are motivated to try to get you as much as possible as quickly as possible.
Can the Workers' Compensation Insurance Company Turn Off My Benefits if I Don't Go Back to Work?
While it's important to take time to heal, if your assigned doctor declares that you are ready to return to work and you decide not to, you are at risk of losing your workmans comp benefits. Contact an attorney if you do not agree with the doctor's assessment.
Tip: If your doctor declares that you cannot return to work at all after being injured on the job, you may be entitled to temporary total disability benefits (TTD) or total and permanent disability benefits.
A workplace injury can alter your life dramatically. There may be medical bills to pay, lost wages to pursue, claims to file, and insurance company denials and delays to deal with. And when returning to work seems like an impossibility, there are additional issues to consider. If you have questions about returning to your job after a workplace injury, contact an experienced Durham workers' compensation lawyer for guidance.
Why Hire Us as Your Durham Workers' Compensation Attorney?
At the Law Offices of James Scott Farrin, four of our Durham workers' comp lawyers were named to the 2021 'Best Lawyers' list published by "Best Lawyers in America" in the Workers' Compensation Law-Claimants category.3 Several of our attorneys are also NC State Bar Board Certified Specialists in Workers' Compensation Law. Our team knows workers' comp law and how the North Carolina Industrial Commission works, and they put this knowledge to work when they fight for the rights of our clients who have been injured on the job.
If you are unsure about next steps, give us a call at 1-866-900-7078 to receive a free workers' comp case evaluation today. Visit our Durham Office page for more details about this office location.
3For more information regarding the standards for inclusion for 'Best Lawyers,' visit www.bestlawyers.com.
Practice Areas