Social Security Disability Lawyers in Greensboro, NC
---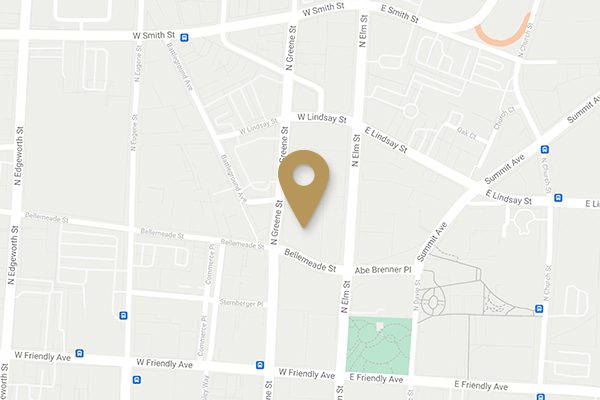 300 N. Greene Street
Suite 850
Greensboro, NC 27401
Phone: 336-665-7072
Toll Free: 1-866-900-7078
If you've applied for Social Security Disability benefits in Greensboro, you may have been dismissed, denied, or it seems to be taking forever. As of 2020, claims in Greensboro are taking an average of three months longer to process than Charlotte. If your Social Security Disability claim or appeal has been denied or delayed, don't give up. Contact a Greensboro Social Security Disability attorney who may be able to help with your case.
How Much Might My Social Security Disability Case Be Worth?
Every case is unique, so the amount you might be able to claim depends on your specific circumstances, your resources, and your disability. For instance, how long did you pay into Social Security, and what are your earnings? What sources of income do you have? A Greensboro Social Security disability attorney can give you an idea of what your case may be worth after speaking with you and understanding your situation.
What Are "Countable Resources" for Supplemental Security Income?
The Social Security Administration uses a number of factors to calculate the amount it will potentially pay in Supplemental Security Income (SSI) benefits. Obviously, income is one resource, but anything you can turn into money is also generally considered including the following:
property
stocks
bonds
bank accounts
and more
See our extensive list of what may qualify as countable income and resources.
I Was Denied Social Security Disability Benefits. How Do I Appeal?
There are actually four levels of appeal in the Social Security system: Reconsideration, Hearing, Appeals Council, and finally federal court. Each of these levels of appeal have their own rules, and none of them are exactly user-friendly.
How Often Do Social Security Disability Cases End Up in Court?
Thankfully, a case going to court is rare. If it goes that far, it is almost always best to have an attorney. It is advisable to seek the advice of a Greensboro disability lawyer to help you navigate the government's system.
Where Is the Social Security Disability Office in Greensboro?
The physical address of the Social Security office in Greensboro is 6005 Landmark Center Blvd. It's tucked back behind Stanley Road near I-40 and Wendover Avenue.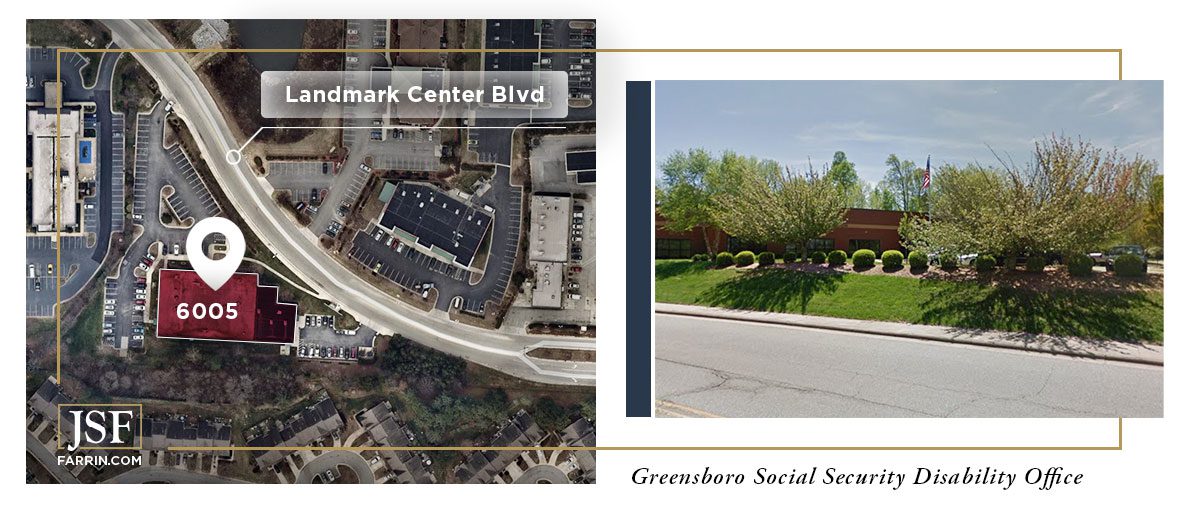 Why Hire Us as Your Greensboro Social Security Disability Lawyer?
Since 1997, the Law Offices of James Scott Farrin have represented more than 60,000 clients, and recovered more than $1.6 billion in total compensation on their behalf.1 We care about our clients, and we truly want to help you.
Several of our staff formerly worked at the Social Security Administration (and know their systems), and the head of the department, attorney Rick Fleming, is an NC State Bar Board Certified Specialist in Social Security Disability law. Call us any time at 1-866-900-7078 for a free case evaluation, or contact our Greensboro office for more information.
Practice Areas

Former Car Accident Client, Online Google Review
I cannot thank you enough
I cannot thank you enough for the assistance at the Law Offices of James Scott Farrin located in Greensboro, NC. Using their legal [experience] and combining their professionalism heightened my expectations throughout the course of my case here. 1

Former Automobile Accident Client, Online Google Review
I love the staff at James Scott Farrin.
I love the staff at James Scott Farrin. They are organized, nice, [and] friendly, and they seem to be very family-oriented. I've just recently referred another client to them because I know they will take care of her. 1

Former Personal Injury Client, Online Google Review
I am pleased and thankful for the excellent service
I am pleased and thankful for the excellent service that I received at the Law Offices of James Scott Farrin, from the beginning to the end. The entire staff was professional and proficient in every way. I would use you again and recommend your office to anyone.1
Testimonials do not reference all the feedback the firm has received. Each case is different and must be evaluated on its individual facts. Prior results do not guarantee a similar outcome can be achieved in the future.