A Truck Accident Lawyer in Greenville Can Help Balance the Scales
---
33 Villa Road
Suite 106
Greenville, SC 29615
Phone: 864-565-8555
Toll Free: 1-866-900-7078
A passenger car against an 18 wheeler truck. When the two collide, the consequences can be dire for the smaller car and its occupants. Similarly, when an individual victim tries to take on the big insurance company after a wreck, it may be the little guy that gets the worst of it.
To protect your rights and learn what to do after a truck accident in Greenville, Spartanburg, or the surrounding area, read on. If you're ready, you can talk to a real person right now about your case.
Hurt by something other than a truck? Learn the many ways our Greenville office may be able to help you fight for justice.
What Should I Do After a Truck Accident in Greenville, SC?
A truck accident can be the most dangerous and complicated kind of collision. After a truck accident or any kind of wreck, your first step should be to seek medical attention. Even if you don't feel injured, you might be injured. Put your trust in the professionals and get yourself checked out.
At the accident site or as soon as possible thereafter, it can be extremely beneficial to record observations, facts, and evidence relating to the wreck. Here are some questions to seek answers to after a truck accident:
Did the truck driver appear drowsy or even under the influence of drugs?
What was the truck's position on the roadway, and was it going too fast?
What was the first thing the other driver said?
Did they admit to being distracted, perhaps due to texting and driving?
Was there a third vehicle that played a role?
But building a case requires much more than that preliminary information. That's why you want to contact a truck accident lawyer as soon as possible after the accident. An attorney can help with your claim in many ways, including investigating driving records, compiling evidence from the scene, interviewing witnesses, and presenting your case during negotiations with the insurance company. The most important thing to do after a wreck is to get better. You should focus on that, and let your attorney fight for justice on your behalf.
What Are the Types of Accidents Caused by Commercial Vehicles?
There are many ways things can go wrong for a big rig, affecting not just the truck but the surrounding vehicles and the roadway. Some ways in which a truck can cause damage to another vehicle may be familiar from any type of accident: Brake failure, short stops, DUIs, rear-end collisions, blind spots, T-bones, head-on collisions, and more.
Beyond those, here are four distinct types of accidents that are caused primarily by commercial vehicles like trucks:
Jackknife – When the trailer of the truck bends away from the cab to create a sort of "V" or "L" shape. This is usually caused by sudden stops. Your vehicle might crash into the jackknifed truck or you might wreck trying to avoid it.
Rollovers – Under tricky weather conditions or when curves are taken too fast, the truck can end up on its side. In addition to the truck itself, the truck's cargo can damage nearby vehicles and make road conditions hazardous.
Underrides – When a smaller vehicle gets wedged underneath a truck in front, either because it was rear ended or because the truck in front stopped suddenly. The chances of fatality can be higher for this type of collision, especially if the victim's vehicle is also rear-ended by the car behind it.

Lost Load

– Truck cargo must be attached securely, with even weight distribution and in full compliance with all regulations. If cargo is improperly loaded, it can fall onto other cars. Aside from a direct impact, debris on the road can cause accidents and injuries to other cars and even pedestrians.
fall onto other cars. Aside from a direct impact, debris on the road can cause accidents and injuries to other cars and even pedestrians.
What Are the Laws That Govern Trucking Accidents in Greenville, SC?
There are two important legal concepts that can greatly affect a trucking accident claim in South Carolina:
Statute of Limitations – A statute is a law. The limit of the law being referred to here is the amount of time you have to bring your claim. Different claims have different time limits under the law, and these vary by state. Generally, the statute of limitations in South Carolina for claims like truck accidents is three years. Every case is different, and an attorney can calculate for you where you stand in relation to the deadline.
Comparative Negligence – If you are partially responsible for an incident that hurt you, the law doesn't want you to collect compensation for the part that was your fault. Fortunately, being partially at fault doesn't prevent you from seeking compensation in South Carolina. However, your potential reward is generally offset by the percentage of your fault. For example, if someone were in an accident and had damages totaling $100,000, but was 25% at fault for the accident — the most they would typically be able to collect is $75,000.
A Greenville truck accident lawyer can review with you how the laws of trucking accidents and the laws of South Carolina come into play for your situation.
How Much Might My Truck Accident Case Be Worth?
The answer is always going to depend on the circumstances of your case. If you are entitled to compensation, how much will depend on information you may not even have yet (like the total cost of your medical treatment). Of course, money can't reverse time or take away pain. But the money is to try and make up for the damage.
For some things, what that damage is can be easy to calculate (how much did the surgery to fix your leg cost?). But other things are more difficult to assess (how much pain and loss did you experience?).
Here are some damages a victim could potentially be compensated for following a truck accident:
Lost earnings (past and future)
Medical bills (past and future)
Pain and suffering
Mental anguish
Loss of companionship
Loss of enjoyment of life
Property damage
To get help assessing the possible worth of your truck accident case, start with contacting a truck accident lawyer in Greenville, SC.
How Do I Know if I Need a Truck Accident Lawyer in Greenville, SC?
If you're in a truck accident, and the driver of the other vehicle says you look uninjured, you'd be wise to be suspicious. After all, they have their own agenda and may not be telling you the truth. Instead, you'd go to a medical expert to get an outside opinion and make sure nothing gets missed. Indeed, seeking medical attention should always be one of your first steps after a wreck of any kind.
When you start negotiating with the insurance company, you'll again have someone with their own agenda offering an opinion on your situation. The insurance adjuster might say you have no claim or a weak claim. To make sure nothing gets missed, you should get an outside opinion on your claim from a truck accident lawyer. And unlike your average doctor's exam, a case evaluation is completely free.
Why Hire a James Scott Farrin Truck Accident Lawyer in Greenville, SC?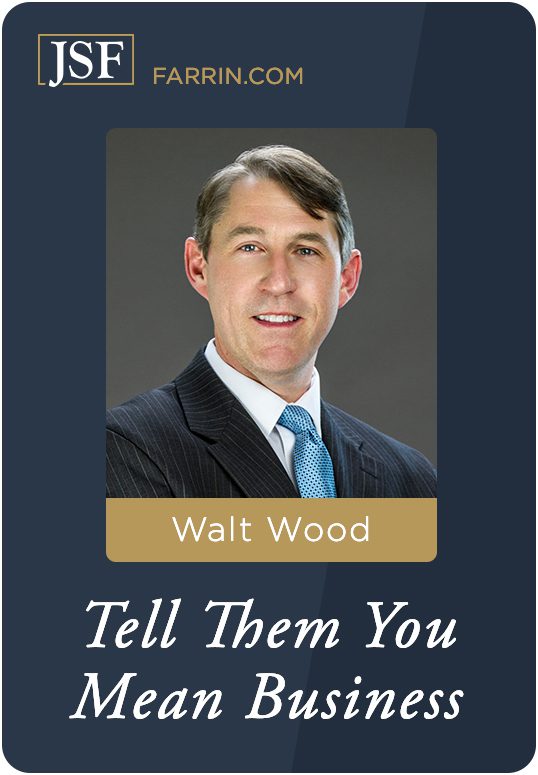 Do you prefer a big firm with resources or a passionate local lawyer to handle your case? Why not both?
Our firm has 17 offices and over 200 employees, and we have the resources to take your case on a contingency fee basis. That means we don't get an attorney's fee unless you get compensated.2 Let us take on the financial risk as you seek justice for your injury.
And you'll be pleased to know the head of our Greenville office is a native of the area. Walt Wood was born in Greer. Our South Carolina accident attorneys have the experience you need and are ready to fight for you.
The Law Offices of James Scott Farrin was recognized on the 2022 "Best Law Firm" list by U.S. News – Best Lawyers. Firms included on the "Best Law Firms" list are recognized for professional excellence with persistently impressive ratings from clients and peers.3 Since 1997, we've recovered over $1.6 Billion in total compensation for over 60,000 people.1
How Can I Get My Free Case Evaluation?
Are you a phone person or a chat person? Call us at 1-866-900-7078, 24/7, or chat with a real person right now. You can also submit our online form to request your free case evaluation.
3 For information regarding the standards for inclusion for awards listed, visit www.bestlawyers.com and www.usnews.com.
Practice Areas

Former Auto Accident Client, Online Google Review
I love James Scott Farrin.
I love James Scott Farrin. I was treated like family. Everyone was loving, understanding, compassionate, and warm. Thank you, Mr. Paul, Mrs. Ann, and Danielle. 1

Former Workers' Compensation Client, Online Google Review
I would recommend ANY and EVERYONE
I would recommend ANY and EVERYONE who has unfortunately been injured at their job and been treated unfairly to give JSF a call immediately. I had a very unpopular case, and JSF stepped up to the plate and delivered. I'm beyond ecstatic about my outcome! 1

Former Car Accident client, Online Google Review
James Scott Farrin's team was so helpful
James Scott Farrin's team was so helpful and so responsive to all my questions and kept me very aware of everything that went on with my case from day one. I would highly recommend this firm to anyone. … They had patience and gave me straight up honest answers to everything I wanted to know. 1
Testimonials do not reference all the feedback the firm has received. Each case is different and must be evaluated on its individual facts. Prior results do not guarantee a similar outcome can be achieved in the future.