Personal Injury Attorneys, Raleigh, NC
---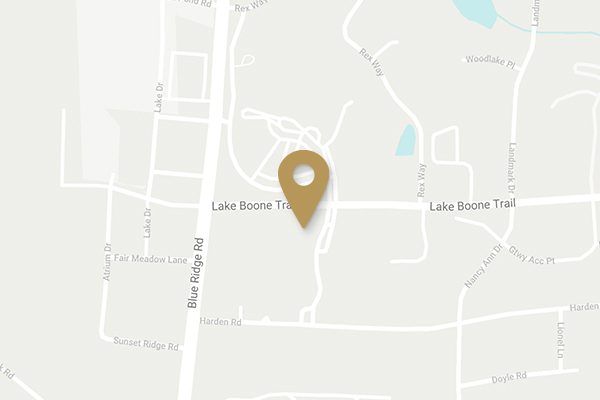 5438 Wade Park Blvd
Suite 400
Raleigh, NC 27607
Phone: 919-834-1184 
Toll Free: 1-866-900-7078
Accidents happen, and people get hurt. But is it an accident when someone else's negligence causes the injury? Perhaps. But if that's the case and the accident results in an injury, you should seek to hold the negligent person responsible. That's why personal injury law exists. You should be made whole.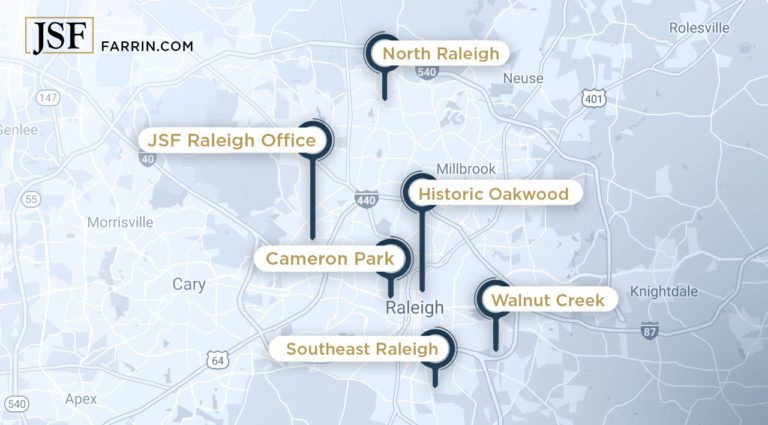 If the negligence of another has hurt you, it may be time to talk to an experienced personal injury attorney to discuss whether you have a personal injury case. Contact the Raleigh office of the Law Offices of James Scott Farrin to discuss your options.
If you look at a map of Raleigh, you will notice that our office is conveniently located close to REX Hospital. However, we are proud to serve all of Raleigh's residents. So whether you are from Southeast Raleigh, Historic Oakwood, Cameron Park, Walnut Creek, North Raleigh, or anywhere around, contact us if you want to discuss your potential personal injury claim.
How Much Is My Personal Injury Case Worth?
To determine if your personal injury claim has value and how much it may be worth, our Raleigh personal injury lawyers can consider the specifics of your case, such as:
Details of the accident – the who, what, where, when, why, and how
Injuries suffered
Medical expenses incurred
Medical treatment needed
Lost income
Insurance coverage available
Pain and suffering
Aggravating circumstances (such as the conduct of the defendant)
These specifics should help build an overall picture of what the potential value of your personal injury case may be.
How Long Do Personal Injury Cases Take?
It depends. Final decisions on personal injury cases depend on a variety of factors. Are there questions about the negligence of the at-fault party? Is there a dispute about what the actual damages are? Is the insurance company questioning the seriousness of your injuries – are they minor soft tissue injuries or something catastrophic like traumatic brain injuries? Is there ongoing medical treatment? Will you be permanently disabled?
Each case has its own timeline, and there are two primary ways to try to resolve one successfully: insurance claim settlement and personal injury lawsuit. At the Law Offices of James Scott Farrin, we consult with our clients to understand their timing concerns, and we work hard to try and resolve cases as quickly as possible.
Insurance Claims
Most personal injury cases begin as personal injury insurance claims: in other words, it generally all starts with an insurance claim. What happens next and how long it takes depends on many factors, such as how much insurance the at-fault party has, what the policy covers, and how the insurance company negotiates. The severity of your injury, medical expenses, lost income, and more should be considered. Sadly, some insurance companies may not include all factors in their offers.
Even if you want to close this chapter of your life and be done with your case, you may not want to accept the first "quick cash" settlement offer from the insurance company. Sometimes the motivation behind a quick offer can be to avoid paying full value to an accident victim who appears to have a strong claim or the potential for a larger settlement. Work with a Raleigh personal injury attorney to review any insurance offers, and certainly before you cash an insurance company's check!
Personal Injury Lawsuits
Sometimes, an at-fault party may not have enough insurance coverage to compensate you for the harms and losses you suffered. If the insurance policy covers $30,000, for example, and your medical bills alone are more than that, you have the right to seek more compensation through other means.
A personal injury lawsuit is an action you file directly against the person who harmed you. That's not to say that the at-fault party has the means to pay more. You have the right to file suit, but that's not always going to be a fruitful action. We will evaluate, and advise our client based on the merits of their case and what we can ascertain about the possibility of winning additional compensation.
Case time can vary greatly depending on how much the at-fault party wants to fight your claim, court schedules, etc. Learn More: Personal Injury Guide for North Carolina
What Kinds of Things Can I Seek Compensation for?
People who suffer serious injuries often focus on their medical bills – and understandably so. Medical costs for even routine procedures can be extremely high, and if you lack health insurance, paying out of pocket could be too much of a burden to bear.
However, that is just one of the things you should consider with your claim. Your personal injury lawyer can help you seek compensation for:
Medical expenses
Loss of income
Loss of consortium (damaged personal relationships)
Pain and suffering
How Do I Make Up for Lost Wages Until I Get My Potential Settlement?
After a personal injury, you may not be able to return to work for a while, and part of your personal injury case may include reimbursement for lost wages. However, you will not receive any lost wage reimbursement unless you and the negligent party can agree to a settlement. Since your bills still need to be paid, here are a few potential income sources to consider for this in-between time:
Do you have short-term or long-term disability insurance?
Do you have accident disability insurance or accident insurance?
Do you have savings?
Do you have family or friends who can loan you the funds?
These are often better options than settling your case prematurely and below value.
Why Hire Us as Your Experienced Personal Injury Lawyer in Raleigh, NC?
The Raleigh personal injury attorneys at the Law Offices of James Scott Farrin fight hard for our clients' rights. Did you know that North Carolina follows the contributory negligence rule? This means that if the insurance company can prove that you contributed in any way to the accident in which you were injured (even just 1%), they may be able to use this against you to try and deny your claim. Our experienced personal injury attorneys strive to help you avoid contributory negligence and build a strong case.
We work hard to keep you from footing the bill for your injuries and lost wages due to another's negligence. And we don't want you paying upfront for our services – so our attorneys work on a contingency fee.2 Simply put, we get paid a fixed percentage of the total recovery, so we don't get paid an attorney's fee unless you get paid.
We have helped more than 60,000 clients since 1997. Let us help you. Call us right now at 1-866-900-7078 or contact us online.
Text Us
Practice Areas

Personal Injury Client, Google Review1
They helped us understand what was going on
They helped us understand what was going on, what was needed, [and] what we would do next.

Car Accident Client, Google Review1
James Scott Farrin's legal knowledge
Their legal knowledge, overall concern for me as a client, and professionalism gave me security that I made the right choice!

Former Car Accident Client, Online Google Review
Thank you all so much for putting my personal needs first
Thank you all so much for putting my personal needs first. Jenny was my lawyer. She was so kind and helpful to me. Mr. Leal helped me finish everything, and he was so caring and kept the conversation going. Thank you all so much! 1
Testimonials do not reference all the feedback the firm has received. Each case is different and must be evaluated on its individual facts. Prior results do not guarantee a similar outcome can be achieved in the future.