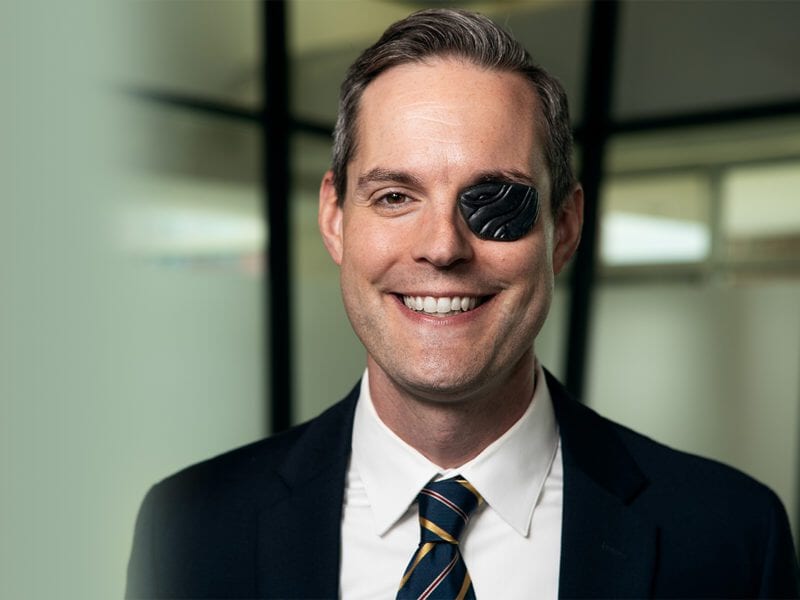 "I decided as an attorney, I'd ultimately be able to do more for the community, prosecute cases to their finish, and be a part of the endgame for justice."
- Tom Wilmoth
tom.wilmoth@farrin.com
Represented Fortune 500 companies for 10+ years
Co-authored Amicus Curiae Briefs filed with the NC Supreme Court
Served as a Greensboro police officer for 8+ years
Attorney Tom Wilmoth
---
The Road Less Travelled
Tom Wilmoth grew up in the small rural town of Dobson, NC — a community where industrial mill jobs were quickly replacing farming jobs and kids usually left high school to work in a plant to help put food on the table. Tom knew at an early age that he wanted something different out of his life, and he set his sights on a path that would lead him out of town to college — and, ultimately, to the practice of law.
But the path was not without a curve or two, and these life lessons strengthened his resolve to do something meaningful and serve those people who need help the most.
The Path to Law
Throughout high school, Tom worked in the tobacco fields at nearby farms, at the grocery store, and at a local diner to help with family finances. A hard worker who understood the value of education, he applied for college scholarships and loans and worked at a grocery store to pay the bills throughout his years at UNC Greensboro.
During his sophomore year, Tom's father passed away, causing him to step back and reflect on his direction and responsibilities. He switched majors from Music to Political Science and was the first person in his family to earn a college degree. Upon graduation from UNC-G, Tom joined the Greensboro police force and spent the next eight and a half years serving the community as a law enforcement officer. Being a police officer was his introduction to the law, and many of the situations he encountered strengthened his desire to pursue a career as an attorney.
"I learned a lot about the court system, its laws, and how to apply them. My experiences as a police officer really shaped how I think about the law and gave me a valuable glimpse into many different worlds and situations. It showed me both sides of the law, which gave me a nuanced perspective."
Frustrated at not being able to follow his cases to their conclusions as a police officer, Tom took the next step towards becoming an attorney and enrolled at Elon University School of Law at the age of 30. "I decided as an attorney I'd ultimately be able to do more for the community, prosecute cases to their finish, and be a part of the endgame for justice." Going back to school was "daunting but doable," and Tom leaned in, worked hard, and earned his J.D. in 2010.
Another Bump in the Road
Tom fully intended to seek a prosecutor position with the District Attorney's office, but he had to redirect his career path due to a hiring freeze on government jobs. He instead began practicing corporate law, working on the defense side of complex civil litigation and class action suits. While amassing a significant amount of knowledge and experience in many different areas of corporate law, he always missed making a personal connection with clients and seeing firsthand the difference he was making.
Then in 2017, Tom had a serious accident while making home repairs and lost vision in his left eye. He had to relearn everything — how to live, work, and play. Three years later, in a random, unrelated incident, he detached the retina in his other eye and was completely blinded for several weeks. A scary and humbling experience, Tom was at the mercy of everyone. "I really empathize with people who have been injured and have their entire lives altered in a significant way."
The Right Man in the Right Place at the Right Time
Tom ultimately brought his empathy, proven work ethic, and a passion for being thorough to the litigation team at the Law Offices of James Scott Farrin. When it comes to his clients, he aims to explore every possible avenue for success. A former Eagle Scout, he takes the "Be Prepared" motto to heart and researches the angles as he tenaciously pursues positive outcomes for his clients. He enjoys connecting with his clients and treats them with respect, dignity, and fairness — because it's the right thing to do.
"I'd rather work for someone who needs help…I want to do quality legal work for people who need help, and that is what this firm is doing – in the right way, for the right reasons. It's the perfect mix."
Tom has always called North Carolina home, and he currently lives in Kernersville with his wife and three children. They are an active family that loves to hike, boat, and travel.
Read More
---
Former Car Crash Client, Online Google Review
The workers at JSF are AMAZING!
The workers at JSF are AMAZING! They keep you updated on everything going on with your case, and they answer any questions that you might have. They are very friendly and open people to work with. I will be recommending people to them in the future. 1
Former Automobile Accident Client, Online Google Review
I love the staff at James Scott Farrin.
I love the staff at James Scott Farrin. They are organized, nice, [and] friendly, and they seem to be very family-oriented. I've just recently referred another client to them because I know they will take care of her. 1
For legal reasons and client confidentiality, reviews have been slightly edited to remove identifying information and correct typos.