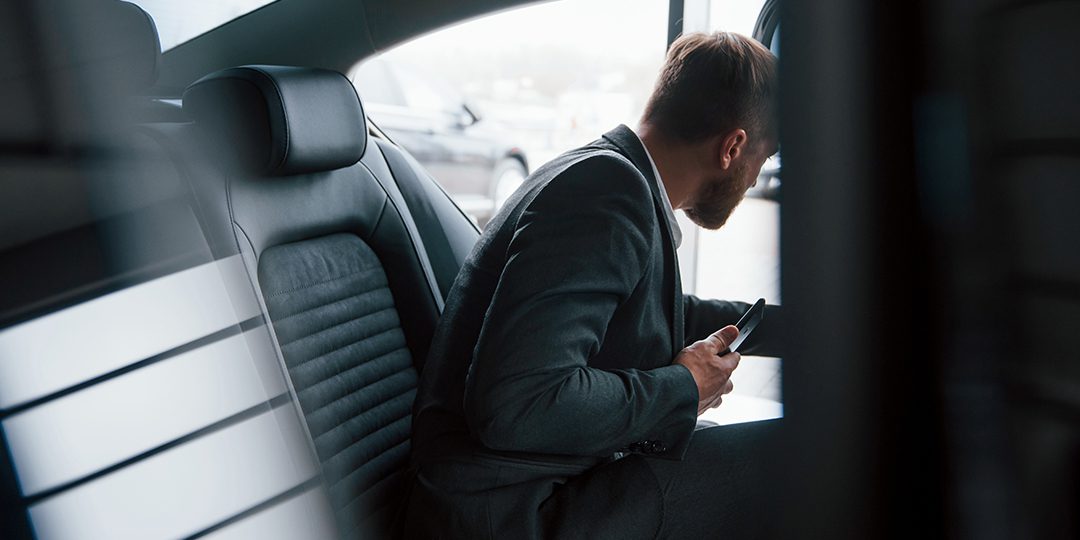 Rideshare apps like Uber and Lyft ferry millions of people from place to place each day. But the convenience comes at a cost. According to research, the arrival of Uber and Lyft to a city corresponded with a 2-3% increase in fatal car crashes.
If you were hurt in an auto accident involving a rideshare driver, your path to possible compensation – from the at-fault driver's personal insurance policy to the rideshare company's insurance coverage – is a complicated one.
Fortunately, there's a lot you can do, both as an innocent driver and a rideshare passenger, to help your rideshare accident claim. But there are plenty of ways to hurt your case, too. It starts with knowing what to do when a rideshare accident happens.
I see a lot of different kinds of wrecks as a car accident attorney, and those involving rideshare companies deserve a bit more explanation. They can introduce another layer that people may not understand. Let's start with a checklist of steps you can take to try to protect yourself.
Uber or Lyft Accident Cases – Steps to Take if You're Injured (as a Passenger or Another Driver)
The primary difference between being a passenger (or even a pedestrian) in a rideshare vehicle and being another driver who was hit in a rideshare accident is property damage. As a passenger in an Uber or Lyft vehicle, you probably won't have appreciable property damage claims. As a random driver, your car has likely suffered damage and will need to be repaired or replaced.
In either case, the steps you should take after a rideshare accident are the same.
Protecting Yourself: Uber or Lyft Accident Checklist
| | |
| --- | --- |
| | Check on the condition of people in the crash and call 911. Are you injured, or is someone else? 911 will generally send an ambulance regardless, but if multiple people are injured, they may send more. Take care of yourself and your family first. Follow as many of these steps as you can without hurting yourself more. |
| | Follow the laws of your state regarding what to do with the vehicles involved in the accident. In some places, it's necessary to move the cars from the travel lanes. Make sure you're not at risk of further injury. Put your vehicle's hazard lights on. |
| | Gather information. Take pictures and talk to people at the scene, including any witnesses, if possible. Get their names and phone numbers, and insurance information from the rideshare driver. The police report will have much of this information, but you can't rely on witnesses to hang around waiting for the police.Take pictures of the vehicles involved, the road, signage, signals, skid marks, or anything else. Take pictures of your injuries and any family member's injuries if you can. |
| | Tell the police officer what you remember about the wreck. The police officer's report will contain statements from you and others who were involved. The officer will not report what they are not told. It is important that the officer know how the crash happened. If you can add information about the facts of the wreck, do so when you have the opportunity. |
| | If you can, make sure you get the Uber or Lyft driver's personal insurance information, as that will be the first policy to review for potential compensation. Uber's or Lyft's insurance coverage can kick in after that personal insurance coverage. |
| | Try to find out what the driver's status was in the Uber or Lyft app at the time of the accident. That may be important later because Uber and Lyft have their own insurance coverage that may apply, but those policies depend on the driver's status at the time of the accident.If you were a passenger, this will likely not be an issue. If you're another driver, you need to know if the rideshare driver was logged in, responding to a ride request, or carrying a passenger. |
| | Get medical attention even if you feel fine. If you're hurt, go to the hospital. In the case of a serious injury, you won't have much choice, but if you have soreness, stiffness, pain, dizziness, or any out-of-the-ordinary feelings, you should still see a doctor. Some serious injuries won't be clear immediately. Don't hesitate and don't wait. Once you do get medical attention, make sure to follow doctors' orders and complete your full course of treatment. |
| | |
| | File a claim. You would first claim against the insurance coverage of the at-fault rideshare driver. Then, if you aren't made whole by that policy, you can file a claim with Uber or Lyft's insurance coverage. This can be a very complicated process, so let me explain. |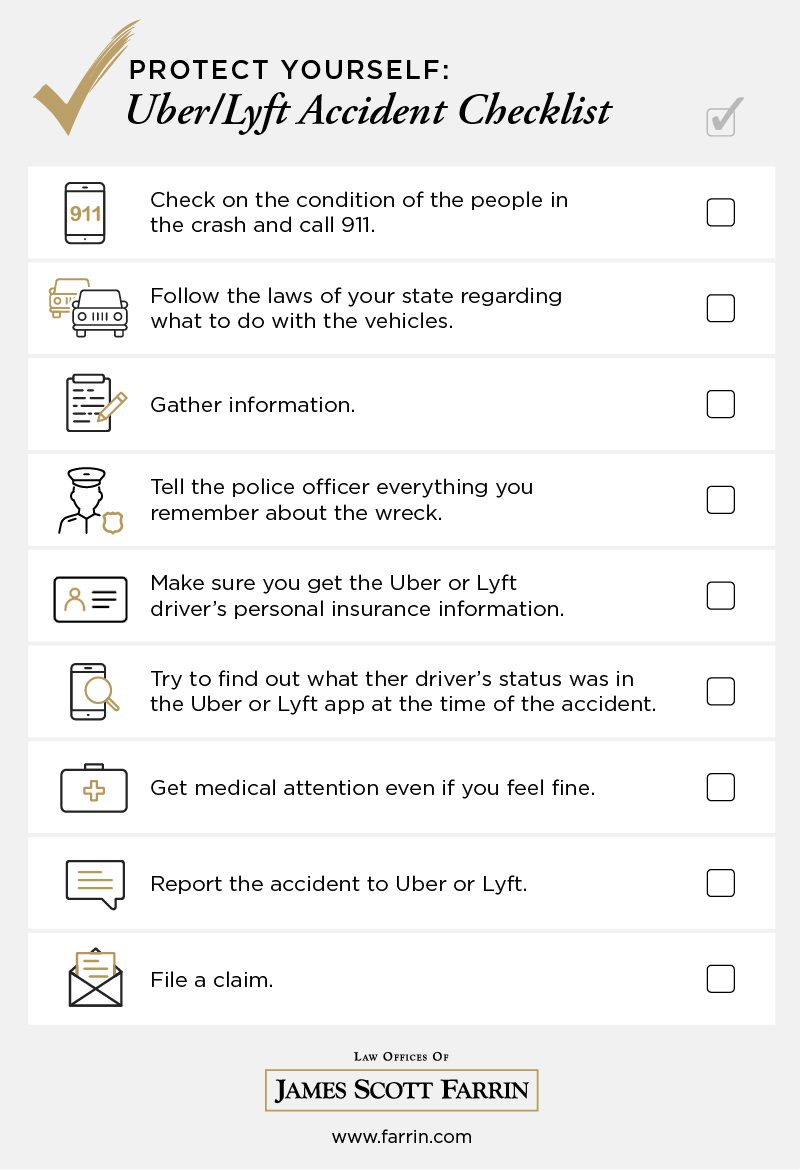 Filing Insurance Claims in an Uber or Lyft Car Accident: Step-By-Step
Unfortunately, if you are injured in a car accident involving an Uber or Lyft driver (whether as a passenger or another driver), the process of trying to get your medical bills paid and damaged property repaired or replaced can be complicated. A lot depends on the insurance carried by the driver. Many rideshare drivers may not have the correct type of coverage for the work they're doing – whether that is from ignorance of their policy's limitations or an attempt to cut costs.
The Rideshare Driver and the Rideshare Company
Auto insurance coverage activates in a particular order. The major variation in the event of an Uber or Lyft accident is the additional insurance coverage potentially provided by the rideshare companies. Getting to that policy, however, means a few things must happen. Let's go in order.
Step 1: File a Claim With the Rideshare Driver's Insurance Company
Like other auto accidents, you first seek compensation from the first available insurance policy – any policy on the vehicle itself. Going a bit deeper, the policy insuring the vehicle is followed by any that the driver has, followed by any other applicable policies. This order matters because some rideshare drivers may rent cars to work in, which is another complication you may face. Note that you are filing a claim here, not settling it – seeking to settle this early in the process is almost certainly a mistake.
Step 2: Get Well – Seek Medical Care Until You're Better
Here's where many people falter in seeking compensation. Why would you settle your case before your injury was as healed as possible? Future medical expenses could be staggering if your injury is severe or disabling. What about lost wages? Loss of family time? An insurance company may want to settle any bodily injury claim as quickly and as cheaply as possible. Meanwhile, you'll see medical bills piling up.
By the way, if you have health insurance, you should almost certainly use it. Learn more about that here.
NOTE: Steps 2 and 3 are interchangeable here, depending on your injury. A more serious injury may mean you need to file a claim with Uber or Lyft sooner.
Step 3: If the Driver's Policy Isn't Enough, File a Claim With Uber or Lyft
One of the benefits Uber or Lyft offers to a driver is an additional insurance policy provided by Uber and Lyft. Those policies are different in some ways, but they both require the driver's own auto insurance policy to be exhausted before they kick in. The bodily injury coverage limits vary depending on what the driver has chosen.
This is why the driver's status within the Uber or Lyft app at the time of the accident matters, as the rideshare companies' insurance policies and coverages may vary depending on the driver's status. Even if rideshare drivers have an illuminated placard, it does not necessarily mean they're working, that's why checklist item #5 above is so important.
Step 4: Try to Settle Your Claim…
If you have not consulted with a personal injury attorney before now, you absolutely should do it now. The sooner you hire an Uber and Lyft accident lawyer, the more work we can do for you and the more we can fight for your best interests.
Remember that you're not the insurance company's client. You're an expense for most. Some insurance companies may delay and deny for as long as possible, waiting for the weight of more and more medical bills and lost wages to take a toll on your resolve. When it comes to insurance company tactics, Uber and Lyft accidents are very similar to normal auto accidents. The difference here is that you may have to fight twice: once with the rideshare driver's car insurance and once with the insurance company from Uber or Lyft.
Step 5: …or Consider Taking Your Fight to Court
A personal injury attorney is essential at this point, and you want a car accident lawyer with litigation experience. In fact, an experienced personal injury attorney knows how to deal with insurance adjusters, car accident claims, how to find and claim against available insurance policies on your behalf, how to fight for maximum value from liability coverage, and much more.
It's not just about medical payments. It's about everything that's happened – it isn't your fault, and you shouldn't be worse off due to someone else's negligence.
Variations in a Car Accident Claim Involving Uber and Lyft
Different states have different insurance regulations, policy requirements, and so on. An Uber driver in North Carolina may have different insurance requirements than one in, for example, New York. In North Carolina, for example, Uber and Lyft pay for certain additional coverage for their drivers.
You'll need to be familiar with the rules in your state, or better yet, hire an attorney who knows them inside and out.
Can You Sue Lyft or Uber for Rideshare Car Accidents?
There's a good bit of debate surrounding this subject. Under most circumstances, there's no need to pursue a lawsuit against the rideshare companies themselves. Uber and Lyft drivers are independent contractors, so there's not a lot of third-party liability that can be assigned to the rideshare companies themselves.
There is a bit of an exception.
Duty of Care: When Driver Background Checks Go Wrong
One approach to suing a rideshare company that can potentially work is if the driver should never have been allowed to work for them in the first place. Uber and Lyft drivers must undergo background checks and meet criteria as determined by the companies' rules. If one of those drivers causes an injury and is found to be unqualified to drive or to pose a risk to riders, you could argue that Uber or Lyft failed in their "duty of care" to protect riders.
Some examples could be that a driver is obviously not qualified to drive or has an impairment that prevents safe driving. Perhaps the driver has a criminal record that the company failed to catch, or some recorded pattern of behavior the background check failed to screen, including registered sex offenders.
In these cases, the companies may be liable for injuries caused by the improperly screened driver, and vulnerable to a lawsuit.
Take Many Steps in One: Hire an Attorney ASAP for an Injury Caused by an Uber/Lyft Driver
I've outlined the general things you should do right after an accident. They may seem like common sense, but there are many of them – and skipping just one could come back to bite you. I also gave you some steps to think about when filing a claim, but there's a far easier way to do that: hire an attorney.
Why deal with bodily injury liability coverage policies, insurance adjusters, rideshare companies, possible medical provider liens, and the general stress and frustration of fighting for fair treatment while you're injured? That's exactly why we're here. Give us a call and let us handle it for you – we'll only take your case if we think it will put you in a better financial position.
Call 1-866-900-7078 or contact us online today.
Text Us
You May Also Be Interested In
---
Rideshare and Delivery Drivers and Insurance: Who Takes the Hit in a Wreck?
What to Do if You Are Injured in a DoorDash Car Accident
Rider Hurt When Car Swerved to Avoid Hitting Deer: Who Pays the Bills