Did Zantac give you cancer? Get some answers here
Zantac is a popular heartburn medication, but it was recently linked to a probable cancer-causing substance. Are you one of the thousands who may have grounds for a lawsuit?
DEFECTIVE DRUGS & PRODUCTS OVERVIEW
Personal Injury Attorneys Investigating Zantac Cancer Claims
Zantac Users: Critical Information, Cancer Danger, and Legal Notice
NOTICE: The popular heartburn medication ranitidine, more popularly known as Zantac, was recently linked to a probable cancer-causing substance called nitrosodimethylamine (NDMA). The drug itself has been available for decades and is reportedly one of America's most-prescribed medications.
The FDA's notice of NDMA contamination in September 2019 caused many retailers to pull the Zantac brand and generic versions of the medication from store shelves. Pharmaceutical giant Sanofi and several generic drug makers have issued a recall.
If you or a loved one have taken Zantac (ranitidine) for more than a year and been diagnosed with cancer, contact an experienced personal injury attorney immediately to discuss your options.
Was the Danger Present From the Beginning?
Based on lab tests, NDMA has been classified as a probable human carcinogen. Valisure, a Connecticut-based pharmacy and laboratory, discovered the NDMA and alerted the FDA. Unlike the recent recall of blood pressure medications with NDMA contamination, the problem with ranitidine is not traceable to a manufacturing process.
The probable carcinogen appears to result from an error in the way that ranitidine reacts with the body. By itself, the medication apparently poses no threat. The problem occurs once the drug in ingested. The FDA studied the drug's reactions with fluids like those in the stomach and intestines, but found no evidence that Zantac formed carcinogens. Valisure's testing found that, when certain nitrites (preservative chemicals found in some foods) were present, one pill could produce levels of NDMA more than 3,100 times the FDA's daily recommended threshold.
Alarmingly, that means that the potential for ranitidine use to produce NDMA may have been present from the very beginning.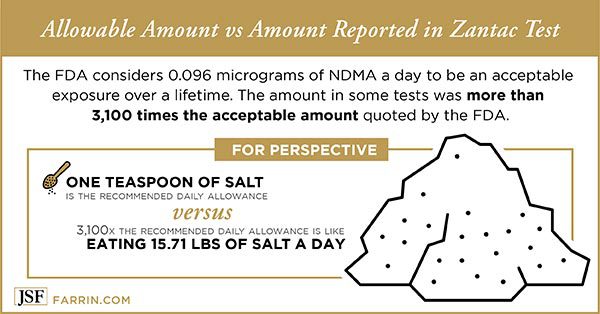 Stanford University researchers also found elevated levels of NDMA in Zantac users back in 2016, purely by chance, during a study about NDMA contamination in drinking water. In fact, studies conducted in the 1980s raised safety concerns, though the drug was approved for use in 1984. Glaxo Research Group, the drug's originator, performed its own study in 1987, and found that there was no significant increase in NDMA. That study's testing methods were reportedly inaccurate and, staggeringly, discarded some relevant results on its way to concluding the drug was safe. Now, Stanford researchers, noting the possible cancer risk, are hard-pressed to ask anyone to take Zantac in order to perform further tests.
Zantac (Ranitidine) Linked to Many Cancers
For users of the heartburn medication, the risk is very real. The many possible cancers to which they may be subject includes:
Stomach cancer
Small intestine cancer
Colorectal cancer
Esophageal cancer
Liver cancer
Bladder cancer
Kidney cancer
Pancreatic cancer
Leukemia
Non-Hodgkin's lymphoma
Multiple myeloma
Other types of digestive tract cancer
Meanwhile, the FDA has not found NDMA in Zantac's competitors with different active ingredients, including Pepcid (famotidine), Tagamet (cimetidine), Nexium (esomeprazole), Prevacid (lansoprazole) and Prilosec (omeprazole) at this time.
This means heartburn sufferers may have options for treatment, and should consult their physicians. That is cold comfort to families and individuals rocked by a cancer diagnosis, fighting a battle with disease, or who have passed from cancer that may have been caused by Zantac/ranitidine use.
If you or a loved one have used Zantac or ranitidine for more than a year and been diagnosed with one of these cancers, call 1-866-900-7078 for free case evaluation.
Thousands May Have Grounds for Lawsuits
Thousands of lawsuits are expected over Zantac and its generic equivalents, alleging that a fundamental defect in the active ingredient, ranitidine, can react within the body to produce a carcinogen in quantities that exceed FDA thresholds by thousands of times. Damages sought range from those seeking refunds for their purchase of the product to those who claim to have suffered medical problems from its use.
For perspective, one estimate puts the number of people who are prescribed Zantac at 800,000 yearly and another report estimates 15,000,000 prescriptions yearly. On top of that, the drug has been available since the 80s. Whatever the case, millions of people have been needlessly exposed to the looming threat of a cancer they could have avoided had they been warned of the risk.
Lawsuits have already been filed in California, Colorado, Pennsylvania, and Florida. There are class actions in process as well, filed in federal courts in New Jersey and Connecticut. The legal community believes it is possible that the case will become the largest class action in U.S. history.
Get a Free Zantac Case Evaluation from Personal Injury Lawyers
Exposure to a dangerous contaminant or drug can bring on tragic, life-changing consequences. At the Law Offices of James Scott Farrin, we understand what you're going through and the battles to come. We're prepared to fight for the people who have been injured, and the families who are affected, by Zantac. Ask yourself these questions:
Have you or a loved one taken Zantac for more than one year?
Were you or your loved one later diagnosed with any of the cancers listed above?
If you answered yes to both questions, the time to act is now. Contact the Law Offices of James Scott Farrin or call us at 1-866-900-7078 today. We're currently investigating claims. You may be eligible for compensation for:
Medical expenses
Pain and suffering
Lost wages
Loss of earning capacity
Other injury-related expenses
We're on your side, from start to finish.
Text Us
The Law Offices of James Scott Farrin consults with a national network of attorneys on product liability, defective drugs, and defective products cases in an attempt to provide the best representation we can for our clients. Depending on the details of your case, our firm will likely refer your matter to another law firm with which we associate. We will only do this if we believe it is in your best interests and if you agree.