Asheville Car Accident Lawyers Who Mean Business
---
300 Ridgefield Court
Suite 309
Asheville, NC 28806
Phone: 828-552-8215
Toll Free: 1-866-900-7078
Asheville has a reputation of being very chill and relaxed. Until recently, however, it was also one of North Carolina's worst offenders when it came to the rate of traffic and pedestrian deaths. While data sees that trend reversing, there are still people being injured on Asheville's roads. When that happens, an Asheville auto accident attorney can help you seek compensation and take the pressure off while you recover.
Where Do Most Car Accidents Happen in Asheville?
The most dangerous parts of the road as far as accidents are concerned are intersections, where cars have to cross each other's paths. Anyone who lives in Asheville will probably give you one of several intersections they think is the worst, and most of them will be along Patton Avenue. As the primary artery through town, it's naturally a busy road.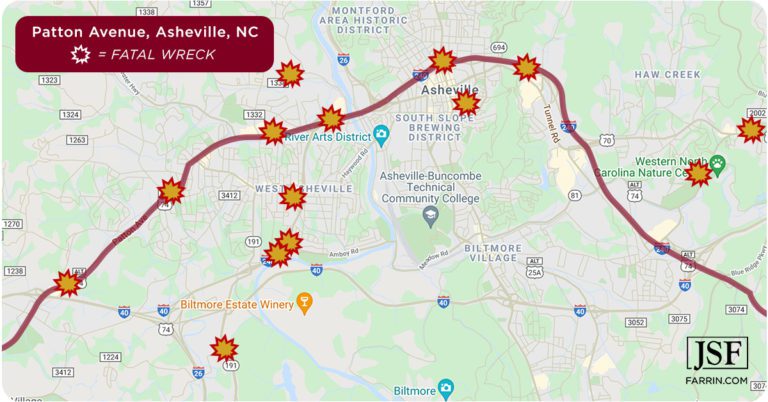 A contributing factor – aside from driver negligence – may be population growth. Asheville may be outgrowing its infrastructure. This makes it especially important for drivers to pay attention.
How Many Car Wrecks Happen in Asheville?
In 2020, according to the North Carolina Department of Transportation (NCDOT), there were 3,874 car crashes in Asheville. More than 1,100 of those crashes resulted in injuries, and there were 13 fatalities. Unfortunately, the number of fatalities more than doubled in 2020 while the overall number of accidents declined 23%.
However, the percentage of car accidents resulting in injuries has remained relatively stable over the past four years.
What Should I Do If I Am Hurt in a Car Accident in Asheville?
The short answer is to seek medical attention. Even if an injury is not obvious, you may not be able to accurately feel the extent of it. At least be checked out by a medical professional at your earliest convenience, and whatever you do, document any examinations and care you receive.
The good news is that Asheville has statistically rapid access to care. As of 2019, Asheville's average Emergency Medical Services (EMS) response time is just 7.6 minutes – a full two minutes faster than the North Carolina average, and almost a minute and a half faster than the Buncombe County average. The average hospital transport time was 31.3 minutes, which is fully nine minutes faster than the North Carolina average and 6.5 minutes faster than the Buncombe County average!
Once you've gotten the care you need, call a car accident attorney in Asheville to discuss the circumstances and the merits of your case.
When Should I Hire a Car Accident Lawyer?
The sooner the better! The insurance company you're dealing with is already working, but not for you. They could be working to limit their payout. Hiring an experienced car accident lawyer gives you a number of benefits:
Evidence gathering – we do the legwork to build your case for potential compensation.
Communicating – we talk to the insurance company so you don't risk saying something that could damage your case.
Forms and filing – we take on the forms, deadlines, filing, and small details so you can focus on your recovery.
Experience – this is what we do, day in and day out, and we'll tell you if an offer is fair based on years of fighting for injured people like you.
Compassion – we understand what you're going through, and we'll check in to make sure you're getting the care you need.
Our Car Accident Lawyers in Asheville – Looking for a Lawyer That Doesn't Charge Unless You Win?2
The attorneys at the Law Offices of James Scott Farrin have helped more than 60,000 clients recover a total of more than $1.6 billion in compensation since 1997 – including thousands of car accident injury victims.1 Our attorneys work on a contingency fee basis, meaning we do not collect an attorney's fee unless we collect for you2 – there's no out-of-pocket-cost to get professional representation in your case.
Contact the Law Offices of James Scott Farrin in Asheville
If you've been hurt in an Asheville car accident, don't hesitate. An insurance company may rush to settle your case before you know what the true cost of your injury may be. For a free case evaluation, call us 24/7 at 1-866-900-7078, or contact us online. Or, if you need more information, contact our Asheville office. Don't hesitate – tell them you mean business.
Text Us
Practice Areas

Repeat James Scott Farrin Client, Online Google Review
This is my third time using them!
This is my third time using them! 1

Former Auto Accident Client, Online Google Review
The team at JSF provided a good experience
The team at JSF [provided] a good experience for me both times I needed legal services. You can be sure that I will return here for any legal services I need. Thanks to Miss Andino [and] Mrs. Yanez for their time and knowledge. 1

Car Accident Client, Google Review1
James Scott Farrin's legal knowledge
Their legal knowledge, overall concern for me as a client, and professionalism gave me security that I made the right choice!
Testimonials do not reference all the feedback the firm has received. Each case is different and must be evaluated on its individual facts. Prior results do not guarantee a similar outcome can be achieved in the future.