Choose an Experienced Personal Injury Lawyer for Henderson
---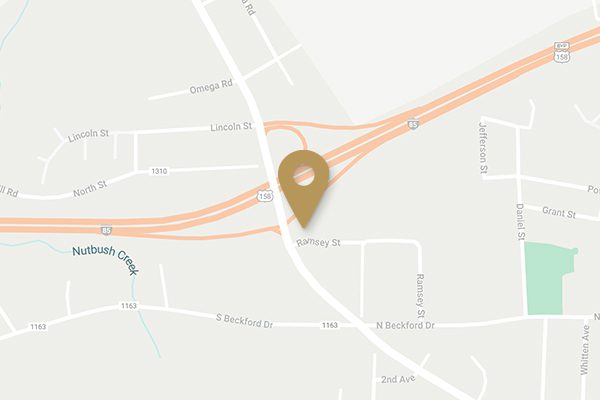 944 West Andrews

Henderson, NC 27536
Phone: 252-492-4600
Toll Free: 1-866-900-7078
Even in a charming, quiet place like Henderson, the risk of a personal injury is very real. Whether you're camping at Kerr Lake, golfing at the country club, shopping at the Vance County Regional Farmers Market, or anything in between, risks are lurking.
From slips and falls to dog bites, from defective products to medical malpractice, personal injuries do happen. If you've been hurt, don't suffer in silence. Fight for the compensation you may deserve with an experienced personal injury lawyer serving Henderson.
What Are the Most Common Causes of Personal Injuries in Henderson?
Probably the most common type of personal injury comes from auto accidents, and there are personal injury attorneys who are entirely dedicated to car accident injuries.
However, there are many other ways people are injured, including:
Dog bites – You're out walking around – the neighborhood, a park, a store – and a dog bites you. The law is tricky here. Dog bite injuries can be serious and you may be entitled to compensation.
Electrocution – Faulty wiring? Poor electrical design? Poor maintenance? Electricity is all around us. You should not have to suffer just because someone failed to properly design, install, or maintain an electrical system.
Medical malpractice – The people in charge of caring for our health work hard, and the stakes are high. When a medical professional makes a mistake, or simply fails in their duty, you shouldn't have to pay the price.
These are just a few examples. Call us at 1-866-900-7078 and tell us about your injury. We'll evaluate your case for free, and with no obligation.
$125,000
Personal injury settlement for a man who was injured when he fell down a set of broken stairs at a commercial building in Raleigh, North Carolina.1
How Do I File a Personal Injury Case in Henderson?
Are you filing a claim or a case? A claim is something you file with an insurance company. Let's say you get a nasty burn at a local restaurant. You could make a claim with the business's insurance company. They may offer you something, or they may deny your claim. Even if they do offer you compensation, how will you know it's enough?
A case is something you file through an attorney. It includes the claim, but it's more than that. An attorney will deal with the insurance company – and there may be more than one! We can also deal with the business itself if necessary, and have experience with injuries and what the real costs are. For example, medical bills are obvious. But did you miss work? Lose wages? Miss out on family time?
You could possibly be entitled to compensation for these things – and a Henderson personal injury attorney can help.
What If I Know the Person Who Injured Me, but I Don't Want to Sue Them?
You don't have to sue someone to have a personal injury case. In fact, most cases never make it to litigation. Plus, many if not most personal injury settlements come from insurance companies, not individuals.
Let's say you're injured at a friend's house because the railing on their deck gives way. You fall and break your arm. You don't have to sue your friend – their homeowner's insurance should compensate you. The issues become:
How much compensation should/could you receive depending on your injury?
How quickly could you receive any possible compensation for your injury?
Do I Need a Henderson Personal Injury Lawyer?
You can decide for yourself if you need the services of a personal injury attorney. Just ask yourself a few direct questions:
Do you know what to say and not to say to an insurance company?
Do you know how to build a detailed case?
Are you aware of tactics some insurance companies may use to reduce the amount they offer?
Do you have a good grasp of how much your injury could actually cost to treat?
If you're able to negotiate a settlement, do you know how to determine whether it's fair?
If you answered "no" to any of those, you should probably consult with an experienced Henderson injury attorney.
Contact the Law Offices of James Scott Farrin in Henderson
Get experienced representation with a detail-oriented and determined James Scott Farrin personal injury attorney serving Henderson. We work on a contingency fee basis, which means you won't pay an attorney's fee unless we collect for you.2 Call us anytime at 1-866-900-7078 or contact us online for a free case evaluation from an attorney. Or, simply contact our Henderson office to schedule an in-person meeting. Don't suffer silently from an injury due to someone else's negligence! Tell them you mean business.
Text Us
Practice Areas

Former Auto Accident Client, Online Google Review
I had an amazing experience with James Scott Farrin.
I had an amazing experience with James Scott Farrin. They were consistent and answered all questions and catered to all my needs. Thank you so much. If you [need] any assistance with any accidents, I highly recommend James Scott Farrin for your legal team. 1

Former Car Accident Client, Online Google Review
This has been the best experience with a law firm that I've experienced.
This has been the best experience with a law firm that I've experienced. The communication was great, -and even with COVID-19, the JSF was still working behind the scenes on both of my cases. I'm truly satisfied with the services that were provided to me and my family. 1

Former Auto Accident Client, Online Google Review
I was very happy with the services received from James Scott Farrin.
I was very happy with the services received from James Scott Farrin. [The] legal team was very professional and responsive to any questions that I had. 1
Testimonials do not reference all the feedback the firm has received. Each case is different and must be evaluated on its individual facts. Prior results do not guarantee a similar outcome can be achieved in the future.