Skilled Car Accident Lawyers – Raleigh, NC
---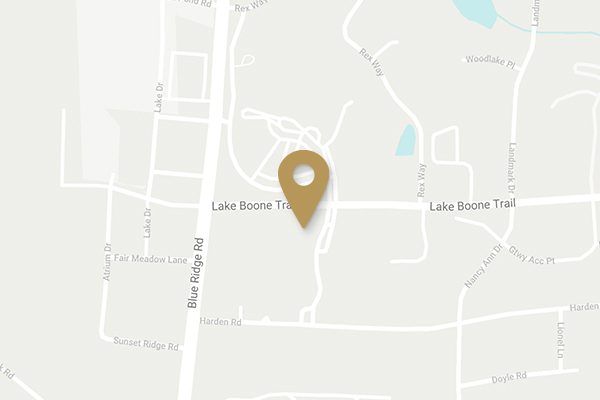 5438 Wade Park Blvd
Suite 400
Raleigh, NC 27607
Phone: 919-834-1184
Toll Free: 1-866-900-7078
In an instant, a car accident can change everything. One minute you're driving down Glenwood Avenue on your way to work. And then bam! You get t-boned by a careless driver running a red light while leaving Crabtree Valley Mall.
Now you've got major medical bills and a car that needs serious repairs. It's time to talk to an experienced Raleigh car accident lawyer for guidance.
The attorneys at the Law Offices of James Scott Farrin is here to help. We have been fighting for the rights of car accident victims for years – victims like Bernadette H. who was rear-ended on I-40 and came to us for help. Listening to Bernadette's experience may help you understand how it feels to be able to rely on a law firm that cares about its clients and works hard to try to get its clients the results they may deserve.
We care about each other, too. The Law Offices of James Scott Farrin was recently listed as the top large company in Triangle Business Journal's 2020 "Best Places to Work" Awards list. If you've been in a car accident caused by someone else's negligence, get a free case evaluation today from a firm that cares – about you and about justice.
Should I Talk to the Insurance Company?
If you are filing a claim, you will need to talk to the insurance company in most cases. But before you do this, it's a good idea to consult with an auto accident attorney in Raleigh about your claim. They can advise you about things you should never say to an insurance adjuster. And most will do this initial case evaluation for free so you can be better informed when responding to the insurance company's questions.
Remember, most insurance companies are for-profit businesses, and they make more profits when they pay less in claims. So what you say to them matters. At the Law Offices of James Scott Farrin, our lawyers know that talking to the insurance company is often the last thing you want to do. We are here to advise you on how to protect your rights, and we can fight the insurance company for you.
How Quickly Do I Need to Report a Car Accident in Raleigh?
Most insurance policies require that you inform the insurance company of your car accident as soon as possible. In North Carolina, you generally have three years from the date of the accident (called a statute of limitations) to file a claim – but you shouldn't wait that long! Memories tend to fade and details can get lost as the time between the accident and the filing grows longer, and you want to have all your facts straight when filing. Call a car accident lawyer in Raleigh as soon as possible after your accident to discuss your case. You can't anticipate an auto accident, but you can take steps to ensure your rights are advocated for after one occurs.
How Much Does a Raleigh Car Accident Lawyer Cost?
Our auto accident attorneys work on a contingency fee basis.2 This means that they get paid a fixed percentage of the gross recovery. At the Law Offices of James Scott Farrin, we believe this payment arrangement serves our clients best because it ensures that our interests are in sync with our clients' interests, and it also allows us to help individuals who may not have money upfront to pay for an experienced lawyer. So, we don't get paid an attorney's fee unless you get paid. 2
Where Are the Most Dangerous Intersections in Raleigh?
If you have driven around Raleigh much, you may have noticed that I-440 interchanges are common sites for fender benders. According to NCDOT records from 2014 to 2018, the most accidents occurred at these dangerous intersections in Raleigh:
Capital Boulevard and I-440 interchange
Wake Forest Road and I-440 interchange
I-40 and South Saunders Street
New Bern Avenue and I-440 interchange
Glenwood Avenue and I-440 interchange
During this same timeframe, records show that the most severe car accidents in Raleigh were at these intersections:
Corporation Parkway and New Hope Road
Dawson Street and South Street
Falls of Neuse Road and Common Oaks Drive
So be careful out there, especially if you are driving through one of these intersections. And if you are involved in an accident, remember that the Law Offices of James Scott Farrin has more than 150 years of combined legal experience helping tens of thousands of personal injury victims.1
What Can a Car Accident Attorney Do for Me?
Plenty. But one of the most important things a lawyer can do for you after a car accident is to handle all the details of your claim so that you can focus on recovering from the accident.
Details an attorney can help you with include:
following proper procedures, handling paperwork, and adhering to deadlines
answering your questions and keeping you informed
identifying sources of possible compensation
calculating a realistic case value
building your case by gathering evidence and interviewing any witnesses
dealing with the insurance adjuster
fighting for maximum compensation
seeking a timely resolution
representing you in court, if needed
What is Contributory Negligence?
North Carolina is one of the few states that follows the contributory negligence rule, which means that if the insurance company can establish you contributed in any way to your car accident (even just 1%), they can use this against you to try and deny your claim. If you have been injured in a car accident caused by someone else's negligence, you should do everything you can to try and make sure that you don't end up footing the bill. And we are here to help you.
How Much Can I Expect to Get?
Whether and how much you may be owed in compensation cannot be reasonably answered without knowing the specifics of your accident and injuries. Every car accident claim is unique. However, car accident settlements may take into consideration the following components: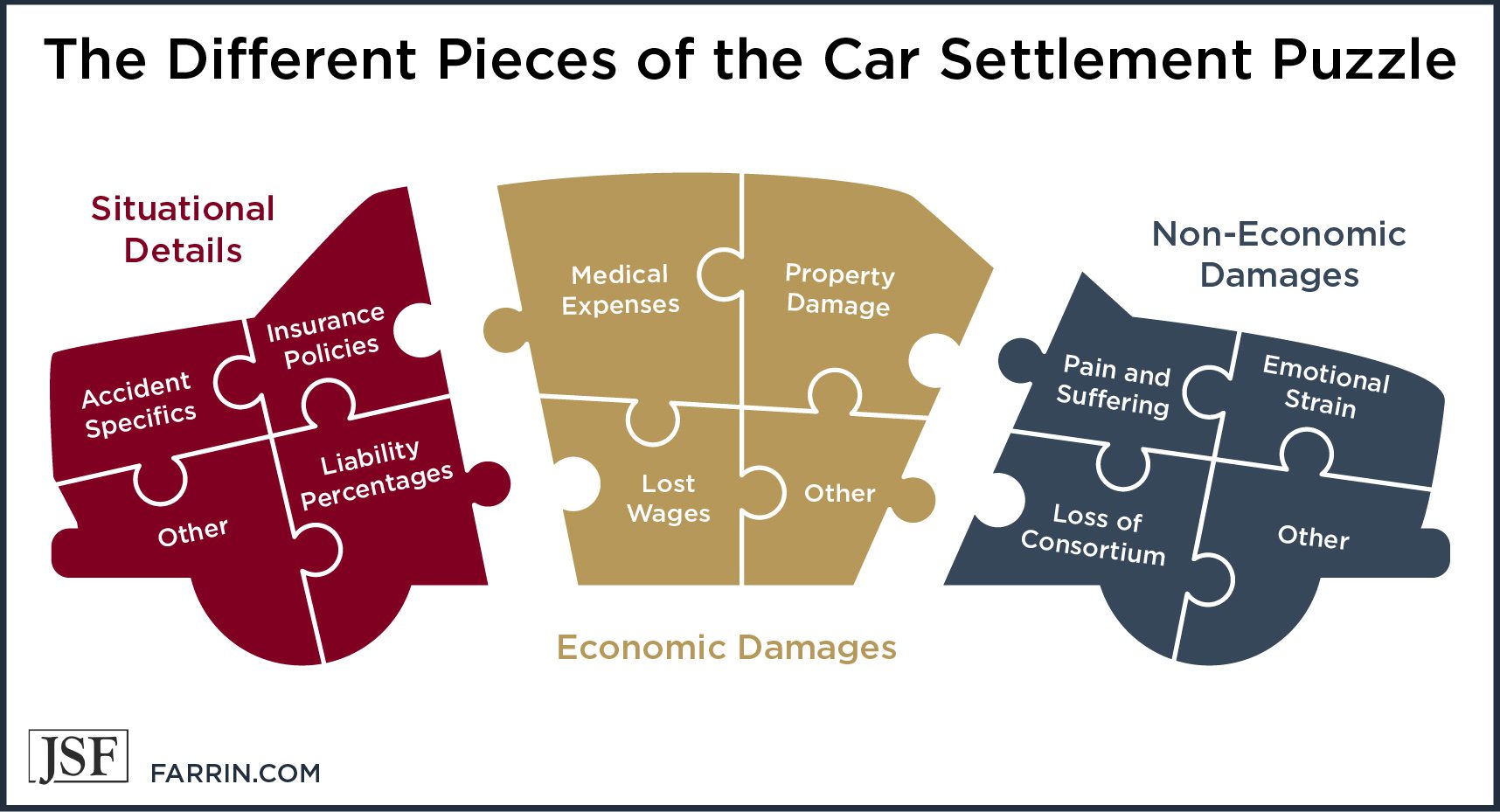 An experienced car accident attorney can help you consider all the various pieces of the "car settlement puzzle" when building your case.
Why Hire Us as Your Car Accident Lawyer in Raleigh, NC?
At the Law Offices of James Scott Farrin, our Raleigh car accident lawyers look at the big picture and can build your case carefully and comprehensively. We've been doing this for clients for more than 25 years and have helped more than 60,000 injured people. Check out what some of our Raleigh clients have to say about their experience with our firm.
Our attorneys are experienced negotiators who know how to fight insurance company tactics. Sometimes there may be things the claims adjuster doesn't want you to know. But we want you to be fully informed, and we are willing and able to take a case to trial if that is in our client's best interest. Call 1-866-900-7078 today for a free case evaluation. Or contact our Raleigh office. Tell them you mean business!

Former Car Accident client, Online Google Review
James Scott Farrin's team was so helpful
James Scott Farrin's team was so helpful and so responsive to all my questions and kept me very aware of everything that went on with my case from day one. I would highly recommend this firm to anyone. … They had patience and gave me straight up honest answers to everything I wanted to know. 1

Former Auto Accident Client, Online Google Review
I was very happy with the services received from James Scott Farrin.
I was very happy with the services received from James Scott Farrin. [The] legal team was very professional and responsive to any questions that I had. 1

Former Car Crash Client, Online Google Review
After being pushed around by the adjusters, I decided to contact James Scott Farrin.
After being pushed around by the adjusters, I decided to contact James Scott Farrin...they educated me [about] the process. They not only worked things out to protect me, they also educated me on what could happen in the future. I recommend them to anyone! 1
Testimonials do not reference all the feedback the firm has received. Each case is different and must be evaluated on its individual facts. Prior results do not guarantee a similar outcome can be achieved in the future.