If you've been injured at work and are pursuing a workers' compensation claim, you may be wondering how often your lawyer should communicate with you. Being injured and out of work can be scary, so hearing regularly from your lawyer about your claim is important for your case and peace of mind. Unfortunately, that's not every client's experience.
According to the American Bar Association, lack of communication and client neglect are among the most common disciplinary complaints against lawyers.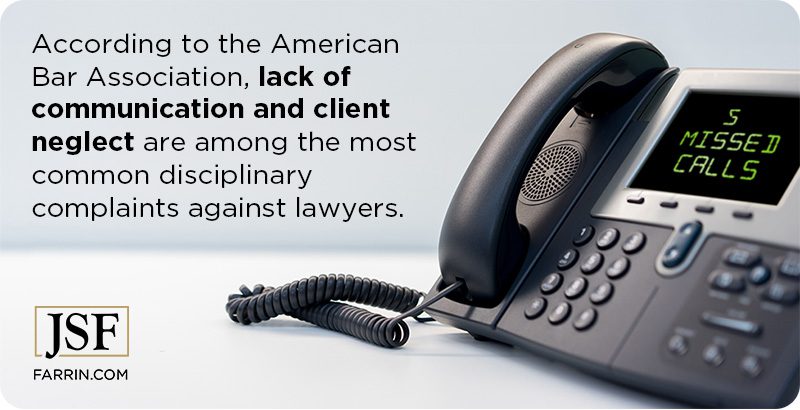 So how often should you hear from your workers' comp attorney? Your lawyer should set expectations up front for when they will reach out to you as the case reaches certain milestones.
This should include telling you when you can expect a call or update, so that you don't have to worry or waste your time following up if there haven't been any significant developments in your case.
Do you need help with your workers' comp case? For a free professional opinion, wherever you are in the workers' comp process, call 1-866-900-7078 today or contact us online.
Lawyer-to-Client Communication Frequency in Workers' Comp Cases
Other than when you first reach out, some of the key moments when you should communicate with your workers' comp lawyer include:
When your claim is filed.
When your claim is approved or denied.
When you are nearing the end of medical treatment.
If a hearing is scheduled.
When you receive a possible settlement offer.
When your potential settlement is ready to be distributed to you.
These are all crucial milestones in your case when your lawyer's guidance is essential.
When Should I Be Communicating With My Attorney?
You should speak with your attorney if:
You're about to undergo surgery.
You believe the medical treatment you've been receiving for your injury is inadequate.
You stop receiving weekly compensation checks that you believe you're entitled to.
You leave your job for any reason or get put on medical leave.
You receive a lump sum settlement offer from the workers' compensation insurance company.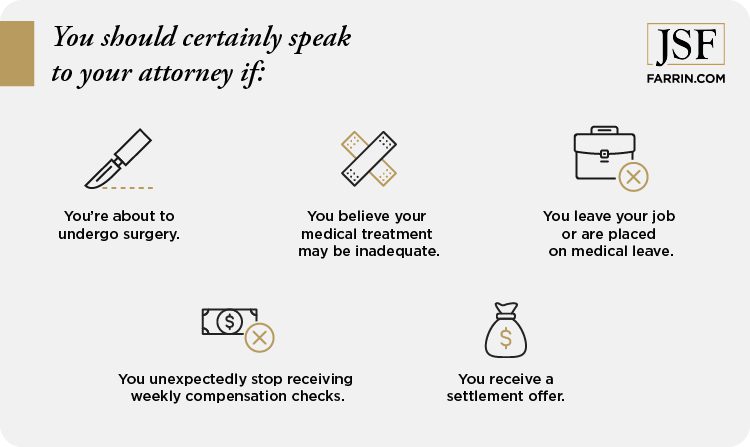 Contact us online or call 1-866-900-7078 today for a professional evaluation of your workers' comp case, wherever you are in the process. There is no cost or obligation.
Our Workers' Comp Team Always Puts You First
Our experienced workers' comp team puts you first and regular communication is a top priority.
But don't take our word for it:
"Excellent communication from the beginning… I received frequent updates without prompting. All of my questions were immediately answered." – Gina C., Google review1
"I had an amazing experience with James Scott Farrin. They stayed in constant communication with me every step of the way!" – Rahkiah C., Google review1
"Very reliable, great communication, and had my best interests in mind. Thank you from the bottom of my heart!" – Drew T., Google review1
We know how to help you. For 2023, our firm was named to the U.S. News – Best Lawyers 'Best Law Firms' list for Workers' Compensation Law for the eighth straight year. We received a Tier 1 ranking (the highest).4
Do you have questions or concerns about your workers' comp case? Contact us online or call 1-866-900-7078 for a free case evaluation today.
Frequently Asked Questions