One of the many problems that can occur when you've been in injured on the job is no longer being able to work and make money. As a workers' compensation attorney, I've had many clients who struggled to pay their bills due to the financial burden that not being able to work creates in their lives, even with benefits. I tell them that while it may be tempting to take a second job, it might not really help financially and you risk losing your benefits (or even running afoul of the law). Let's start by defining what workers' comp is.
Workers' compensation insurance protects employees and employers alike by providing medical care and lost wage benefits for eligible employees who get injured or sick while performing their job duties. Employers of a certain size (at least three employees in N.C., four in S.C.) are usually required to purchase workers' comp insurance that covers their employees.
Your Benefits Under Workers' Comp
There are several types of benefits that an injured employee may receive under workers' compensation, but the two major categories of workers' compensation benefits are medical benefits and wage loss benefits:
If eligible, these are related to your medical care and the costs of your medical treatment from your workplace injury or illness. They're intended to cover your medical bills and expenses as long as you need treatment.
These potential benefits address your financial deficit from not being able to work due to your work injury or illness. However, these benefits generally only cover about 2/3 of your average weekly earnings, up to a limit determined yearly by state law. They're intended to last only as long as you're unable to work.
Let's discuss how these might be affected by taking on another job.
Can You Work a Second Job While on Workers' Compensation in N.C.?
While you can legally work a second job while receiving workers' compensation benefits, it may or may not be worthwhile to do so depending on the details of your case.
In N.C., wage benefits are capped at about 2/3 of your average weekly wage before your injury. However, these wage-replacement benefits are usually only based on the income earned at the job where you were injured. For the most part, workers' compensation laws in N.C. don't even consider your second job, unless you take on that second job after your injury.
That means if you were working a second job at the time of injury and you are able to continue working that job, then your benefits will likely not be affected. However, if you take another job that increases your total earnings over what you made pre-injury, the insurance company may count that increase against you and then reduce your wage loss benefits.
Let's say you worked two jobs before your injury. Your primary job is physically demanding but your part-time job isn't. You get injured and are unable to work your primary job but can still perform your side gig with no problems. You can generally continue receiving income from your second job and it will not affect your benefits – unless you start earning more in the second job than what you earned pre-injury.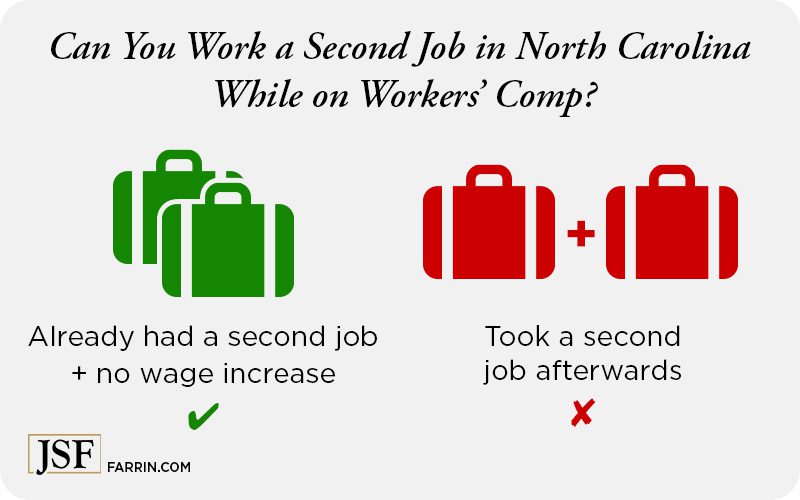 That being said, it is worth noting that a workers' comp insurance carrier could argue that your continued ability to work your second job means that you aren't as disabled as you say, even if your second job is compatible with your injuries. The insurance companies are protecting their best interests, not yours.
Can You Work While on Workers' Comp in South Carolina?
In S.C., wage benefits are capped at about 2/3 of your average weekly wage from the four quarters prior to your injury. Note that wage benefits can never exceed the maximum average weekly wage as determined annually by the South Carolina Department of Employment and Workforce. This means, if you had another job at the time of your injury, you can include those wages as well when calculating your average weekly wage.
If you take another job after you start receiving workers' comp benefits, you'll need to notify your current employer and the South Carolina Workers' Compensation Commission (SCWCC). Failure to do so could be considered workers' compensation fraud.

How Else Could Taking Another Job Affect My Workers' Comp Benefits?
One issue to consider is that a second job might seem compatible with your injuries but then exacerbate them in other ways. For example, even office jobs that involve sitting throughout the day still occasionally have physical demands, such as lifting heavy boxes of documents. The presence of such demands at your new job could also be a reason for the insurance company to argue you're not injured anymore and thus no longer need to receive benefits.

What Can You Do if Your Workers' Comp Benefits Are Retracted?
If you believe your workers' comp benefits were reduced, retracted, or denied improperly, whether because of a second job or for any other reason, we can help. Our team of experienced workers' comp attorneys is deeply familiar with all aspects of the workers' comp process.
We can help you:
Handle all the details – We'll help you file your paperwork and follow all of the strict deadlines and procedures.
Gain peace of mind – We'll answer your questions and advise you based on our team's vast experience in workers' compensation law.
Take on the insurance company – If they try to delay, reduce, or refuse your claim, we'll deal with the insurance company and your employer so you don't have to.
By fighting for your interests – We'll help protect your rights, and we know how to fight back if there's retaliation from your employer.
Level the playing field against powerful forces with us on your side!
Since 1997, we've recovered over $1.6 billion in total compensation for more than 60,000 people.1 In addition, seven of the attorneys on our workers' compensation team were recognized on the 2023 U.S. News "Best Lawyers" list. Our firm also achieved a Tier 1 ranking (the highest) for Workers' Compensation Law – Claimants.3 And we know how to negotiate for you with the insurance companies because several of our attorneys and paralegals used to work for insurance defense companies.
For a free case evaluation from one of our attorneys, call 1-866-900-7078 or submit our online form today.
Text Us
Frequently Asked Questions