Did you know that the first attempts to study car crash impact used cadavers, live animals, and even live humans as recently as the late 60s? They were the precursors to the crash test dummies of today, which are human-like versions of an average man. But therein lies the problem. The average size, weight, and shape of a man in the 1960s was representative of many of the drivers at the time, but as time went on, the "average driver" evolved — but the crash test dummies evolved much slower.
The standard crash test dummy is a 171-pound, 5'9" androgynous, faceless dummy, modeled after an average male in the 60s and 70s. This means the safety statistics you see when researching car safety are likely based on studies conducted on an outdated dummy.
Now consider these recent statistics:
Women are about 17% more likely to be killed in a car accident than a male car occupant of the same age. If you or someone close to you has been injured in an accident, call the Law Offices of James Scott Farrin today at 1-866-900-7078.
Car Crash Research Initially Left Out Women
Leaps and bounds have been made in improving car safety technology since the 70s, when the auto industry started using crash test dummies that had been originally developed to test ejection seats in jet planes.
The automotive and research industries were male-dominated fields when car crash dummies were first used. The idea behind it, of course, was to reduce fatalities in the event of a car crash. It was highly successful, as cars were developed with the results of those studies built into the design. And the NHTSA agrees that newer cars are safer cars.
But safer for whom?
Men are surviving automobile crashes, but women are still getting injured and dying at a higher rate, simply because the impact of an automobile accident on women isn't as thoroughly studied. Regulators asked the NHTSA to create a female dummy in the 1980s. That is to say, this is not a novel issue that's recently come to light.
There are crash test dummies now for pets and obese people, but the female crash test dummy still represents the smallest 5% of American women back in the 1970s.
Female Crash Test Dummies: A Recent Development
You may or may not be surprised to learn that it wasn't until 2003 that the NHTSA finally put female crash test dummies in a car to conduct research on a car's safety. Even then, she still rides as a passenger or doesn't ride at all.
Perhaps even more surprising? She's just a smaller version of the male dummy. At five feet tall, 110 pounds, she can also double as a 12 or 13-year old child. According to the Center for Disease Control, the average woman today is 5'3" and 170.5 pounds. Moreover, the female dummy doesn't take into account the biomechanics of the female anatomy.
According to the Federal Highway Administration (FHWA), women account for about 50% of the drivers on the road.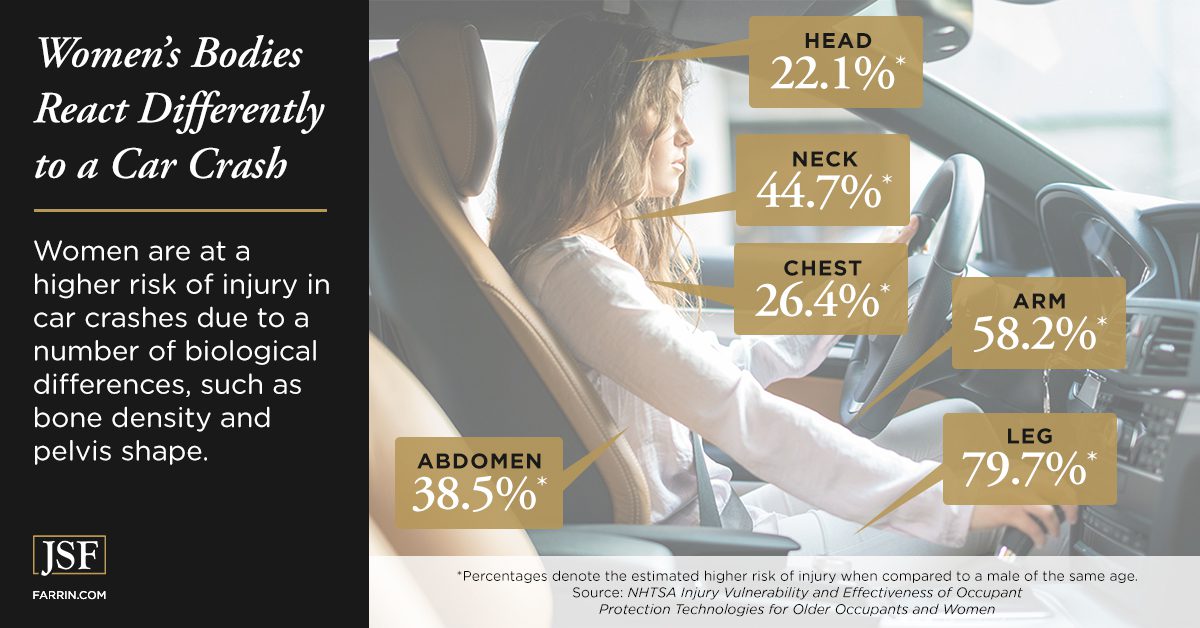 Women's Bodies React Differently to a Car Crash
A wide variety of factors affect women that don't affect men, and vice versa. Lynda Tran, a spokesperson for the NHTSA told a Washington Post reporter in 2012, "Studies show that women, having smaller bones and lower bone density, are at greater risk than men of suffering injury or death in crashes. Their less muscular necks make them more vulnerable to whiplash. In general, smaller people cannot tolerate crash forces as well as can full-sized men." More here.
Jason Forman, a scientist at UVA's Center for Applied Biomechanics and the principal researcher for the study mentioned earlier in this blog, said in an interview with CityLab, "'We obviously know a lot of ways that men and women are different bio-mechanically,' he says, in terms of both body size and shape. Female pelvises, for example, are generally wider and shallower than those of males, and fat is distributed differently. Females typically have more tissue concentrated around the waist and thighs, while in males it's more concentrated around the belly."
The NHTSA lists the safety rating for cars on the road, if you're interested in seeing how your vehicle rates. Note that two out of the three tests assume the driver is male, and those are the results that are reflected there. In the third test, a female driver crashes from the side into a pole.
Whatever the case may be, the safety rating of a car is certainly something to consider with your next vehicle purchase or lease.
North Carolina Car Accident Lawyer: We're Here to Help if You've Been in a Car Crash
We've been in the business of fighting insurance companies and protecting North Carolinians harmed by negligent parties since 1997, and we've helped recover more than $1.6 billion for over 60,000 clients since then.1
We'll evaluate your case for free, and we don't collect an attorney's fee unless we get compensation for you. If you've been in an auto accident in North Carolina, call us at 1-866-900-7078 or contact us here.
Tell your insurance company you mean business.
You May Also Be Interested In
---
Answers to the Most Frequent and Urgent Car Accident Injury Questions
Insult to Injury: How Inflation Has Quietly Put Car Accident Injury Victims at (Even Greater) Risk
The Most (and Least) Dangerous Cities and Counties for North Carolina Drivers, Motorcyclist, and Pedestrians
Effects of a Car Crash on the Human Body