I have been a personal injury attorney in North Carolina since 2011, and I understand the importance of time. Cases are frequently dismissed across the state because they weren't filed in time, and victims miss out on their opportunity to be fairly compensated for their injuries.
Being hyper-aware of time is one of the ways I try to help my clients. In this article, I will explain how time plays into personal injury cases via the statute of limitations. Remember, timing matters.
Why Is It Important to Talk to an Attorney ASAP in a Personal Injury Claim?
If you have been injured by the negligence of another, time is of the essence when it comes to making a personal injury claim and preparing for your case. There are several different rules and exceptions to the filing guidelines in North Carolina, so we strongly advise you to seek the counsel of an attorney as soon as possible after your injury.
To build your personal injury case, your attorney may need to interview witnesses, collect evidence, investigate details of the accident, speak with your doctors, negotiate with the insurance company, and perhaps even prepare for trial – and these efforts take time.
In addition, there are things your attorney can advise you on that may help strengthen your case. For example, in many personal injury cases, it is important to do (and in some cases not do) the following things as soon as possible after the injury:
Seek medical care and follow all prescribed treatment plans
Be prepared about what to say, if anything, to the insurance adjuster
Don't communicate about the accident on social media
Some insurance company adjusters may be aggressive about contacting injured victims and trying to get a statement from them soon after an accident. While this may seem harmless, these adjusters are trained to look for gaps that may undermine your case. This is why I strongly suggest that you seek the advice of an attorney as soon as possible after the accident – even before you give the insurance company a statement.
What Is a Statute of Limitations?
Simply put, a statute of limitations is a law that sets the maximum time limit in which you can file a lawsuit after an injury. It is also the amount of time you have to try to settle your injury claim with the insurance company. Even if you are still in negotiations with the insurance company, you must file a lawsuit within the statute of limitations. And each state sets its own statutes of limitations for different types of cases.
In North Carolina, the statute of limitations for filing most personal injury lawsuits is generally three years from the date of the accident. I have found that many of my clients did not know of this time limit. Some assumed that as long as there was a record of the accident, they would be able to file a lawsuit.
For example, if a client was injured in a car wreck caused by a reckless driver who ended up receiving a ticket for the accident, they assumed there was no deadline for settling a personal injury claim or filing a lawsuit. There was a police report, the other driver was ticketed – that's all you need, right? Unfortunately, this is not the case. In most cases in North Carolina, you only have three years after the accident to pursue a lawsuit.
And during this time, your medical bills may be accumulating and you may be unable to work. A three-year statute of limitations may seem like a long time, but you may need every minute of that time.
Do All Personal Injury Cases Have the Same Statute of Limitations?
No. While most common types of personal injury cases generally have a three-year statute of limitations in North Carolina, other types, such as wrongful death and workers' compensation, generally have a two-year statute of limitations.
When Does the Statute of Limitations Clock Start Ticking?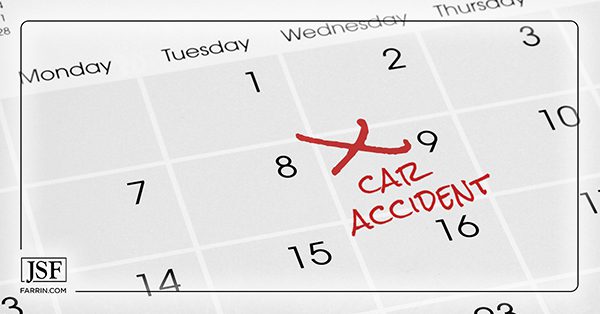 Generally, the three-year statute of limitations for a personal injury claim starts on the date that the injury occurs. The law specifically states that it starts on the day on which the bodily harm "becomes apparent or ought reasonably to have become apparent" which, in most cases, is the day of the injury.
However, there are exceptions to this start date in North Carolina. The clock pauses (or "tolls") in the following circumstances:
If the injured person is a minor when injured by the negligence of another, the clock starts when that person turns 18.
If the injured person is declared "incompetent" or "insane" by NC law, the clock starts when he or she is declared competent or sane.
If the at-fault party dies before the three-year statute of limitations has run, the clock starts with his or her death.
What Happens if I Miss the Statute of Limitations Deadline?
If you do not file a personal injury claim within the statute of limitations, you may be barred from pursuing compensation for your harms and losses.
However, when a personal injury and/or its cause is not immediately discovered, you may be able to apply the "discovery rule" which can extend the deadline for filing a lawsuit. For example, if a doctor negligently leaves a sponge inside a patient that causes health issues during surgery on June 1, 2017, the patient could file a medical malpractice case until about June 1, 2020. However, if the sponge and related health complications are not discovered until August 1, 2020, that patient may still be able to file a medical malpractice case under the discovery rule.
Call the Law Offices of James Scott Farrin at 1-866-900-7078. Don't let any more time pass – our personal injury attorneys can advise you now on how to proceed later.
Text Us
You May Also Be Interested In
---
North Carolina Statute of Limitations for Personal Injury: What It Is and Why There's No Time to Waste
How Injury Lawsuits Have Made Your Daily LifeWay Better
What Is the Average Car Accident Settlement in North Carolina?