Beautiful evergreen trees adorned with sparkling lights can make the holidays brighter. But they can also pose a serious threat to the safety of your friends and family if they ignite. This season, make sure that your holiday celebrations are festive and bright – and safe – by practicing these holiday fire safety tips in your home.
What Causes Christmas Tree Fires?
Christmas tree fires are usually caused by human error or lack of understanding of the conditions that can lead to a fire. Some common causes of Christmas tree fires are:
Dry Christmas trees
Faulty lights
Excessive lights
Exposed wiring
Proximity to fire and other heat sources
These causes are essential to understand before we get to the tips on how to prevent Christmas tree fires. Christmas trees do not spontaneously combust; there's usually a preventable cause.
Knowing these causes puts you one step closer to a fire-free holiday, as will adhering to the following 10 Christmas fire safety tips I describe below.
How Often Do Christmas Tree Fires Occur?
The National Fire Protection Association (NFPA) claims that "Between 2014-2018, U.S. fire departments responded to an average of 160 home fires that started with Christmas trees per year."
A breakdown of these holiday fire statistics reveal that annually, these Christmas tree fires caused an average of:
14 injuries
2 deaths
$10 million in property damage
That's a lot of misery during what is supposed to be a happy time of the year.
10 Tips on How to Prevent Christmas Tree Fires
Now that you understand the risks of a Christmas tree fire, let's cover how to minimize those risks. The following 10 tips can greatly eliminate the chances of your Christmas tree catching fire.
1. Keep Your Christmas Tree Watered
When dry, the tree becomes a fuel that burns rapidly and gives off a lot of heat energy. The Fire Research Division at the National Institute of Standards and Technology (NIST) conducted a series of holiday fire safety tests on video to demonstrate why you should water your Christmas tree. This video showed that a well-watered Christmas tree did not ignite when exposed to the same ignition source as a dry tree. It's pretty convincing, right?
To prevent a tree from drying out quickly, be sure to cut the base of the tree (give it a "fresh cut") to allow it to soak up more water, put it in a stand with a deep dish, and water it frequently. It also helps to place your tree away from heat sources, such as radiators, which can speed up the drying out process.
Or, if you are feeling really resourceful, the United States Department of Agriculture published this fire-retardant recipe for a solution that helps your tree remain wet during the holiday season.
2. Keep Your Christmas Tree at Least 3 Feet Away from Your Fireplace or Electrical Outlets.
This caution applies to candles, radiators and other sources of heat also. Be sure garlands and other decorations are also kept far enough away from these sources to avoid becoming fire hazards. The risk is obvious: a spark can travel and ignite.
Note: The NFPA report cited earlier states that a heat source, such as a candle or equipment, was too close to the tree in more than one-fifth (22%) of the Christmas tree fires nationally from 2014-2018. 
3. If You Choose an Artificial Tree, Make Sure It Is Fire-Retardant.
When purchasing an artificial tree, make sure it is identified, labeled, or certified as fire-retardant. The appeal of an artificial tree becomes more pronounced when you consider the risk of Christmas tree fires. Some sources claim that real trees are three times more likely to be involved in a Christmas tree fire.
4. Secure Your Tree.
Make sure you tree is tied at the top so that it can't be pulled or knocked down by small children or animals. An upright tree may be safely distanced from a heat source or candle, but one that has been knocked over could touch something dangerous and catch fire. Securing your tree also has the added bonus of preventing other types of injuries to children.
5. Check All Extension Cords and Strings of Christmas Lights for Exposed Wiring or Cracked and Frayed Cords or Plugs.
These imperfections can emit a spark and start a fire within seconds. Lay out the strings of lights and look for broken or missing lights. A dry, flammable pine needle could get stuck in an empty light socket and possibly ignite a fire as electrical energy flows through the bulb sockets.
Note: The NFPA cited that electrical distribution or lighting equipment was involved in almost half (45%) of home Christmas tree fires from 2014-2018.
6. Use Approved Lights and Connect Them Properly.
Only use light strands that have been tested by a nationally recognized testing laboratory, such as Underwriters Laboratories (UL). The box will have this information prominently displayed. Also, pay attention to the directions regarding how many strands should be linked together. The manufacturers have tested the lights and have listed the maximum number of strands that are safe to connect.
7. Do Not Tuck Extension Cords Under the Tree Skirt or Other Rugs.
If extension cords are used, make sure they are not overloaded with wattage, and do not run them under a rug or tree skirt. The cords can get overheated if they are covered, and wires can break down if people are walking over them.
8. Turn Out All Lights and Blow Out All Candles When You Go to Bed or Leave the House.
Lights can short out and start a fire while you are asleep or away, and candles always pose a fire risk and should never be left unattended. And candles on Christmas trees are never a good idea.
9. Install a Smoke Alarm and Carbon Monoxide Alarm – And Test Them!
Make sure these alarms are properly located and in working order so that you and your family are aware of any signs of danger as soon as possible. These alarms are needed year-round but are vital to holiday safety.
10. Develop a Fire Escape Plan.
In the unfortunate event of a fire, knowing how to act quickly could save you and your family from danger. Develop a plan for how to escape your home in the event of a fire and practice it with your whole family. The more you practice, the more comfortable you will be.
Your fire escape plan should include routes to safety, an agreed upon meeting place outside of the house, established responsibilities regarding helping small children and pets, and commonsense rules to follow when escaping from the house, such as:
Make noise – Scream to alert others to follow the escape plan.

Call 911 – Grab your phone on your way out, and call 911 as you continue out of the house. If you can't find your phone, keep moving, and ask a neighbor to call once you get outside.

Don't stop to grab valuables – Your life is more precious than anything you can grab.

Stop, drop, and roll – If your clothes catch fire (heaven forbid), follow the "stop, drop, and roll" protocol you learned in grade school to extinguish the flames first, then proceed along the escape route.

Stay low – Remain close to the ground away from the high temperatures and smoke.

Cover your nose – To avoid smoke entering your lungs and overwhelming you, pull your shirt up over your nose or grab a towel and cover your nose.

Close any doors behind you – To prevent the fire from spreading, close the door to any room you leave if you are 100% sure no one else is in the room.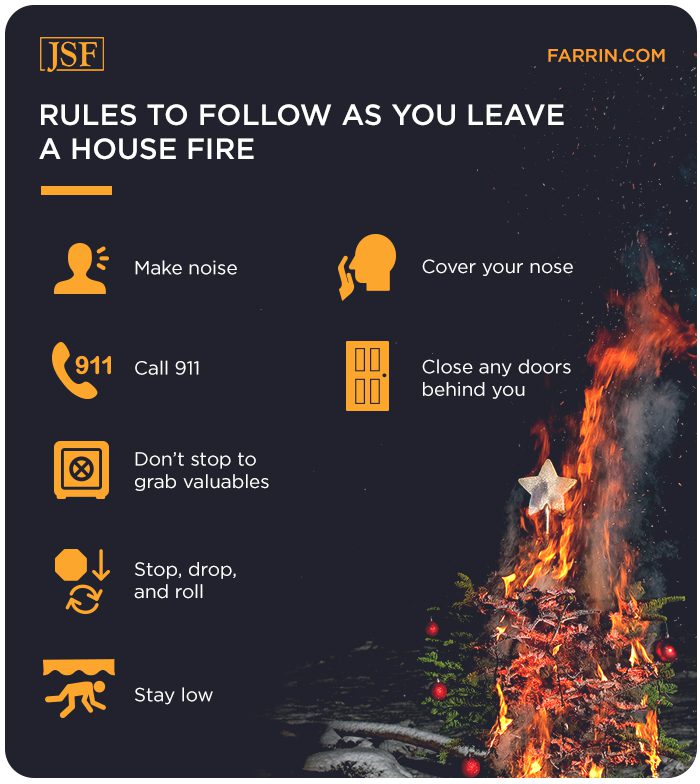 Following these tips can help you and your family stay safe this holiday season so that your celebrations are happy and bright.
Over a five year period, the National Fire Protection Association reported that U.S. fire departments responded to an average of 160 home fires from Christmas trees. If you or a family member have been injured by th negligence of another, call us today for a free case evaluation.
What To Do if You Get Injured by a Fire
Most of us take Christmas fire safety seriously, but sometimes, people are negligent and accidents happen. If you incur burn injuries or other serious injuries in a fire over the holidays, please seek medical care immediately. Your health is of the utmost importance and should be dealt with first.
And if you think the fire was caused by another person's negligence, call the Law Offices of James Scott Farrin at 1-866-900-7078 for a free case evaluation. We have helped more than 60,000 injured people since opening our doors in 1997. We take holiday fire safety and your health seriously, and we want to help.
Stay safe.
You May Also Be Interested In
---
5 Ways to Stay Safe on the Water During Busy Holiday Weekends to Avoid Drinking and Boating Accidents
The Most Dangerous Months and Holidays to Drive in North Carolina
Holiday Party Hosts Better Watch Out – You Could Be Liable for Injuries Drunken Guests Cause. (10 Things You Need to Know)