MOTORCYCLE ACCIDENTS OVERVIEW
Riders Face a Great Risk of Being Injured in a Motorcycle Accident
The chances of getting hurt on a motorcycle seem higher than ever.
It will come as no surprise to learn that most crashes in 2019 happened from about April through the end of October. The good weather brings riders out and some of the most popular rides — like the twisty Tail of the Dragon — see a spike in crashes and injuries.
We urge you to seek medical attention after any kind of significant fall or crash. Here are some symptoms that should especially make you take notice if you're thinking about toughing out your motorcycle accident wounds:
Nausea
Dizziness
Headache
Confusion/Memory Loss
Vomiting
Weakness/Numbness
Sudden Sleepiness
Discolored Skin
Insomnia
Tinnitus (a ringing in the ears)
Swollen Abdomen
Tip: The most common way for a biker to get into a wreck is when a car coming the other direction turns left. Keep a watchful eye.
To try and prevent injuries from ever occurring, here are some reminders on protecting yourself from other people on the road:
Tip: A rhyme that's stood the test of time: Dress for the slide, not the ride.
Unfortunately, injuries can occur due to another's carelessness and negligence, no matter how defensively you try to drive. If you or a loved one has been hurt, you just want the compensation you may be entitled to. For an attorney's opinion on your case, get your free case evaluation now.
Common Motorcycle Accident Injuries and Trauma
Motorcycle wrecks can result in many different types of injuries – from internal injuries that require surgery and pose a risk of serious complications to nervous system injuries like spinal cord damage, which could lead to a permanent loss of mobility.
Riders are five times more likely to be injured in an accident than occupants in the car they got into a wreck with, according to the National Highway Transportation Safety Administration (NHTSA). Motorcyclists are also 37 times more likely to sustain fatal injuries. These stark numbers may not get the attention they deserve because of the popular misconception that bikers don't ride safely.
Motorcycle riders understand the risks involved and that it's important to ride defensively and safely. Unfortunately, accidents happen. When they do, the injuries can be severe – and often fatal. Our attorneys have seen a variety of serious injuries when handling motorcycle accident cases.
Head Injuries from a Motorcycle Wreck
Head injuries can be severe and life-altering and are possible in accidents even when head protection is worn.
A permanent disability from a head injury may result in a reduction in income for the rest of the victim's life on top of expensive medical bills and hospital care that can last weeks, months, or even a lifetime.
The following are examples of head injuries we have seen in motorcycle accidents:
Concussions
Skull fractures
Short- or long-term memory loss
Chronic headaches
Amnesia
Dizziness
Building a Head Injury Case
Head injury cases can be complicated. Every motorcycle accident head injury is unique and presents special challenges for a victim. In head injury cases, the expertise and insight of neurologists, neurosurgeons, and neuropsychologists may be needed to determine the extent of the victim's impairment. In addition, a life-care planner and/or an economist may be needed to project the future cost of medical treatment and loss of current and future earnings.
Tip: Even a "small" brain injury from a motorcycle accident can be
traumatic
. Please wear a helmet. Sometimes, even if you take all the right steps, you can't avoid being injured by another's negligence.
Contact a motorcycle accident lawyer
who can help you fight for the compensation you may be entitled to.
Hand and Arm Injuries from a Motorcycle Wreck
The impact of any type of serious injury, including arm injuries, can be far-reaching. Most jobs and many everyday tasks such as cooking and basic hygiene require the full use of hands, arms, and fingers.
In a motorcycle accident, riders and passengers may automatically use their arms to brace for impact. Naturally, the arms, wrists, hands, and fingers receive the brunt force of impact, particularly when the heavy motorcycle lands on any of these parts. Broken bones, fractures, sprains, and strains can result in medical bills and lost time from work. This type of motorcycle arm injury is so common it is often referred to as "biker's arm" or "rider's arm."
What is Biker's Arm?
Similar to whiplash, injuries from biker's arm can range in severity and may not show up for days or even weeks later. Injuries range from temporary nerve damage to broken bones, permanent loss of the use of arms, hands, and fingers, and amputation in some cases. If you have been injured in a motorcycle crash, get immediate medical treatment to try and minimize the damage.
Symptoms of Biker's Arm
Biker's arm injuries can affect a variety of nerve pathways, including the brachial plexus in the upper arm, the median nerve, the radial nerve, and the ulnar nerve. Damage to these nerves during an accident can cause loss of feeling and movement – sometimes permanently. Symptoms of biker's arm may include:
Minimal or no control of shoulder and elbow muscles
Inability to wiggle fingers
Lack of feeling in arms or fingers
Treatment for Biker's Arm
In many cases, biker's arm can be treated. The sooner the better. Some possible medical treatments include physical therapy, special exercises, massage, chiropractic care, analgesics, and sometimes surgery. These types of injuries can take a long time to heal. Other times, nerve damage is so severe, some people never fully recover.
Lengthy treatment can be expensive, time consuming, and may require time off work. You may be coping with excessive medical bills, loss of income, and the prospect of long-term care and rehabilitation. That is why financial difficulties after a motorcycle accident are not all that uncommon.
Tip: Loose asphalt, grass clippings, potholes, and bad weather can easily result in you being ejected from your motorcycle.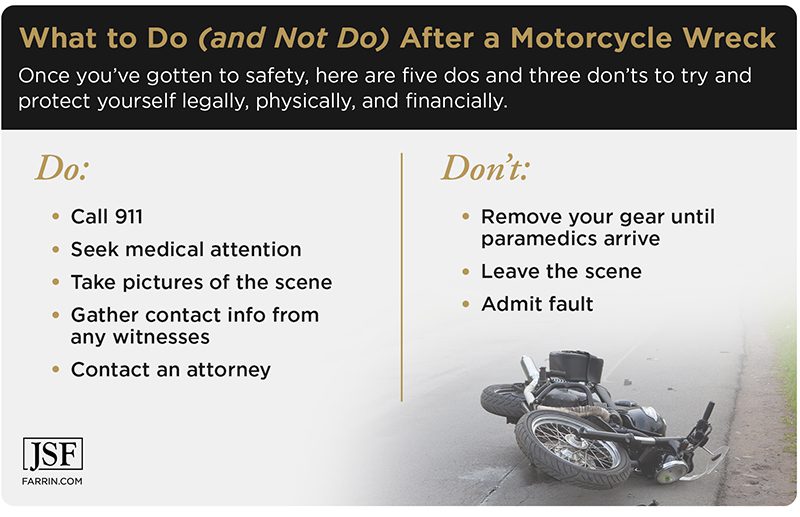 Leg Injuries from a Motorcycle Wreck
When someone is injured in a motorcycle accident, they can sustain any number of serious injuries, including leg injuries. Leg bones that are susceptible to breaking or fracturing include the femur (thigh bone), the fibula, and the tibia (below the knee).
A leg injury can range in severity. In a less serious case, a rider or passenger may sustain bruises, cuts, and scrapes or may have to deal with swelling and pain that last temporarily. More serious leg injuries can result in a permanent loss of mobility. Victims often cope with deep lacerations, broken bones, and fractures, and are sometimes unable to work for weeks, months, or even permanently.
Riders also may sustain damage to the knees or feet and may have to deal with other serious injuries, including road rash. Road rash is one of the most common injuries sustained in motorcycle accidents. Road friction against your vulnerable skin at speed can be excruciating, debilitating, and even deadly.
Amputation After a Motorcycle Accident
In some cases, a rider or passenger may have to undergo amputation of a leg or other limb. This abrupt change in physical capacity can cause the victim serious life-long consequences. They may have to give up their job or their routine daily activities. Expenses that accompany these types of life-altering injuries can quickly drain a bank account.
If you've suffered a serious injury to your leg or another body part, the insurance company will tell you what they consider fair. In light of the long-term ramifications, any attempt at fair compensation can only come after poring over your medical records, accident reports, potential loss of income, and other crucial information to try and calculate complete recovery for all harms and losses.
Motorcycle Accident Wrongful Death
If you have lost a loved one in a motorcycle wreck, our hearts are with you. Filing a wrongful death suit may help you get a measure of justice.
Contact a Personal Injury Lawyer at the Law Offices of James Scott Farrin
Losses related to motorcycle injuries include skyrocketing medical bills, expenses related to lengthy rehabilitation, loss of wages due to time off from work, pain and suffering, and more. With such high stakes involved in a serious motorcycle accident, it's important if you've been injured to contact an experienced motorcycle accident lawyer to learn about your rights. Our attorneys are skilled at determining motorcycle accident liability and can pursue the maximum compensation you are entitled to receive under state law.
If you or your loved one has been injured in a motorcycle accident, call 1-866-900-7078 for a free case evaluation. Some of us at the Law Offices of James Scott Farrin are motorcycle riders and enthusiasts, too. We understand what you are going through. Let us listen to your concerns and show you the options you have to help get your life back on track. Your initial conversation is free, and we don't take an attorney's fee unless you get compensation.2 Don't let the insurance company tell you what your options are.
Tip: The clock is ticking. You have a limited time from the incident to file a personal injury claim.