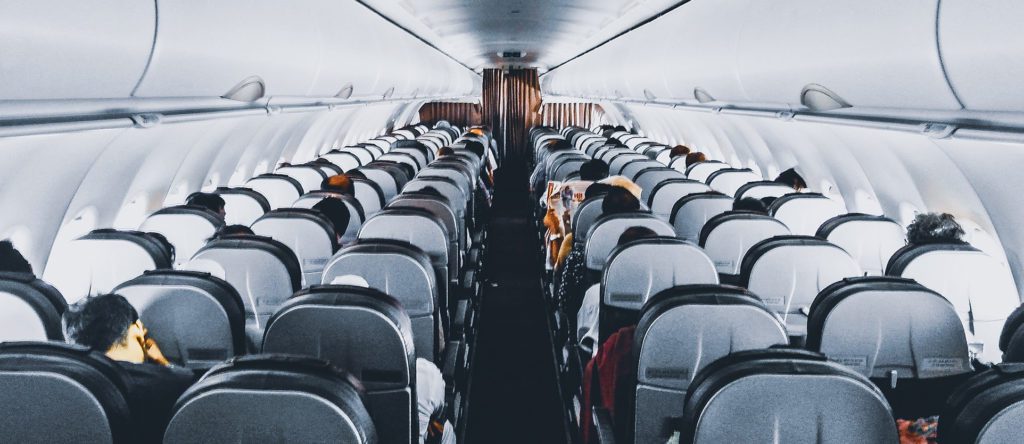 Have you been injured on an airplane?
Whether you're on a commercial airline or in a small craft, the law is the same. Know your rights!
Aircraft Injury Attorney: Flying the Painful Skies?
Most people think of aircraft injuries as resulting from crashes, but that's not always the case. It's important to remember that you're putting your safety into the hands of someone else and that they are responsible for keeping you safe – whether in the air or on the ground. If you're hurt while on an aircraft, an experienced aircraft injury lawyer may be able to help you get compensation.
Air Travel Injury Statistics
Statistically speaking, it is more dangerous to drive a car than to fly. Americans have a 1 in 114 chance of dying in a car crash, according to the National Safety Council, versus a 1 in 9,821 chance of dying in commercial or private air travel. In 2018, there were 393 people killed in civil aviation, which covers everything from small private planes to huge commercial airliners. All but two of whom died onboard the aircraft.
Some of the injuries you might suffer in helicopter and plane crashes include:
Head injuries (present in 66% of fatalities)
Spine injuries (present in 45% of fatalities)
Pelvic fractures (present in 49% of injuries)
Thoracic (upper body) injuries (present in 80% of all accident victims)
Organ damage
Leg fractures (present in 73.6% of fatalities)
Arm fractures (present in 56.6% of fatalities)
These severe types of injuries occur during crash events. But injuries can also occur in the air and on the ground. Individuals can be injured during boarding and deplaning, from items falling from overhead bins, or when they are caught in the direct path of an incident, such as when aircraft parts land on buildings or vehicles.
Some people complain about and even fear turbulence, and injuries due to turbulence have happened. For example, according to the FAA, there were a total of nine reported injuries due to turbulence in 2018.
Determining Responsibility for Aircraft Accidents and Injuries
For commercial air crashes, parties that could potentially be liable might include the airline, aircraft manufacturer, and air traffic controllers. For general aviation crashes involving private aircraft, the pilot could be held liable if the crash occurred due to pilot error, as well as the owner of the airplane, their insurer, or the plane's manufacturer.
While the National Transportation Safety Board (NTSB) collects data and attempts to determine the reason for each crash, NTSB investigators may not seek out every individual or party who may be responsible for a victim's injury or death.
If you have been injured or a loved one has died in a plane or helicopter crash, an experienced personal injury attorney familiar with aircraft-related injuries can often be critical in helping try to identify the responsible parties, ensure they are held accountable, and fight for appropriate compensation for your injuries.
How Safe Is Your Aircraft?
Commercial airliners – Airlines, aircraft manufacturers, airport operators, and their contractors are responsible for ensuring flying is safe. Each is required to follow regulations, which are enforced by the Federal Aviation Administration in the United States. When any of these parties fail to fulfill their obligations, passenger safety is at risk.
Single-engine aircraft – Small, single-engine planes or charter planes have a higher accident rate than commercial airliners, and the death rate is also higher. Pilot error and weather conditions are common causes for single-engine aircraft accidents.
Helicopters – Helicopters can be as much as 35% more prone to crashing than the average aircraft. They typically land and take off far more often than larger aircraft. While not all helicopter pilots are private individuals, in many cases, non-commercial pilots aren't required to have as much training or experience as commercial pilots. Weather conditions can also be a factor.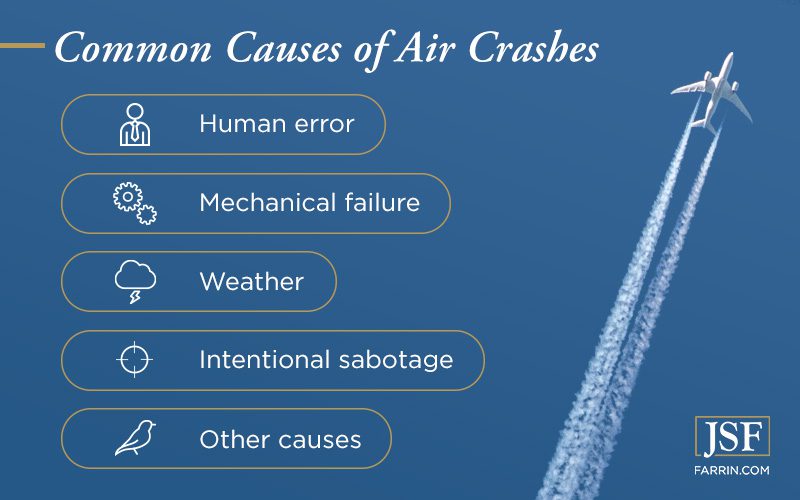 Common Causes of Air Crashes
Human error – Approximately 80% of all airplane accidents are due to human error (pilots, air traffic controllers, mechanics, etc.), according to Boeing.
Mechanical failure – That same Boeing study found that approximately 20% of airplane crashes are due to machine (equipment) failures.
Weather – According to NASA, weather is a contributing factor in 30% of all aviation accidents.
Intentional sabotage – A particularly rare cause of plane disasters, but one that can create angst for travelers, is intentional sabotage, which currently accounts for 8% of all fatal plane crashes worldwide.
Other causes – This broad catch-all includes anything that cannot be attributed to the other categories, such as bird strikes.
If approximately 80% of air crashes are caused by human error, the victim must be able to prove negligence in order to be compensated. Even if the cause was mechanical failure or defect, you'll need evidence to build your case for compensation. Proving negligence in a plane or helicopter crash, regardless of the cause, can take a highly experienced legal team – a team that knows how to deal with sometimes cumbersome government and insurance regulations, timelines, and procedures.
Get a Free Case Evaluation from Personal Injury Attorneys
If you or someone you love has suffered an injury or lost someone in an airplane or helicopter crash, you may be entitled to receive compensation for:
Disability
Physical pain
Medical bills, including home healthcare
Mental anguish
Diminished quality of life
Lost wages
Funeral expenses for the victim, if deceased
Loss of support from the victim, if deceased
Our legal team has more than 150 combined years of legal expertise. You may be entitled to compensation.
Tell them you mean business. Call us at 1-866-900-7078 or chat with us to speak with someone right now. Or, simply contact us online. Your case evaluation is absolutely free. And if we take your case, we will take it on a contingency fee basis – meaning you owe us no attorney's fee if we are not able to recover for you.2
Text Us