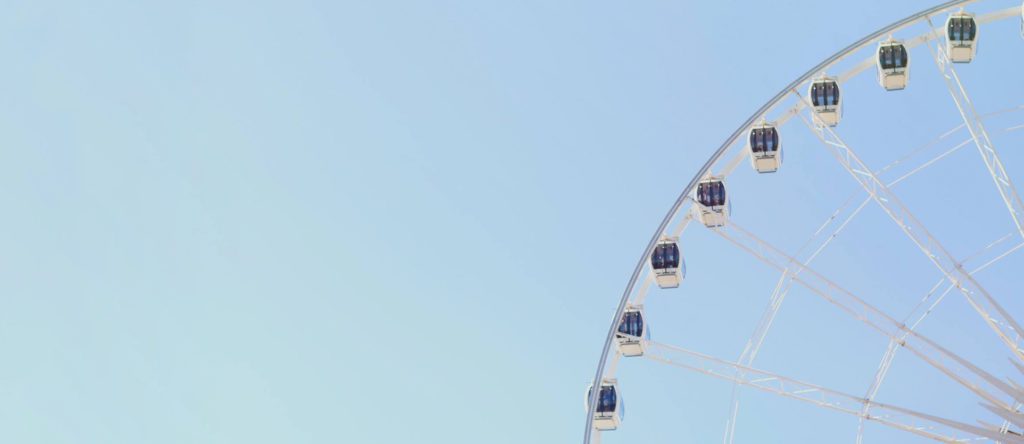 Have You Been Injured at an Amusement Park or Water Park?
Don't get taken for a ride. You may be entitled to compensation!
Water Park and Amusement Park Accidents
Millions of people visit amusement parks, water parks, and fairs all over the U.S. every year, ready to be thrilled and have a good time – and none of them go in thinking they'll need an amusement park accident lawyer. From Carowinds straddling the North and South Carolina border, the annual State Fairs in Raleigh or in Columbia, the Great Wolf Lodge in Concord, or the many amusements and water parks along the coast of South Carolina in Charleston and Myrtle Beach, amusement parks and water parks are a huge draw for families across the Carolinas.
But where there are thrills, there are always potential dangers. When the worst happens, consider consulting an experienced personal injury attorney familiar with the complexity of amusement park injury claims.
When Rides Go Wrong: Injuries at Amusement Parks and Fairs
In 2016, it was estimated that 30,900 people across the United States required medical treatment for injuries from amusement park attractions, according to the U.S. Consumer Product Safety Commission. Some of those injuries resulted in death.
In the Carolinas, at the 2013 NC State Fair, the "Vortex" ride was immediately shut down when four people – all from the same family – were thrown from the ride when it started again suddenly as riders were disembarking. Operator error was a factor. Various family members suffered spinal cord, brain, and neck injuries, many of which were so severe that life-long medical care was estimated at $30 million. The family sued for $150 million and eventually settled for an undisclosed amount.
Here are some common forms of injuries that happen at amusement and water parks:
Slips and falls – whether due to slippery surfaces at a water park or awkward transitions when getting on or off rides
Food poisoning – from undercooked or spoiled food from concession stands
Cuts, bruises, and broken bones – can happen in various ways, including being struck by rides
Neck and back injuries – due to ride malfunctions, inappropriate safety gear, and more
Head/brain injuries and concussions – from ride malfunctions, being struck, poor safety conditions, poor ride control, and so on
Drowning – when water parks lack sufficient oversight and lifeguard staff, or staff fail to regulate the number of people on an attraction, such as sending too many people down a slide at once
Fatalities are rare, but we all know they happen. Catastrophic failures and negligence are occurring.
Amusement Park Injuries by the Numbers
The International Association of Amusement Parks and Attractions (IIAPA), an amusement industry association, estimated in their Ride Safety Report that 1,035 people were injured on amusement rides in 2017.
A 2013 study by the Nationwide Children's Hospital, found that in the 20 years spanning 1990 to 2010, 92,885 children under 18 were treated in U.S. emergency rooms for amusement ride-related injuries – or an average of 4,423 per year. More than 70% of those injuries occurred in May through September, for an average of 20 injuries per day during the summer months.
In 2017, the U.S. Consumer Product Safety Commission (CPSC), through the National Electronic Injury Surveillance System, estimated that 43,305 people were injured by amusement attractions.
The numbers vary widely, and are often estimates. How injuries are reported is inconsistent, making it difficult to get an accurate read, and the data is often interpreted differently. One thing is clear – people do get hurt.
Who Regulates Safety for Amusement Rides?
Inconsistency is the theme here. The CPSC oversees mobile amusement parks, where rides are assembled on site for a specified period like at county fairs and carnivals. They do not, however, inspect the rides. So, while the CPSC sets safety standards for amusement park rides, those standards are not mandated and the company that owns the rides can decide whether or not to comply.
For fixed-location rides and amusements, the task of regulation and safety is left to the discretion of the state. Basically, regulation of and safety inspections for fixed-site amusement and waterpark rides depends on the state, the local municipality, or in some states, no one at all!
Here are a few examples of the different agencies responsible for ride safety inspections in different states:
North Carolina – Department of Labor
South Carolina – Office of Elevators and Amusement Rides
Ohio – Department of Agriculture
Delaware – State Fire Marshals
Georgia – Office of the Insurance Safety Commissioner
Six states (Alabama, Mississippi, Nevada, Wyoming, Utah, and South Dakota) – no regulatory body at all
This crazy quilt of regulatory processes can result in oversights, which can, and have, led to serious accidents and injuries.
Causes of Water and Amusement Park Accidents
Improper ride operation – fide operators can be inattentive or improperly trained, as we saw with the Vortex operator at the North Carolina State Fair in 2013.
Inadequate inspection – parts break, rust, wear out, or are sometimes faulty. Ride parts must be inspected adequately and often to try to ensure the safety of riders.
The risky nature of the ride itself – some rides may be dangerous for people who do not meet certain height or weight requirements or for those with certain health or physical conditions. These rides should have clear warning signs posted and ride operators must take reasonable care to ensure that riders who are obviously unfit for a certain ride do not board.
Mechanical or structural failure – an accident may be the result of a manufacturing defect or the park's failure to properly maintain or inspect the ride often enough.
Food poisoning – improperly handled or undercooked food could cause bacterial infections as could inadequate hand sanitation. Mislabeled foods with potential allergens can become life-threatening.
Water treatment and staffing – adding too much chlorine or other toxic chemicals in the water, improper lifeguard training, not staffing enough lifeguards, faulty filters, equipment malfunction, and operator error can lead to injuries.
Free Case Evaluation By Experienced Injury Lawyers
If you or a loved one were injured at an amusement park or water park, contact us or call1-866-900-7078 for a free case evaluation. You could be compensated for medical expenses, lost wages, pain and suffering, or wrongful death.
Text Us