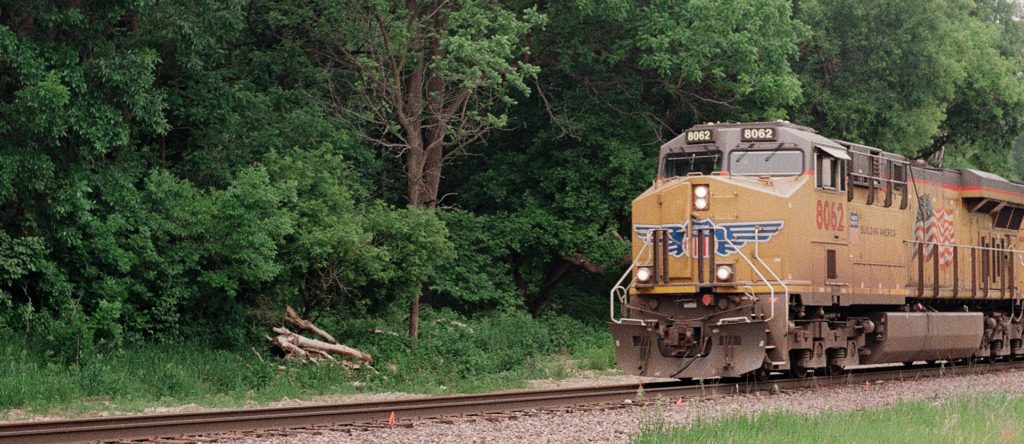 If you've been injured in a train accident, we may be able to help.
You may be entitled to compensation, and a personal injury attorney can help you try to get your case on track.
I Suffered a Train Accident Injury – What Now?
There are approximately 5,600 miles of railroad tracks in the Carolinas. Amtrak passenger trains serve 26 stations across the two states. Many freight railroads run through them as well, each carrying and delivering as much freight as several hundred semi-trucks combined.
Trains have the duty to deliver passengers, as well as goods and materials, without endangering the lives of those aboard the trains and along the routes they travel. Unfortunately, train accidents occur far more frequently than many may realize, resulting in severe injuries and even death.
According to data, there were 11,434 total train accidents in the U.S. in 2019, resulting in 937 fatalities and 7,730 injuries. If you or someone you know has been in an accident on or with a train, call us for a free case evaluation a 1-866-900-7078.
What Are the Primary Causes of Train Accidents?
There are three obvious types of accidents involving passenger and freight trains:
Collisions with other trains
Collisions with passenger vehicles
Derailment
These types of accidents can occur en route, but more often they occur at railroad crossings. Despite the frequency of accidents and collisions at railroad crossings, only 36% of public crossings have gates. Private crossings often have no safety protection devices. According to statistics compiled by Operation Lifesaver, more than 853 injuries and 255 deaths occurred at railroad crossings in 2016 alone.
Those numbers could increase. Due to leaps in technology and machinery, trains have become much quieter and less noticeable to pedestrians, thus giving the illusion that they are further away and approaching slower than they really are, opening the door for more close calls and dangerous situations.
Knowing that these kinds of injuries happen so often, what recourse do you have when you're the victim of a train-related injury? If someone else's negligence caused you harm, you may have a case. Call a personal injury lawyer with experience dealing with train-related injuries.
What if Human Error Caused My Train-Related Injury?
Train operators (engineers), the train/railroad company, and the crew onboard a train could all potentially be held liable for your train accident injury. Negligence and human error on the parts of the operator and crew can include:
Error or mistakes behind the controls – Human error likely played a key role in the deadly CSX and Amtrak collision in February 2018 in Cayce, SC, reported the National Transportation Safety Board (NTSB). It was one of the most catastrophic train crashes in South Carolina's history, with more 100 people injured and two deaths. At the time of the crash, the Amtrak train was carrying 139 passengers, many who were from the Triangle area in North Carolina. The report says a switch on the track was in the wrong position, sending the Amtrak train onto a side track where a CSX freight train was parked. It was the fourth fatal Amtrak train collision in the Carolinas in just two months.
Disregard of safety standards – A lawsuit filed against CSX regarding the Cayce, SC, crash alleges the train crash was caused by "gross negligence" and "reckless disregard" of safety standards by CSX. According to the Charlotte Observer, the lawsuit alleges that CSX defied a 2008 federal law, called the Rail Safety Improvement Act, which called upon railroad companies to install safety technology called "positive train control." That technology was originally scheduled to be in place nationwide by the end of 2018, but many rail companies had yet to install it. Sadly, the Cayce derailment happened after rail employees had temporarily taken down the signalization of the CSX line so they could install the positive train control technology. They effectively took a signaled line and made it "dark territory" without putting speed restrictions on the line or restricting commuter (as opposed to freight) traffic.
Speeding – In 2015 eight passengers died and more than 200 suffered injuries as an Amtrak train traveling from Washington, D.C., to New York derailed traveling 106 mph around a 50-mph curve. An NTSB investigation determined the engineer was distracted by radio chatter from other train operators and did not notice his excessive speed.
Fatigue – The NTSB announced that severe, untreated sleep apnea led to two recent train wrecks – one in New Jersey in 2016 and another in New York in 2017. Combined, these wrecks killed one passenger and injured more than 200. In both incidents, severe fatigue caused the engineers to fail to stop their trains before reaching the end of a terminating track. The NTSB recommends that train operators in "safety-sensitive" positions be screened for sleep apnea.
Distraction – Back in 2008, a Los Angeles Metrolink commuter train and a Union Pacific freight train collided head-on killing 25 passengers and injuring more than 100. The NTSB determined that the Metrolink engineer, who was among those killed, was texting on his phone. This distraction led him to fail to stop the train at a red signal. Texting or using wireless devices while operating a Metrolink train is prohibited.
These incidents led to legal action from those injured, but they're likely only the tip of the iceberg. The accidents with dozens of injuries get lots of attention. But what about a lone car crossing the railroad tracks and getting hit by a train that failed to blow its horn, had a faulty light, or some other problem that lies with the train's operator or owner?
Can I Sue if Equipment Failures and Poor Maintenance Cause My Injury?
Yes. Trains require thorough maintenance, and the equipment they use should be regularly inspected for safety. Yet, faulty machinery and poor maintenance of the trains, train cars, and the tracks they use can contribute to railroad accidents. Equipment can include anything from the train systems, engines, faulty or unkempt tracks, and defective signals and gates at railroad crossings.
Do I Have a Case if a Derailment Caused My Injury?
Maybe, but you should contact an attorney to discuss the likelihood of a successful claim. Trains should not derail. While an act of God, such as an earthquake, might truly be considered accidental, the majority of derailments are avoidable. In 2019, according to data from the Federal Railroad Administration:
37.5% of derailments were track related
35.3% of derailments were related to human error
13.3% of derailments were caused by equipment failures
An experienced personal injury attorney will know how to investigate the train accident that caused your injury, what evidence to look for, and how to get to the bottom of who really caused you harm. You may be entitled to compensation.
What Could I Get for My Train Injury?
In personal injury cases, injured parties may pursue compensation for:
Medical expenses
Lost wages
Pain and suffering
Wrongful death
It is vital to understand how your injuries resulting from a train incident could impact you for the rest of your life – that's an effect of your injury and you can be compensated for it. If, for example, you can no longer work at your job, or a head injury results in frequent, debilitating headaches, those can be lifelong consequences.
There may also be damages to property, such as homes or vehicles. Even a "minor" incident with a train could have catastrophic consequences on both people and property.
Contact a Train Injury Lawyer for a Free Case Evaluation
If you or someone you love has been injured in a train accident due to someone else's negligence, you may be entitled to compensation. You may get a call from the other party's insurance company – but you should talk to an attorney first. Contact us, or call 1-866-900-7078. We're ready to fight for your rights.
Text Us