Workers' Compensation for Knee Injuries
Information on this page is not intended as a substitute for a medical evaluation by a qualified provider.
The knee is the largest joint in the body, and when you injure this joint, you also compromise your ability to perform everyday tasks such as walking, running, sitting, and standing.
Unfortunately, knee injuries are very common in the workplace. They are caused by:
twisting
bending
direct impact
slip and falls
overuse
repetitive stress
Knee injuries can be extraordinarily debilitating, and it can take an injured worker months, or even years, to fully recuperate. Surgery may even be required.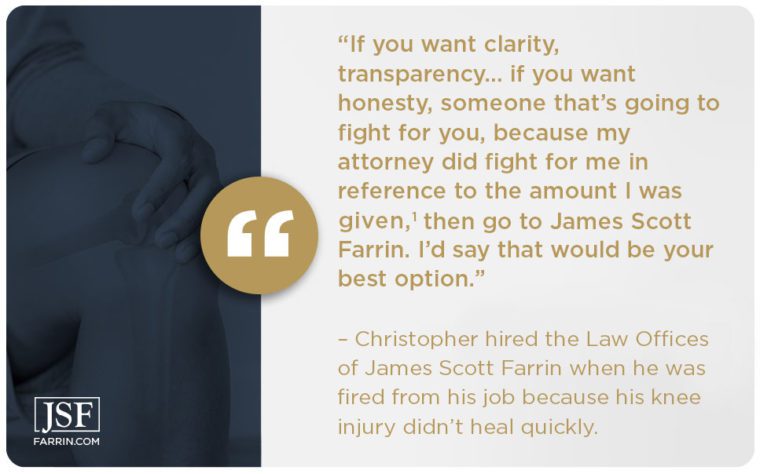 If you suffered a knee injury at work, you may be entitled to workers' compensation benefits. Most employers are required to carry workers' compensation insurance to provide financial protection and medical care to qualifying workers who are injured on the job.
So, after you notify your employer of your injury and seek medical help, your next step should be to seek the advice of an experienced knee injury attorney who knows all about the process of filing a workers' compensation claim.
Contact the Law Offices of James Scott Farrin for a free case evaluation. Our workers' compensation attorneys fight for our clients to try and help them receive the full benefits they may deserve.
Who Is Most at Risk for Knee Injuries at Work?
Workers who kneel or carry a lot of weight on a regular basis in their jobs are particularly at risk of knee injury:
Janitors and housecleaners
Auto mechanics
Carpenters
Nurses
Factory workers
Construction workers
Depending on the severity of your knee injury, it may not be possible to return to your pre-injury job. A janitor with a knee injury may no longer be able to clean hard-to-reach areas such as under cabinets or high places only accessible by ladders or steep steps. For auto mechanics, an injured knee may limit their ability to maneuver around and under vehicles.
Knee injuries at work can also affect the stability of a person trying to lift things or stand for long periods of time, as is required in many animal processing and manufacturing jobs. These injuries also can make it difficult for someone to operate foot controls in a forklift, heavy equipment, or a truck.
What Are Common Types of On-The-Job Knee Injuries?
Dislocations: As the name indicates, a knee dislocation is when the knee bones come out of place – usually due to a heavy impact such as a fall or collision. If the bones don't go back into place on their own, a doctor usually readjusts the knee in a quick, fluid motion. Dislocations can sometimes lead to damage to the meniscus or ligaments, which are both discussed in more detail below.
Fractures: A fracture occurs when the kneecap breaks upon impact with another object. The kneecap protects the knee joints behind it, and knee fractures can take a long time to heal. Immobilization, and sometimes surgery, is required for healing.
Meniscus Injuries: Meniscus tears can cause intense pain and instability in the knee depending on the severity of the tear. The knee will most likely swell in order to protect itself, which can be intensely painful and can limit movement. Although physical therapy, anti-inflammatory medication, and cortisone injections can help reduce symptoms, an orthopedic doctor will often recommend arthroscopic surgery to repair the tear.
Ligament Injuries: Injuries to the cruciate ligaments – such as the anterior cruciate ligament (ACL), medial collateral ligament (MCL), and posterior cruciate ligament (PCL) – are sometimes referred to as sprains, but they can be much more complicated than simple muscle strains. These injuries can require months of treatment to recover, and some cruciate ligament injuries, such as ACL tears, may require reconstructive surgery.
Chondromalacia: Chondromalacia is a disorder caused by softening of the articular cartilage of the kneecap (patella) which can be caused by traumatic injury, overuse, or repetitive motion on the job. Symptoms include dull, achy pain in the front of the knee, increased pain when walking up or down stairs, pain in the knee when kneeling or squatting for long periods of time, and a grating or grinding sensation when you extend your knee and knee stiffness. Treatment options include rest, pain relievers, or physical therapy. In rare cases, arthroscopic or realignment surgery may be options.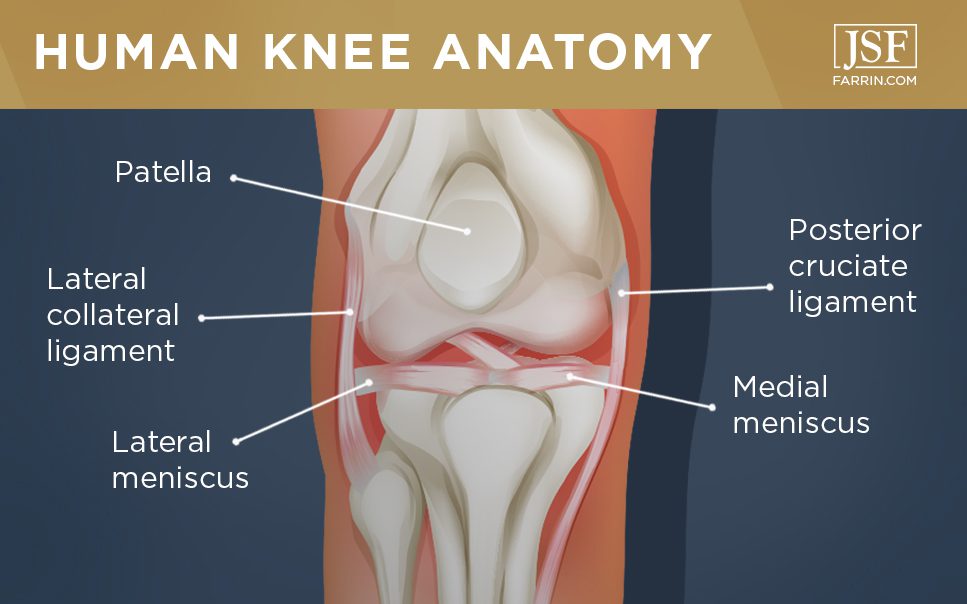 Tip: If your knee injury was caused by a person or entity other than your employer or a co-worker, you may be able to file a third-party claim seeking additional compensation.
What Workers' Comp Benefits Can I Get for a Knee Injury?
If you injured your knee at work, you may be entitled to workers' compensation benefits for the following expenses related to your work injury:
Medical treatment
Lost wages*
Vocational rehabilitation
Death benefits
Payment for your permanent impairment
*Lost wages suffered are based on your Average Weekly Wage and can be temporary or permanent, and partial or total.
Can I Apply for Disability Benefits for a Knee Injury?
You may be eligible for Social Security Disability benefits, in addition to workers' compensation benefits, if your knee injury prohibits you from returning to work.
Tip: Workers' compensation and Social Security Disability benefits may be interrelated. If you qualify for both, this is even more reason you should talk to an experienced attorney.
Contact the Law Offices of James Scott Farrin today if you are considering filing a workers' comp claim or if you have questions about whether you are receiving all the types of benefits to which you may be entitled. Our workers' comp lawyers and Social Security Disability lawyers can work together to help our clients with their workers' comp case needs.
Why Do I Need a Workers' Comp Attorney for My Knee Injury Claim?
There are many reasons why you may need legal assistance with your workers' comp claim. The process is complicated, with many deadlines and procedures that must be complied with. An attorney can help you with a variety of tasks including:
Keeping organized and on-time
Filing accurate claim information
Gathering relevant medical information
Fighting for optimal compensation
Maintaining objectivity when considering the right time to return to work
Evaluating potential settlement offers
Enlist an attorney to help you with your claim, one who has both the breadth and depth of experience to know how to fight for all of the possible benefits to which you may be entitled, as well as how and when to potentially settle your knee injury workers' comp claim.
Contact Recognized and Accomplished Attorneys About Your Workers' Comp Knee Injury Claim
Workers' compensation cases can be complicated. At the Law Offices of James Scott Farrin, we understand how to apply the law to workers' compensation cases. And we fight hard to try and help our clients receive the maximum benefits they may be entitled to.
Several of the attorneys on our workers' comp team were selected by their peers to the "Best Lawyers Workers' Compensation Law – Claimants" list by the Best Lawyers in America publication in 2024.3 And our firm was recognized as one of the "Best Law Firms" for workers' compensation for the greater Raleigh area in 2019, 2020, 2021, and 2022 by US News.4
In addition to peer recognition of our hard work in workers' compensation law, our team also has several North Carolina State Bar Board-Certified Specialists in workers' compensation law. This NC legal specialization reflects a substantial involvement in workers' compensation law, and there are fewer than 160 workers' compensation specialists licensed in North Carolina.5
Serious injuries demand serious attention. If you have sustained a knee injury from your job, call 1-866-900-7078 or contact us online today.
Text Us
3For more information regarding the standards for inclusion for the "Best Lawyers" list, visit: www.bestlawyers.com.
4 For more information regarding the standards for inclusion for "Best Law Firms," visit www.bestlawyers.com and www.usnews.com.
5 Figures provided by NC State Bar as of 2/21.