Named to "Rising Star"4 list by North Carolina Super Lawyers magazine, 2018
Published workers' compensation article in Trial Briefs Magazine, 2018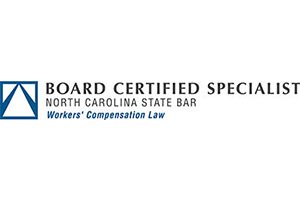 North Carolina State Bar Board Certified Specialist – Workers' Compensation Law
Attorney Ryan Bliss (Partner)
---
Ryan Bliss joined the Law Offices of James Scott Farrin in 2012. He is a Partner of the firm and leads the workers' compensation department. He considers it a privilege to advocate for the rights of injured workers and seeks to have a positive impact on his clients' lives.
Ryan grew up in a small suburb of Syracuse, New York. He developed a lifelong love for music by playing instruments, acting, and singing in plays and musicals. His father worked for a large tool company, and his mother spent 20+ years in the public school system as a teacher and librarian.
Throughout his childhood, Ryan's parents stressed the importance of hard work, perseverance, and most of all, of giving back to the community. Ryan, the independent middle child, took those life lessons to heart.
The "Last Sheriffs in Town"
Ryan attended North Carolina State University and graduated magna cum laude with a Bachelor of Arts in English with a concentration in writing. During college, he interned  at the North Carolina Advocates for Justice (NCAJ) where he met hundreds of plaintiffs' attorneys and witnessed firsthand the positive impact a lawyer could have on an individual's life.
Ryan was hooked – he viewed those plaintiffs' attorneys as "the last sheriffs in town," and he knew that a career in law would be the way he, too, could help those less fortunate and give back to his community.
The Path to James Scott Farrin
After earning his J.D. at the University of North Carolina School of Law, Ryan accepted a position at a general civil practice law firm where he had the opportunity to work on several workers' comp cases. He loved the practice area and jumped at the opportunity to work for a workers' comp defense firm when it presented itself.
Unfortunately, Ryan quickly realized that as an insurance defense attorney, he'd be working primarily for insurance companies who had their own motivations and ideas for dealing with workers' compensation claimants.
Ryan wanted to use his law degree in a "net positive way," and remembering his admiration of the NCAJ plaintiffs' attorneys, he decided to seek out a new career path – one that allowed him to fight for injured workers, not against them, at the Law Offices of James Scott Farrin.
"I really wanted to get back to the plaintiffs' side so I could feel like I was actually helping people."
There have been many cases that have confirmed that this was the right decision for Ryan. He recalls helping a young construction worker fight for compensation after becoming a paraplegic due to a work injury. With Ryan leading the fight, the injured worker was able to settle into a comfortable living situation with ample medical care and stable income, and later, when he was ready to resolve the claim, Ryan again helped him negotiate a satisfactory settlement.1
"A work injury often directly impacts our clients' livelihoods. We spend our days helping people through some of the toughest situations they may have ever experienced. It's truly a privilege to do what we do."
As a North Carolina State Bar Board Certified Specialist in workers' compensation law, Ryan spends his days helping protect the rights of injured workers throughout the state. Ryan's efforts earned him selection to the 2018 "Rising Star" list in the area of workers' compensation law from Super Lawyers magazine.4
When Ryan is not at work, he enjoys spending time with his family in Cary. He occasionally participates in community theater and hosts a YouTube channel featuring educational songs for kids with his childhood best friend/business partner.
Read More
---
Former Workers' Compensation Attorney, Online Facebook Review
The experience with the firm
The experience with the firm and [its] associates was great. I recommend them highly. ... With the help of Ryan, Bridget, and the rest of the team I worked with at James Scott Farrin, I was able to get what I was entitled to. 1
Former Workers' Compensation Client, Online Google Review
I would recommend ANY and EVERYONE
I would recommend ANY and EVERYONE who has unfortunately been injured at their job and been treated unfairly to give JSF a call immediately. I had a very unpopular case, and JSF stepped up to the plate and delivered. I'm beyond ecstatic about my outcome! 1
For legal reasons and client confidentiality, reviews have been slightly edited to remove identifying information and correct typos.