Named to "Rising Star"4 list by North Carolina Super Lawyers magazine, 2018
Published workers' compensation article in Trial Briefs Magazine, 2018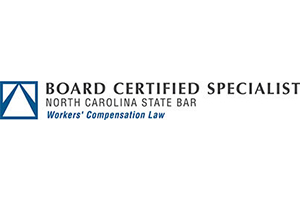 North Carolina State Bar Board Certified Specialist – Workers' Compensation Law
Attorney Ryan Bliss (Partner)
---
In 2010, Ryan Bliss found himself staring out the window of a dreary corporate office building trying to remember why he went to law school in the first place. Ryan had recently taken a job with a large insurance defense firm in Raleigh, NC. His days consisted of filing briefs and arguing motions on behalf of employers and insurance company representatives, most of whom he would never meet in person. When an assignment came across Ryan's desk requiring him to argue a case against a former North Carolina public school teacher, he knew it was time for a change.
Ryan grew up in a small suburb of Syracuse, New York. His father worked for a large tool company while his mother spent over 20 years in the public school system as a teacher and librarian. Throughout his childhood, Ryan's parents stressed the importance of hard work, perseverance, and most of all giving back to the community. Ryan took those life lessons to heart.
Ryan attended North Carolina State University and graduated magna cum laude with a Bachelor of Arts in English a concentration in writing. During college, he reached out to a local civil rights organization, the North Carolina Advocates for Justice, who invited him to join their cause as an intern. Over the next three years, the Advocates introduced Ryan to hundreds of plaintiff's attorneys throughout the state who showed him just how much of a positive impact an effective lawyer can have on an individual's life. Ryan was hooked. He could finally see that a career in the law was the perfect way to help those less fortunate and give back to his community.
After earning his Juris Doctor at the University of North Carolina at Chapel Hill, Ryan eventually found himself in that dreary corporate office building wondering how he could possibly tell his mom about the upcoming case against one of her former colleagues. It wasn't something he was prepared to do. So he decided to find a new career path; one that allowed him to fight for injured workers, not against them.
Shortly thereafter, Ryan found a home as a workers' compensation attorney at the Law Offices of James Scott Farrin. Today, he is a Partner of the firm. As a North Carolina State Bar Board Certified Specialist in workers' compensation law (one of only 1533 in North Carolina), Ryan now spends his days protecting the rights of injured workers throughout the state. Ryan's efforts have earned him the designation of 2018 "Rising Star"4 in the area of workers' compensation law from Super Lawyers magazine.
When Ryan is not at work, he enjoys spending time with his family in Cary, NC. He participates in community theater as much as possible and writes and illustrates children's books in his spare time.
Read More
---
Former Workers' Compensation Attorney, Online Facebook Review
The experience with the firm
The experience with the firm and [its] associates was great. I recommend them highly. ... With the help of Ryan, Bridget, and the rest of the team I worked with at James Scott Farrin, I was able to get what I was entitled to. 1
Former Workers' Compensation Client, Online Google Review
I would recommend ANY and EVERYONE
I would recommend ANY and EVERYONE who has unfortunately been injured at their job and been treated unfairly to give JSF a call immediately. I had a very unpopular case, and JSF stepped up to the plate and delivered. I'm beyond ecstatic about my outcome! 1
For legal reasons and client confidentiality, reviews have been slightly edited to remove identifying information and correct typos.
3 Figure provided by the N.C. State Bar as of December 31, 2019.

4 To be eligible for inclusion in "Rising Stars," a candidate must be either 40 years old or younger or in practice for 10 years or less. Rising Stars undergo a rigorous, multiphase process which combines peer nominations with third-party research. Each candidate is evaluated on 12 indicators of peer recognition and professional achievement. Selections are made annually on a state by state basis. While up to 5% of the lawyers in any state are named "Super Lawyers," by Super Lawyers magazine, no more than 2.5% are named to the Rising Stars list. For more information on the rules of inclusion visit www.superlawyers.com.
5For more information about the standards of inclusion for "U.S. News – Best Lawyers" 'Best Law Firms' list, please visit https://bestlawfirms.usnews.com/.