"How do I pay you?"
I get this question all the time. Let's face it, money doesn't grow on trees. An injury at work can make a tight financial situation even tighter and nobody wants to worry about money when they're hurting (that's what we do for you!).
But as nice as it would be for someone else to work on getting your workers' comp payments started, or negotiating for more money, if your work injury has you struggling to put food on the table, how can you possibly afford to pay a lawyer?
NEVER FEAR! CONTINGENCY FEES ARE HERE!
Let me try to ease your mind while answering some important questions about attorney's fees for workers' compensation cases in North Carolina.
At James Scott Farrin, you pay no hourly fee and nothing upfront. Call us at 1-866-900-7078 for a free case evaluation.
What Is a Contingency Fee?
To put it simply, a contingency fee means your lawyer doesn't get paid an attorney's fee unless you get paid. If you have a workers' compensation case in North Carolina, you should almost never have to worry about paying your attorney's fees out of your own pocket.

Here's How Contingency Fees Work
In North Carolina, your workers' comp attorney's fee is regulated by the state and must be approved by the Industrial Commission. The standard fee is 25%, which usually comes out of any payments your attorney helps you collect from the insurance company. These payments can come in many different forms, depending on the details of your particular case. Here are just a few possible examples of payments you may be entitled to receive after an on-the-job injury:
A weekly check from the insurance company while you're out of work

A monetary judgment after taking your case to court (and winning!)

A lump sum settlement after negotiating with the insurance company at the end of your case
Please keep in mind that every workers' compensation case is unique so there's no guarantee that any or all of the payments described above will apply to you. However, one thing is certain: if you have a workers' compensation case in North Carolina, you should almost never have to worry about paying your attorney's fees out of your own pocket.
Are There Any Other Fees I Should Expect?
Whether there might be other fees depends. Some North Carolina workers' compensation attorneys choose to recoup additional costs on top of their 25% fee for expenses related to the administration of your case. This includes things like medical record charges, filing fees, and expert witness costs. In many cases, your attorney's firm will pay these costs upfront on your behalf with the expectation that they will be repaid when your case resolves. It's always a good idea to discuss any additional costs with your lawyer before you sign a retainer.
How Do Contingency Fees Benefit Injured Workers?
The contingency fee system is particularly important for injured workers!
In my experience, work-related injuries almost always result in some level of financial hardship. Without contingency fees, thousands of injured workers throughout the state would be unable to afford legal representation, leaving the door open for insurance companies to call all the shots.
Contingency fees also level the playing field. Think about it. With regulated attorney's fees, you shouldn't have to worry about a particular lawyer being "too expensive." This gives you an opportunity to do your research and find the best candidate to help you.
A Workers' Comp Attorney Can Potentially Help:
Move your case along quicker to get your payments started.

Negotiate a higher settlement than you may be able to on your own.

Obtain medical benefits the insurance company is denying.

Attain a measure of job security, if for example, the insurance company forces you to go back to a made up job, which may be disguised as "light duty," "modified duty," or "restrictive" employment. These jobs are sometimes eliminated later.

Give you added peace of mind knowing you have someone championing your rights against Big Insurance.
See many other good reasons to hire a NC workers' comp attorney.
We know you're hurting. Fortunately, North Carolina has a contingency fee structure in place that is designed to help keep your wallet from hurting too.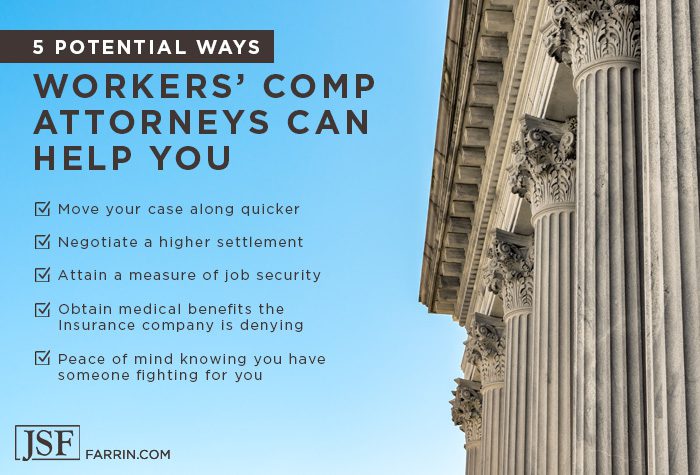 North Carolina Workers' Comp Attorneys
Don't let the thought of fees prevent you from potentially getting the legal and financial help you deserve.
If you've been injured at work,  contact us online  right away or give us a call at 1-866-900-7078. Let one of our workers' comp attorneys – six of whom are North Carolina Board Certified Specialists in Workers' Compensation Law – evaluate your situation for free!
You May Also Be Interested In
---
Top 5 Excuses People Give for Not Hiring a Workers' Compensation Attorney (and Why They're Usually Very Wrong)
Which NC Workers' Comp Attorney Should You Choose? (5 Reasons to Consider Us)
Why You Should Get a Free Case Evaluation if You've Been Injured