In our business, it's not about just lawyering. It's about helping people as much as we can in any way we can.
Work injuries have a terrible way of impacting important areas of your life – your health, your job, your finances, and your family.
We know. We work with injured workers every day and we see their struggles. That's why we put compassion over case numbers. The firm began that way, and even though we've grown to nearly 200 staff including roughly 60 attorneys, that needle hasn't budged.
1. Compassion That's Real
We had one client that was out of work and getting workers' comp checks. As is often the case in workers' compensation cases, she started to have financial troubles because she was only receiving the statutorily mandated 66% percent of her average weekly wage. She had to give up her car, and she was about to lose her home to foreclosure. The firm worked with her mortgage company, and she was able to keep her home. Crisis averted. With her settlement money1, she bought a car to replace the one she lost.
Next, her injury had to be addressed. While working on her case she was referred to get a medical evaluation, but her insurance company denied that visit. It was obvious to us she needed the evaluation. The firm decided to set up an appointment for her to visit a doctor, and we got a treatment plan accepted by the insurance company.1 Things began to turn around.
When you've been injured on the job, you shouldn't also have to worry about whether the insurance company is going to treat you fairly. That's why our firm was founded – to assertively advance the cases of clients in the face of adversity.
2. Formidable Size, Personable Attention
Fighting for justice is not just our job – it's our passion. It's what gets us out of bed in the morning and keeps us motived day in and day out.
We believe this is among the reasons we're now one of the largest personal injury law firms in North Carolina. More than 50,000 people have turned to us when faced with injustice, whether workers' compensation, car accidents, personal injury, Social Security Disability, or eminent domain.
While we have been known to be a formidable force to reckon with in courtrooms and mediation, we maintain a personal and personable one-on-one relationship with each individual client. Why? Because our clients like it that way. And so do we.
One of the best compliments we can get from our clients is when they refer family and friends to us. Referrals are a big part of our business coming from clients, friends, and family members.
We handled a case for a client who fell and suffered significant and permanent injuries.8 When we settled her case, she was overwhelmed by how we took care of her.1 She told us she considered us family.
Read More: Clients often tell us they feel as though they are part of the James Scott Farrin family.
We have some stellar results to show for the good work we do. We've recovered over:
$1.6 billion total for over 60,000 clients since 19971
$185 million total for over 5,000 clients in 2022 alone1
These figures don't include $1.25 billion we helped 15,700 farmers recover against the U.S. government in a historic class action case.3
When choosing someone to represent you, there are many factors to carefully consider. Our workers' comp attorneys are ready to fight for you. Call us today for a free case evaluation.
3. Impressive Peer and Client Recognitions
When you choose us, you are choosing a recognized, Tier 1-ranked U.S. News – Best Lawyers® "Best Law Firms" 2022 firm – the highest ranking possible.4
Some of our workers' comp lawyers have won awards and achieved peer- and client-reviewed designations for 2022, including Best Lawyers in America's, "Best Lawyers" list and a "Lawyer of the Year" award; and a Super Lawyers Magazine "Super Lawyers."5, 6
Several of the attorneys in our workers' comp department are North Carolina State Bar Board Certified Specialist in workers' comp. Board certification is the highest level of specialization available in NC, and only a very small percentage of NC attorneys can make that claim. Out of the more than 30,500 attorneys licensed to practice in North Carolina, only 152 attorneys are NC board certified in workers' compensation law – that's less than 1%.7
One of our workers' comp attorneys is a former North Carolina state senator and former Deputy Commissioner at the North Carolina Industrial Commission. Others used to work for workers' compensation defense firms for the insurance companies, and several of our paralegals and other administrative staff have worked for insurance companies, themselves.
4. Workers' Comp Advocates on and off the Job
Advocating through various professional and community service organizations is something important to us. From teaching at local colleges to counseling the Spanish-speaking community, we're always looking to partner with others to improve our communities.
The vast majority of our workers' comp attorneys are members of the North Carolina Advocates for Justice, an organization dedicated to improving the quality of legal representation in our state. And we're proud of that because it's an important way that we show that we care for those living in our communities.
5. Empathy Is in Our Cultural DNA
While we could go on discussing the many achievements, accolades, and designations of our attorneys and staff, and highlighting all their credentials, what I really think sets our firm apart is: we just hire good people.
I'll never forget something Jim Farrin, our president and firm founder, said when I was hired. "We don't hire jerks."
Of course, we make conscientious decisions about who we hire based on professional abilities. But we also value the ability to empathize with people, address a client's dire predicament, and try to get fair and just results for them.
Empathy at this firm is not icing on the cake. It's in the batter – in our cultural DNA.
The firm goes to great lengths to try to make the lives of our clients better. Going through a major injury is a big deal. We look at clients' circumstances as if it were happening to our brother, sister, or any family member. What would we do for our loved one if they were injured? I could tell you countless stories about times we've sent flowers to our clients who might have lost a loved one or who've celebrated a marriage or a new child, but it goes back to one quality – empathy.
We understand that money can be an obstacle in the pursuit of justice, but not for our clients. Discover how our
contingency fee arrangement
means you pay no hourly fee and nothing up front.
2
Download "Carin' at Farrin" to see how we extend empathy to each other in the James Scott Farrin family.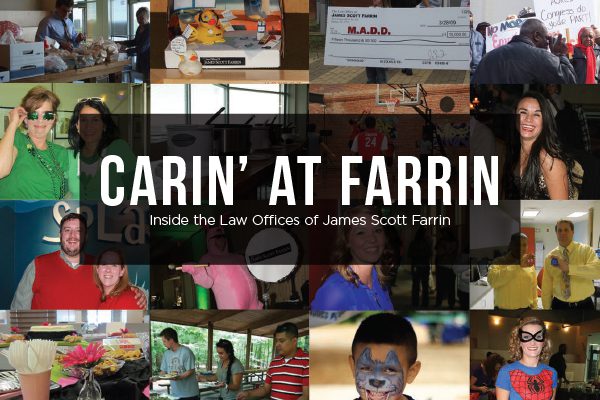 The young daughter of one of our employees was living in South America with her grandparents. The employee is the breadwinner for her family in South America, and she would regularly send money to them. Meanwhile, she was trying to save enough money hoping to be able to afford the expense of bringing her daughter to the United States to live with her. As you can imagine, she missed her daughter terribly. Without this employee's knowledge, firm employees got together and raised the money to bring her daughter from South America to the United States to finally be reunited with her mother.
They just wanted to do that. That's the kind of people we are here at James Scott Farrin – real human beings who care.
Questions to Ask Any Workers' Comp Attorney
Whichever firm you choose, just make sure it is the right fit for you, personally, and for your workers' comp circumstances. Here is a list of questions we have put together to ask potential attorneys when selecting a workers' comp attorney.
Watch Now: What Can a Workers' Comp Attorney Do for Me?
NC Workers' Comp Attorneys Offer FREE Case Evaluation
We hope this information has been helpful in determining what makes us a great choice. Contact us online about your situation, or call us at 1-866-900-7078. We'll do our best to try to determine if we can help you.
You should be focusing on getting better after an injury, not navigating an oftentimes frustrating area of law. We have the talent, resources, technology, experience, and passion to fight for you, so reach out today.
3In re Black Farmers Discrimination Litigation, the Law Offices of James Scott Farrin led a team of firms to recover $1.25 billion for African-American farmers from the U. S. government for discrimination.
4Designation was for Workers Compensation practice in the greater Raleigh, North Carolina area. For more information regarding Best Law Firms standards for inclusion, visit www.usnews.com.
5For more information regarding standards for inclusion for "Best Lawyer" and "Lawyer of the Year," visit www.bestlawyers.com.
6For more information regarding standards for inclusion for "Super Lawyer," visit www.superlawyers.com.
7Figures by the NC State Bar February 2021.
8Client identities have been removed or changed to protect their privacy.
Text Us
You May Also Be Interested In
---
Answers to 10 Commonly-Asked Workers' Comp Questions
Top 5 Excuses People Give for Not Hiring a Workers' Compensation Attorney (and Why They're Usually Very Wrong)
How Does My North Carolina Workers' Compensation Attorney Get Paid?
Workers' Compensation Settlements in NC: Proceed With Caution!