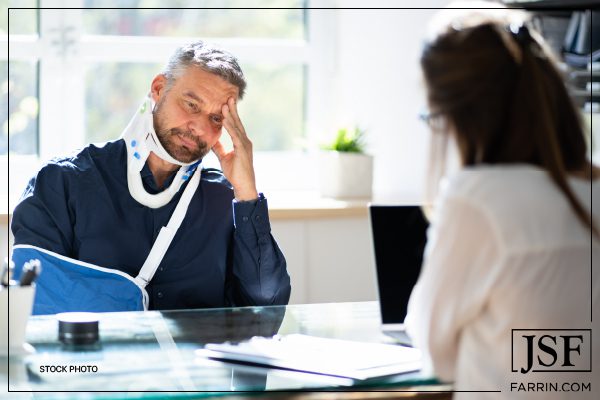 If you have been in a car accident, then you may be juggling a lot – injuries, time away from work, medical bills, car repairs – in addition to trying to get a fair car accident settlement from the insurance company. That's where an experienced car accident attorney can help.
Dealing with the insurance company is one of my primary responsibilities when I help my clients who have been hurt in car accidents. I counsel them to limit their interactions with claims adjusters who may ask leading questions in an effort to solicit information that will allow them to limit, or even deny, their claim.
Remember: North Carolina is a contributory negligence state, which means that if you admit any fault for the accident, even 1%, you could be denied any compensation.
In a typical car accident case, I also gather evidence, carefully build the case, and negotiate back and forth with the insurance company in an effort to obtain the best settlement possible. In this article, I'll answer some of the most common questions I hear about auto accident claims settlements in NC.
What Is the Average Car Accident Settlement in North Carolina?
It's a fair question – many people want to know what they can expect to receive as compensation for the harms and damages they have suffered from an automobile accident caused by another. Unfortunately, there is no true average car accident settlement number because every auto accident is different and has a unique set of facts associated with it. (For example: How many cars were involved? How seriously were you injured? Who was at fault?) These specifics must be factored into the settlement equation.
Typical car accident settlements can include compensation for the following types of damages:
Medical bills, current and future

Lost wages

Pain and suffering

Property damage
At my firm, we have settled thousands of car accident cases in North Carolina since we opened our doors in 1997. We have negotiated settlements ranging from tens of thousands of dollars to millions of dollars.1 And these settlements have helped people get their lives back in order. Our attorneys will fight to try to ensure that you are properly compensated for injuries you may have suffered, too.
What Factors Affect the Amount of Car Accident Settlements?
As I mentioned above, every car accident has a specific set of facts associated with it, and those affect the amount of potential car accident settlements. Below are a few possible factors:
What medical bills have you incurred because of the accident?

Do you need ongoing medical care? For how long and what kind?

How much in lost wages have you experienced?

Are you able to return to work at full capacity or are you disabled?

Do you have pain and suffering?
What Injuries Are Typically Covered in a Car Accident Settlement? 
Settlements for smaller, more common types of auto accidents may cover the following types of injuries:
Broken bones
Whiplash
Head, neck, and back injuries
And settlements for more severe accidents may include serious injuries, such as:
Traumatic brain injury

Severe lacerations

Surgery

Internal injuries

Road rash

2nd or 3rd degree burns

Paralysis and spinal cord injuries

Significant skull, chest, or abdominal injuries
Some injuries, such as those that result in scarring or limit your future activities, may also be a consideration for possible pain and suffering compensation.
Do You Need a Lawyer to Settle a Car Accident Claim?
While you do not technically need to have a lawyer to settle a car accident claim, it is advisable to consult with one. You can call our firm at 1-866-900-7078 or contact us online for a free case evaluation. You have nothing to lose to see if we can help, and you could possibly gain an ally who will stand by your side and fight for your rights.
Below are some of the benefits we offer our car accident clients:
Handling interactions with the insurance company

Investigating details of the accident

Helping you determine the realistic value of your case

Looking into insurance coverage

Seeking the most compensation possible

Managing filings and deadlines
And remember, you can contact us and get a free case evaluation – with no strings attached!
Can You Afford a Lawyer to Help You Settle Your Car Accident Claim?
Our firm works on a contingency fee basis. This means there is no hourly attorney's fee associated with your case, and we instead collect a percentage of the total compensation, if we recover on your behalf.2 This payment structure allows everyone the opportunity to work with an attorney.
We want you to focus on your health and returning to work, so we shoulder the burden of building your car accident case, dealing with the insurance company, and seeking the highest possible compensation.
You May Also Be Interested In
---
Insult to Injury: How Inflation Has Quietly Put Car Accident Injury Victims at (Even Greater) Risk

Who Pays the Deductible in a Car Accident?

Whose Insurance Pays for Car Accidents?

Car Accident Settlements: How to Negotiate with Car Insurance Adjusters About Car Total Loss