The North Carolina Wildlife Resources Commission estimates there are roughly a million deer in our state. They're especially active from October through December, which is their mating season and our deer-hunting season.
Animal-related crashes generally hover at around 20,000 each year in North Carolina, and they can cause serious injury or death to you as well as the animal. About 90% of these crashes involve deer.
What can you do to avoid becoming a statistic? Follow these 11 tips.
The Best Way to Avoid Deer While Driving
—

­­11 Tips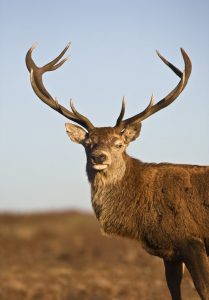 Here's what the North Carolina Department of Transportation (NCDOT) and other roadway safety experts suggest to try to avoid colliding with a deer.
1. Proceed cautiously even after the deer is gone. Deer travel in groups; if you see one deer cross the road, others are likely nearby.
2. Slow down in posted deer-crossing areas and heavily wooded areas, especially around dawn or dusk, which is when they are most active.
3. Always wear your seat belt. Many people injured in deer-related car crashes were not wearing their seatbelt.
4. Be cautious around bridges, overpasses, railroad tracks, streams, and ditches. Crashes with deer are most common in these areas.
5. Drive with high beams on when prudent. Watch for eyes reflecting in the headlights.
6. Increase the distance between your vehicle and other cars. This is especially important at night when visibility is low. If the car ahead of you hits a deer, you may also crash.
7. If you see a deer, slow down and blow your horn with one long blast. If you're wondering how to scare a deer away from your car, using the horn is probably the best method. You can use your headlights as well. Deer are easily mesmerized by consistent light, so flashing your lights may also help get the deer moving.
8. Do not swerve to avoid a collision with deer. This could cause you to lose control of your vehicle. You may flip your vehicle, veer it into oncoming traffic, or overcorrect and run off the road, causing a more serious crash.
9. Let off your brakes if a collision is imminent. Insurance company GEICO advises that you let off the brakes rather than slamming on them if you see you're about to hit a deer. Braking through the impact could cause the hood of your vehicle to dip down, which can propel the animal through the windshield.
10. Do not rely on deer-related devices. There's no proof deer whistles, deer fences, or reflectors reduce deer-vehicle crashes.
11. Do not touch the deer if you crash into it. A frightened and wounded deer can hurt you or further injure itself. Get your car safely off the road if possible and call 911 to report the accident.


There are about 20,000 animal-related crashes per year, of which deer account for 90%. If you've been injured in a crash due to another's negligence, call us for a free case evaluation.
'I Hit a Deer, What Do I Do?' — Get Evidence That a Deer Caused the Crash
Many people wonder after being involved in a deer-related accident, is hitting a deer considered an accident? The answer is yes, but you will need evidence that this is what happened.
To try to ensure your insurance claim is approved, take a photo of any evidence that shows you hit a deer, especially the deceased deer.
"I hit a deer, but it ran off!" Don't worry, this is common, and it doesn't mean your claim is doomed. If you see any animal skin, hair, or other parts on your car (the grill is the most likely location), get it on camera.
If you report the accident to your insurance company or if someone is injured as a result, you will need proof that you faced a "sudden emergency."
In North Carolina (and many other states) there is a legal principle called the "sudden emergency doctrine" that can be used to defend yourself from accusations of negligence. In other words, an action that might have otherwise been negligent, might not be so if you are confronted with a surprise emergency situation.
Insurance Companies May Try Not to Pay, or Raise Rates
Sometimes, insurance companies will try to get out of paying for the damage or will seek to penalize you by raising rates.
Let's say, for example, no one is injured (except the deer), but the front of your car is a mess. The insurance company will want proof that you actually did hit a deer, or that you swerved to avoid the deer. Otherwise, they could deny your claim.
This shouldn't be a problem if you can provide evidence. Even though crashing as a result of a deer or any wildlife is technically considered a collision, this particular type of car accident is usually covered under your comprehensive policy. Usually, with comprehensive insurance, you don't pay a deductible and your rates won't go up.
But if your insurance company doesn't see "evidence" that you hit a deer, they might make you file your car damages claim under your collision policy, which means you will pay your deductible and they could increase your rates.
Usually, there's no need to hire a lawyer to deal with an insurance company for a car crash involving a deer. However, if the dollar value of the damage or injuries is very high and the insurance company is unwilling to pay, or if you are facing allegations of negligence, you should consider contacting an attorney.
You May Also Be Interested In
---
Answers to the Most Frequent and Urgent Car Accident Injury Questions
Rural Road Accidents in North Carolina – Facts and Tips for Safe Travel

Road Debris – Who Pays for Your Damages?

Rural Road Accidents in North Carolina – Facts and Tips for Safe Travel