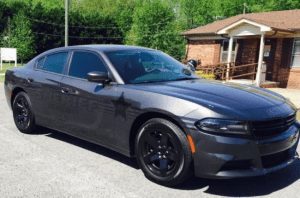 Most drivers view aggressive driving as a serious or extremely serious risk that puts everyone's safety in jeopardy. They are right, of course, but that doesn't stop many from doing it, according to the AAA Foundation for Traffic Safety.
Recently, authorities in North Carolina committed to cracking down on this issue by investing in "ghost cars." CBS North Carolina reports that these cars don't look like your typical marked cruisers, as you can see from this WBTV NC photo.
The cruisers do have markings, but their graphics and decals are barely visible during daylight hours, allowing law enforcement officers to blend in with the rest of traffic. People are on their best behavior when they spot a police cruiser, the logic goes. The goal with ghost cars is to address aggressive driving habits, like speeding, tailgating, and unsafe lane changes by putting motorists on notice that police may be in the midst.
North Carolina law defines aggressive driving as careless or heedless operation of a vehicle in a manner that willfully or wantonly disregards the rights and safety of other drivers. To prove a violation, officers need to show an offender committed two or more of the following:
Running a red light

Running a stop sign

Passing illegally

Failing to yield right-of-way

Following too closely
A violation is considered a Class 1 misdemeanor – a charge that may betray the severity of impact these actions can have on innocent passengers and other drivers, pedestrians, and cyclists.
One study published in the journal Accident Analysis & Prevention revealed that aggressive driving tends to increase the severity of traffic crashes.
Recovering Damages After an Aggressive Driving Accident
In some cases after an aggressive driving accident the involved parties may find themselves tempted to argue with the other driver. On the other hand, others may sometimes feel compelled to apologize. However, our North Carolina accident attorneys would urge drivers involved in any crash to neither blame nor apologize after any kind of car crash. Instead, a polite exchange of insurance and driver's license information as well as contact information of potential witnesses is in order. Also, if you are injured, seek immediate medical attention. Click here for steps to take after you've been involved in a car crash.
A person who is injured and plans to file a North Carolina car accident lawsuit for damages will have to prove negligence. Your attorney will need to show:
Defendant owed a duty of care (in this case, to safely operate a motor vehicle)

Defendant breached that duty (by failing to safely operate a motor vehicle)

Defendant driver's actions were the actual and proximate cause of plaintiff's injuries

Plaintiff suffered actual damages as a result of the crash
N.C. Car Wreck Lawyers Offer FREE Case Evaluation
Aggressive driving behaviors are undoubtedly a breach of a motorist's duty. However, proving it sometimes can be challenging, and this is why we encourage injured parties to seek legal counsel from an experienced North Carolina personal injury attorney.
If aggressive driving has led to a serious accident resulting in personal injury, we can help you explore your legal options.
Contact us for a free case evaluation to see if we can help or call us at 1-866-900-7078.
You May Also Be Interested In
---
The Most (and Least) Dangerous Cities and Counties for North Carolina Drivers, Motorcyclist, and Pedestrians
10 Most Dangerous Intersections in North Carolina (2021)
What Happens When You Get Caught Texting and Driving?