We know better than to text, check Snapchat, like a Facebook post, or talk on the phone while driving.
We know better.
We've heard and read the heartbreaking stories of lives lost and ruined. But why do we do it anyway? For the same reason you can't eat just one potato chip. Or you "Gotta Catch 'Em All."
Dopamine, the Ping, and Addiction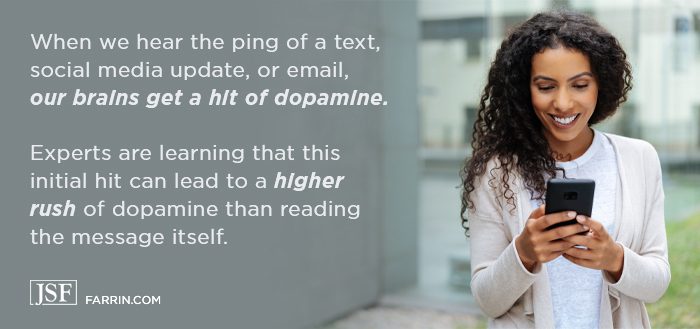 Dopamine is partly to blame. It's the chemical reaction in your brain that leads to addiction. The ping of your cell phone creates the same arousal response that activates your brain's reward center. And it is a key transmitter in a highly complex chemical relationship that sometimes leads to addictive behaviors. Food. Gambling. Video gaming. Drugs and alcohol. Shopping.
And texting while driving.
When we hear the ping of a text message, social media update, or email, our brains get a hit of dopamine. Who's it from? Who liked my post? What am I missing out on if I don't read this? Experts are learning that this initial hit, interestingly, can lead to a higher rush of dopamine than reading the message itself. And it's not just with cell phones. The internet can also prompt addictive behavior.
"Ha Ha. Made Ya Look!"
Dopamine is a large part of the reason we are drawn to the urge to give in to a pleasurable experience. And you can't stop the dopamine reaction any more than you can stop adrenaline from making you jump when startled. It's autonomic. It's primal. It's how we are wired. And some scientists say it's much of the reason why our species has survived for millennia. Food equals life. Sex equals the procreation of mankind.
We humans are wired to want to give in to our pleasures and primal urges. And that, some researchers say, is why we have a very hard time ignoring the ping of a cell phone when we are maneuvering a two-ton vehicle at 65 miles per hour through three lanes of heavy traffic with our toddler in the back seat.
That ping elicits the same dopamine response as the potato chip you just have to have, or the slot machine lever you are compelled to pull for the umpteenth time. It makes you want to look.
How Cell Phones Are Similar to Slot Machines
David Greenfield, founder of the Center for Internet and Technology Addiction and the research source behind AT&T's "It Can Wait" campaign calls the smartphone the "smallest slot machine in the world."
He compares the variable reinforcement of a text, email or social media hit to a slot machine's potential rewards. You don't know when you'll get it. You don't know what you'll get. And you don't know how good it will be. It's the anticipation that generates the high.
In addition to the dopamine surge, there's something else working against us in a different part of our brain, he explained in a CNN interview. The dopamine reaction causes a partial shut-down of our prefrontal cortex – where most of our judgment and reasoning occurs.
So now, we have two areas of our brain working against us as we hurtle down I-95 dodging other smartphone addicts. We have the dopamine devil urging us to "take a quick peek," while our inner voice of reason, which should be slapping our hand, is instead rendered mute.
And most experts agree that the prefrontal reasoning center is not fully developed until around age 25, which explains why the situation is even worse with teens and twentysomethings. (Incidentally, car insurance companies figured this out long ago. Think of what age insurance rates generally drop: 25!)
This texting and driving epidemic is starting to make more sense now isn't it?
While this chemistry lesson is quite fascinating, what can we do to stop this behavior the very next time we get behind the wheel?
EndDD.org
reports that over 90% percent of drivers know cell phone distractions are dangerous and find it "unacceptable" to text or e-mail while driving. Yet, 35% of them do it anyway.
4 Easy Ways to Stop Using a Cell Phone While Driving
Turn your phone on silent
Completely turn your phone off
Put your cell out of reach (in the trunk, glove box, or in a purse in the back seat)
Download one of the many apps that helps prevent you from texting while driving (most are free). Some will silence notifications and message people trying to reach you that you are driving.
And by all means, if you are texting someone that you know is driving, stop texting them! If for no other reason, you could be liable for damages if that driver causes an accident because of your text. Some states are currently considering legislation of this nature.
Get a FREE Case Evaluation from NC Personal Injury Lawyers
We have represented far too many clients who were injured – some severely – by distracted drivers. The stories are heartbreaking, and sadly, most could have been prevented.
If you or someone you know was injured by a distracted driver, please have them contact us or call 1-866-900-7078. We are available 24/7 and will evaluate the situation for FREE and let you know if we think we can help.
P.S. Here's our resource if you want your teen driver to learn what it's really like to drive distracted (but experience it in the safety of a simulated environment). The non-profit Charlotte-based B.R.A.K.E.S (Be Responsible and Keep Everyone Safe) offers defensive maneuvering instruction around N.C. and the U.S. Students are taught by former race car drivers, policemen, and other professional drivers.