Next time you pass someone on the road who is texting while driving, don't be so quick to judge. At least, not if you have ever eaten a burger or sipped a soda while you were driving. Because eating and drinking are driving distractions, too.
The National Highway Traffic Safety Administration (NHTSA) claims that 8% of fatal crashes and 15% of injury crashes in 2018 were reported as distraction-affected crashes. That equates to 2,841 people killed and an estimated additional 400,000 people injured – all from distracted driving. And eating and drinking are considered to be driving distractions by the NHTSA.
But … you justify it to yourself. Eating while driving is part of every soccer mom's weekly routine, right? And doesn't every morning rush-hour commuter and tired trucker do it? And what about family road trips – surely that's ok?
Eating on the go has become as American as apple pie. Thanks to the drive-thru, eating in our cars has become commonplace – routine, even. It is woven into the frenzied fabric of our everyday lives so intricately that we don't think twice about it, let alone consider it a "distraction." Yet many of us have never stopped to consider if we may be putting others (or ourselves and our passengers) in harm's way as we careen down the road in a minivan full of little sluggers, while we force down yet another McNugget.
8% of fatal car crashes involve distractions. After a car accident, an experienced personal injury lawyer can help guide you through the legal process.
How Common Is Eating Behind the Wheel?
Eating on-the-go in our cars is pervasive. The fast-food drive-thru is so ingrained in American culture there's even a national holiday celebrating it. July 24th every year. Here are some startling facts:
According to the CDC, 36% of adult Americans get food each day at a fast food restaurant.

There are over 204,000 fast food restaurants in the U.S.

These fast food restaurants serve roughly 50 million Americans every day and bring in $110 billion in annual revenues.

A Stanford University study says that over 20% of Americans' meals are eaten in the car.
Why Eating Behind the Wheel Is So Distracting
There are many reasons why eating while driving is so dangerous. One major reason is that, when you eat behind the wheel, you are multitasking big time. You may not know just how little it takes for us to become unfocused while multitasking. Here's a quick multitasking exercise that can help you determine just how good you are. (Spoiler alert: you're not as good at it as you thought you were.)
Fewer Than Two Hands on the Steering Wheel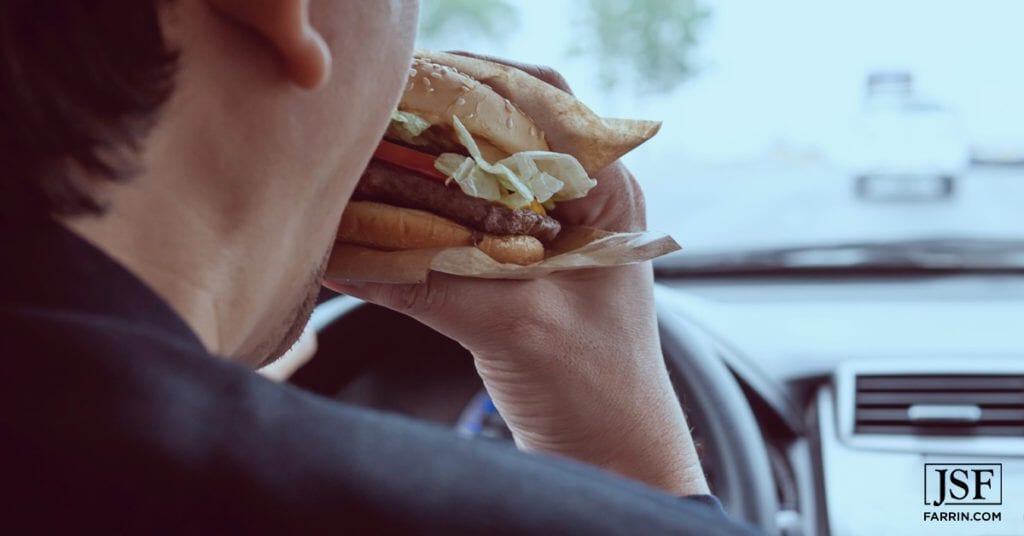 Eating and driving almost always leads to driving without both hands on the steering wheel. Drivers must unwrap fast food items, apply sauce packets and condiments, clean up spills and crumbs, throw away trash, and more – all while trying to steer the car.
Even if you bring your own food to eat in the car, you may be handling lunch boxes with zippers that get stuck or Tupperware with lids that won't open. Your hands are busy. But not busy doing what they should be doing, which is driving.
Eyes off the Road
If your hands are off the wheel when you're eating, your eyes probably are, too. What happens when a pickle falls off your burger? Our eyes (and hands) are trying to find that pickle instead of trying to keep our car on our side of the road. And chances are your mind is not on your driving at all at this point. It is on that pickle.
With your eyes off the road, you can easily miss changes in road patterns or road conditions, road signs and warning signs, or even other drivers who may be trying to find their own pickle while driving.
Slower Reaction Times
With your hands, eyes, and mind off the road, your reaction time will naturally be much slower. This contributes to the potential for collisions as drivers cannot always react in time to make the necessary maneuvers to avoid car accidents.
One university study, entitled 'Two Hands Better Than One,' found that drivers' reaction times when eating increased by 44%, compared to their non-distracted counterparts. (And by increased, we mean got slower.)
Passengers With Food
We know that having rambunctious or loud passengers can result in distractions. But we don't often think about how passengers who are eating can affect our ability to focus. Driving-Tests.org states:
"A backseat full of friends chowing down on burgers and fries can be just as distracting as enjoying some drive-thru fare yourself. The smells and sounds of passengers eating while you are attempting to concentrate on the important task of driving, not to mention offers of fries and 'bites,' can tempt you to turn around and take your eyes off the road."
Car Clutter and Food Wrappers
Every time you pick up fast-food, you are left with a pile of paper bags, napkins, empty cups, straw wrappers, and more. Oftentimes, this trash is tossed to the floorboard to be picked up "later." "Later" typically takes a while to come around and, slowly, the food wrappers and trash on your floorboards can create a hazardous, cluttered environment. Have you ever had a water bottle roll around your car? That bottle could easily get caught between your brake pedal and the floorboard.
According to one insurance company:
Loose objects can fly through the air if you have to stop suddenly – creating 20x the punch they normally would and potentially causing injuries to you and your passengers.

Loose objects rolling around your car can be distracting all by themselves. Garbage from food or drink can pose health hazards, becoming home to nasty bacteria that generally increase in hot weather. This can lead to multiple health problems, including E.coli.
Even an odor (rotting food and trash) or sight (trash piling up and making your car an eyesore) can be distracting and take your mind and eyes off the road.
Tips to Try to Avoid Eating and Driving
Treating your vehicle like a dining room is asking for more than just a big mess. Here are some tips to avoid the mess – and the potential mess of dealing with a car crash.
Eat Before You Leave
Wake up a few minutes earlier and eat your granola bar before getting in your car and heading to work. It may be slightly less convenient, but I can guarantee you it is way more convenient than dealing with a car wreck.
Make Your Car a Snack-Free Zone
Keep snacks like granola bars or fruit snacks out of your car. Some people keep snack foods in the glove compartment or center console. But if you don't have food there, you won't be tempted to eat it in a non-emergency setting – like when you're driving.
Eat in the Parking Lot or the Restaurant
Eating in a parking lot or in the restaurant – or even pulling off the road to eat a snack – could save a life (even yours) by keeping you focused on your driving.
The 10 Worst Foods to Eat Behind the Wheel
If you absolutely have to eat behind the wheel, try to make the situation less distracting by using more accessible containers, keeping your trash in check, and avoiding certain messy foods. Here's a list of the 10 worst foods to eat while driving, as reported by Drive-safely.net.
Chocolate
It may not be as bad as other foods because it isn't something you can spill. But chocolate can leave stains and fingerprints that tempt us to clean them up, which is another major distraction when driving.

Soda
Any drink can be distracting because you risk a real mess if you spill. Soda, because of its sticky nature, may be one you want to avoid, especially opening the can. We've all gotten sprayed with Sprite or Diet Coke, and it is not something that we want to happen in our car.

Donuts
Jelly, cream-filled, or powered donuts can lead to a messy end-result. Use that willpower and resist the Krispy Kreme drive-thru on your next road trip.

Fried Chicken
Fried chicken is greasy. A driver eating it is likely going to be cleaning their fingers or trying to wipe grease off the steering wheel. Consider eating your KFC inside or in the parking lot before pulling back onto the interstate.

Barbecue
Like fried chicken, barbecue is extremely messy with its hot, dripping sauces. Getting it all over your hands, car, or clothing can be a major distraction.

Hamburgers
Hamburgers are hard to resist on a road trip. But burgers have many parts – pickles, tomatoes, lettuce, bacon – all of which can slide out of the bun and make a mess in your car. And no one wants ketchup on their khakis.

Chili
Hot chili on your clothes, hands, and car can not only be distracting, but it can be painful. Don't let yourself get burned or distracted by eating chili. Some years ago, a driver of a Metro bus in Cincinnati hit two pedestrians because he was looking down to throw away his cup of chili. One was killed, the other was injured.

Tacos
Tacos are hard enough to eat when you're not driving. The mess will likely create an even bigger mess in your car. One driver crashed into two parked cars and flipped his own car onto its roof because he was eating a taco and brushing crumbs off his lap, thus causing the collision.

Soups
Eating hot soup in your car is a bad idea. Period. It's easy to spill, a mess to clean up, and depending on how hot it is, dangerous if you spill it on yourself.

Coffee
Who doesn't drink coffee in their car? Everyone needs a pick-me-up from Starbucks or McCafe, but hot coffee can burn your mouth or your hands, which can certainly take your focus off the road.
Keep in mind that many food-related car crashes happen in the morning during the rush to work. One driver was eating breakfast while driving 50 mph through an area already occupied by first responders. His breakfast distraction caused a second collision.
Are You Breaking the Law if You Eat and Drive?
No. In the United States, eating while driving is not prohibited by law. However, most distracted driving laws are interpretable, making it a very gray area.
One police officer put it this way: "Would I pull someone over if they have some french fries in their hands? No. But if someone is eating a sub, swerving all over the road? For sure. And I have."
Importantly, North Carolina is a contributory negligence state, meaning you may be barred from compensation if you were in any way negligent in contributing to the accident.
For example, if you were in a car accident, and it was found that eating or drinking contributed, you could very well be considered negligent and denied potential compensation. Even worse, you could face legal action.
So, is eating and driving illegal? No, but it is certainly safer not to, and you could potentially be held liable if you contributed to an accident.
Now You Know – So What?
First, don't be a distracted driver – of any kind. Try to find ways to avoid eating behind the wheel. It's not as hard as you think. It could be as simple as setting your alarm five minutes earlier in the morning. It may not be convenient to you at first, but it could save your life or someone else's.
Second, be a conscientious passenger. Help the driver keep his or her eyes on the road, even if food is involved.
And finally, encourage others not to eat or drink while driving so they can keep both hands on the wheel and both eyes on the road. Distracted driving is dangerous, claiming more than 3,100 lives in 2019 in the U.S. Almost all of these tragedies are preventable.
Get a FREE Case Evaluation from NC Personal Injury Lawyers
Far too many people are injured because of distracted drivers – including those eating while driving. If you or someone you know was injured by a distracted driver, please contact us or call 1-866-900-7078 for a free case evaluation. Our car accident attorneys can help you seek the compensation you may deserve. We are here for you 24/7.
You May Also Be Interested In
---
Answers to the Most Frequent and Urgent Car Accident Injury Questions
What Happens When You Get Caught Texting and Driving?
Distracted Driving Statistics: Shocking Numbers + Infographic
Leading Causes of North Carolina Car Crashes in 2020