A legal clock starts ticking when you're in a car accident in North or South Carolina. It's called the statute of limitations. It's a time limit on how long you can wait to seek compensation, but it's a bit more complex than it seems.
As a car accident attorney, I'll give you the facts about the statute of limitations, a few exceptions worth noting, and how an attorney can help you with your case.
And remember, if you're hurt and need help after a car accident, don't hesitate. Call 1-866-900-7078 or contact us online today for a free case evaluation.
What Is the Statute of Limitations for Car Accidents in North and South Carolina?
Whether you're in North or South Carolina, the statute of limitations for car accidents is generally three years from the day of the crash. If you fail to make a claim or file a case prior to the expiration of the statute of limitations, you may no longer be entitled to seek compensation. Different states make different rules, so if you're outside the Carolinas, you'll want to check with an attorney in your state.
The statute of limitations for car accidents applies to lawsuits or legal actions resulting from the accident. In other words, if you're injured, you generally have three years from the date of your injury to file a lawsuit. Insurance companies, on the other hand, generally require claims to be filed promptly. The longer you wait, the more leverage they may have in negotiation.
What if My Car Is Repaired, But I Find More Damage Later?
Generally, once you settle an insurance claim, you sign away any right to further compensation. That's why it's important that your car undergo repairs at a trusted facility of your choosing.
The insurance company will likely try to direct you to repair shops they are partnered with, but you are not required to use their recommended mechanic. If you use their recommended repair shop and that facility fails to uncover all the damage, you may be out of luck.
Some insurance companies will guarantee the work of their recommended shops. It would be worth asking the insurance company if they guarantee the work of their shops and what they will do if they find damage later.
The statute of limitations may be extended in certain situations, such as:
The damage to your car was not damage you (or your repair shop) could reasonably have discovered.
The damage to your car was purposefully hidden from you by the at-fault insurance or their agents.
For example, if you could prove you took your car to an insurance company's recommended shop, and they concealed damage from you, the statute of limitations to seek compensation for that damage would generally begin to tick from the day you discovered the full extent of the damage – not the day of the wreck.

Are There Any Exceptions to the Statute of Limitations for Car Accidents?
As discussed above, discovering damage that you couldn't have reasonably discovered earlier might allow you to extend the statute of limitations and bring your lawsuit beyond the three-year anniversary of the wreck.
Here are two other common scenarios where the statute of limitations doesn't generally begin ticking on the day of the car wreck.
In the case of wrongful death in a car accident, the statute of limitations does not begin with the day of the injury, but generally begins on the day the victim passed due to their injuries. In South Carolina, you still generally have three years to file from the day of passing. In North Carolina, the statute of limitations for wrongful death is generally only two years.
If a minor is injured in a car accident, the rules are again different. In North Carolina, the standard three-year statute of limitations begins to tick when the minor turns 18. In South Carolina law, an injured child generally has three years or until they turn 19 to file a claim, whichever is longer.
If the accident victim is disabled by mental incompetence or insanity, North Carolina's three-year statute of limitations may not apply.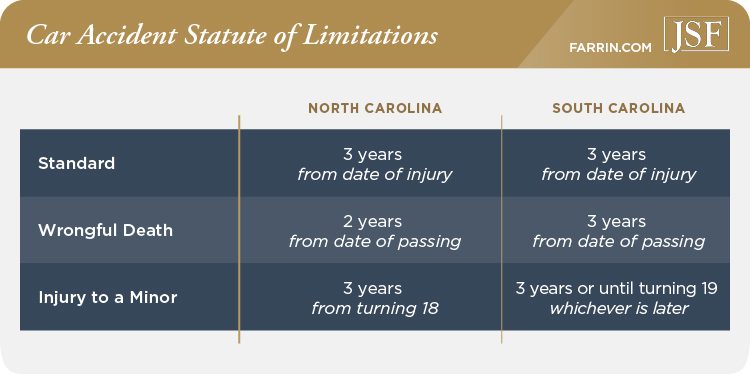 Two or three years may seem like a long time, but waiting to build your case could cause significant harm to it. For example, eyewitnesses may move or evidence may deteriorate. We recommend contacting an experienced car accident attorney immediately after your injury.
Note: In South Carolina, in the event your car accident and/or injury involves a government entity or official, you generally have only two years to file a suit. Examples include a municipal hospital, police department, or government official.
Why Would Someone Injured in a Car Accident Delay Filing a Claim or Lawsuit?
In some situations, someone might not file a claim or a lawsuit immediately after the crash. Everyone's circumstances are different. For example:
The at-fault driver fled the scene, and you're waiting for police to find them. There's likely no one to sue unless the driver is found.
Your injuries render you unconscious or unfit, and you have no family to file a claim or lawsuit on your behalf.
Your injuries do not manifest immediately. Some injuries can take weeks or even months to appear.
Remember, it is generally advisable to file a claim immediately after an accident, especially if you are injured, because:
The accident is fresh and evidence is much easier to collect. Over time, memories fade, evidence deteriorates, and paperwork gets lost.
The sooner you file a claim, the sooner you can receive potential compensation to pay your bills and expenses.
Delay without reason can give an insurance company an advantage. They may argue that you would not have delayed if you were really hurt.
And, of course, by acting quickly you can avoid the risk of exceeding the statute of limitations.
What You Need to Do After an Auto Accident if You Are Injured
After an accident, there are steps you should take to help protect yourself and your case. We've assembled a guide for you of what to do after a wreck.
What Kinds of Compensation Can I Get From My Car Accident Claim?
If you've been hurt in a car accident and file your claim before the statute of limitations runs out, you can seek compensation for:
Medical bills
Lost wages
Diminished value
Pain and suffering
And more
Every case is unique, so consult with a personal injury lawyer to discuss what compensation you may deserve.
Contact an Experienced Car Accident Attorney Today
If you were hurt by another driver, you're dealing with enough already. Let us put you first and handle your case for you while you focus on getting better.
Since 1997, we've helped over 60,000 people recover more than $1.6 billion in total compensation. And counting!1
We work on a contingency fee basis, meaning we advance all costs of fighting your case – and we don't collect an attorney's fee at all unless we recover for you. Guaranteed.2
Call the experienced advocates at the Law Offices of James Scott Farrin at 1-866-900-7078 or contact us online today for a free, no-obligation case evaluation.
Frequently Asked Questions