Wrongful Termination in NC: How to Know
if You're Entitled to Compensation
Fired. Terminated. Let go. Downsized. Dismissed. No matter how you phrase it, you're out of a job. But was it fair? And does that matter? Should you hire an NC wrongful termination lawyer?
The answer, as is often the case in law, is a bit more nuanced. There are federal and state laws layered on each other, rules, and exceptions to those rules. A wrongful termination attorney in NC has the knowledge and experience to untangle those laws and ascertain whether or not you have a case.
What 'At-Will Employment' Means in North Carolina
Like 48 other states, North Carolina is an "at-will" employment state. According to the North Carolina Department of Labor (NCDOL), the term "employment-at-will" means that, unless there is a specific law to protect employees or there is an employment contract providing otherwise, an employer can treat their employees as they see fit (including assigning demeaning tasks) and can discharge an employee at any time and for virtually any reason – or for no reason at all.
However, there are a few important things to understand in the NCDOL's wording.
"Unless there is a specific law…" – There are laws that govern specific circumstances that supersede the "at-will" status of the employer/employee relationship.
"Or there is an employment contract…" – In North Carolina, an employment contract supersedes the "at-will" status. Thus, the terms of employment and termination are agreed in writing, and diverging from those terms could be a breach of contract – and a wrongful termination.
"An employer can treat its employees as it sees fit…" – Something most people do not realize is that an employer does not have to give you work you enjoy. Work is work, generally speaking, so an employer is well within its rights to assign "demeaning" or unpleasant tasks.
"It can do so for any reason or no reason at all." – Yes, that's the law. Assuming no other superseding law has been violated, your employer can dismiss you on a whim, with no reason given, at any time. It's not necessarily good business, but the law does allow it.
It is up to the employers whether to allow employees access to their personnel files. In other words, an employer does not have to show you your file. They are required to keep a file, as the Fair Labor Standards Act (FLSA) requires that certain records be accurately kept for non-exempt workers. It should contain:
Employee's full name and social security number
Address, including zip code
Birth date, if younger than 19
Sex and occupation
Time and day of week when employee's workweek begins
Hours worked each day
Total hours worked each workweek
Basis on which employee's wages are paid (e.g., "$9 per hour," "$440 a week," "piecework")
Regular hourly pay rate
Total daily or weekly straight-time earnings
Total overtime earnings for the workweek
All additions to or deductions from the employee's wages
Total wages paid each pay period
Date of payment and the pay period covered by the payment
The employer's personnel file may contain more information that that, but for employees who are not exempt from the FLSA, the above list represents the minimum.
A wrongful termination lawyer in North Carolina can help you understand the nuances of the law, including what supersedes North Carolina law and when you may have a wrongful termination case. We'll evaluate your case for free, and because we work on a contingency fee basis, you'll have no up-front costs, and we don't collect an attorney's fee unless we collect for you.2
Are All Employers Subject to Wrongful Termination Lawsuits?
Not exactly. In some cases, only businesses that routinely employ 15 or more workers for 20 weeks during the current or subsequent year (although those weeks do not need to be consecutive) are subject to some claims, though there are exceptions. In truth, there are many exceptions, including:
Private Membership Clubs
Employers on Indian Reservations
Ministerial exceptions
Religious schools
And more
What Is Considered Wrongful Termination in NC?
The short answer is any termination that violates federal or state law, breaches a contract, or falls under a public policy exemption may be considered wrongful termination. There are laws that forbid dismissal in retaliation as well. However, there is much more to it than that. Here are five circumstances and rules that may create a wrongful termination case.
1. Discrimination by Wrongful Termination as Defined by Federal Law
Multiple federal laws create a layer of protection from wrongful termination due to discrimination for employees nationwide. These laws take precedence over state laws, though states often have laws that add to, or otherwise expand on, the federal statutes.
According to federal law, employers may not discriminate based on an applicant's or employee's:
Age
Sex (including pregnancy, sexual orientation, or gender identity)
Religion
Ethnicity or national origin
Race (or skin color)
Genetic information
Disability
Citizenship/alienage
These are called "protected classes," and there are a group of federal laws that create and define them, including § 1981 of the Civil Rights Act of 1866, Title VII of the Civil Rights Act of 1964, the Americans with Disabilities Act (ADA), the Family and Medical Leave Act (FMLA), and the Age Discrimination in Employment Act (ADEA).
2. Additional North Carolina Discrimination Protections
In North Carolina, several state laws add to the protected classes provided by federal law. For example, it is illegal in North Carolina to discriminate against employees based on:
HIV/AIDS diagnosis/status
Military service
Sickle cell anemia or hemoglobin C diagnosis/status
Use of a lawful substance
These come from NC General Statutes 130A-148(i), 127B-10-15, and 95-28.1, among others. In addition, some other rules and requirements may be applicable. For example, the 1992 Retaliatory Employment Discrimination Act, under certain circumstances, protects employees subject to the juvenile justice system, domestic violence, pesticide exposure, and employees reporting activities of their employers under the Paraphernalia Control Act.
3. North Carolina "Protected Acts"
Sometimes, the law covers workers who participate in a "protected act." The 1992 Retaliatory Employment Discrimination Act extends this protection to many actions an employee may take, but the majority of filings come from workers engaged in two activities.
Workers who report Occupational Health and Safety Administration (OSHA) violations – The law says that an employer may not terminate an employee in retaliation for the employee reporting a workplace safety issue or violation.
Workers injured on the job and filing for workers' compensation benefits – The law prohibits employers from terminating employees in retaliation after an employee applies for workers' compensation benefits.
Additionally, REDA specifically protects certain victims of crime:
Workers who take time off to get a protective order – The law prohibits employers from taking adverse employment actions against victims of domestic violence, sexual assault, child abuse, and elder abuse who seek reasonable time off to obtain a protective order under NCGS Chapter 50B. Employees must still follow usual procedures for requesting time off unless an emergency prevents it.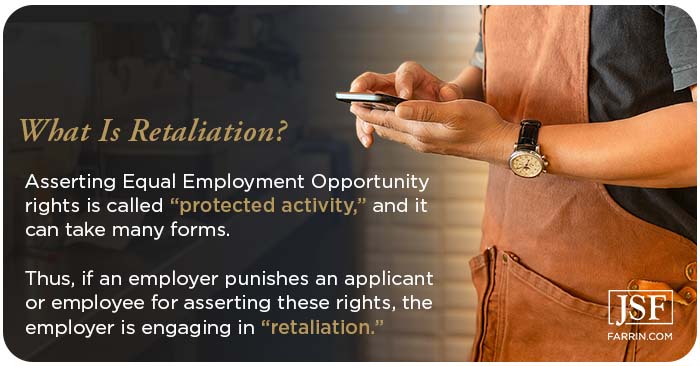 What Is Retaliation?
Laws prohibit punishing job applicants or employees for asserting their rights to be free from employment discrimination, including harassment. Asserting these Equal Employment Opportunity rights is called "protected activity," and it can take many forms. Thus, if an employer punishes an applicant or employee for asserting these rights, the employer is engaging in "retaliation."
4. Breach of Contract
If you and your employer agree to the terms of your employment in writing in the form of an employment contract, you are no longer in an "at-will" situation, and contract law supersedes employment law in some ways. It is important to remember that employee handbooks, policy manuals, and the like are NOT employment contracts.
Most of the time, individual employees won't be under a contract in North Carolina. Employment contracts typically are the result of collective bargaining agreements or union affiliation. In these cases, the terms of employment are spelled out, and violation of the contract terms results in a breach of contract. Ergo, if the contract states you can only be dismissed for specific reasons and your employer dismisses you for a reason not included in the contract, you may have a breach of contract claim.
5. North Carolina Public Policy Exception
There is, in employment law, something called the "Public Policy Exception" (or Exemption). Different states treat this exception differently, and many disallow it entirely. In North Carolina, it is based strictly on public policy from the state's constitution and statutes.
Here's a general definition:
"Under the public-policy exception to employment at will, an employee is wrongfully discharged when the termination is against an explicit, well-established public policy of the State." – The Employment-At-Will Doctrine: Three Major Exceptions, by Charles J. Muhl
This exception covers many things that are already explicitly named in statutory law, including the protection of workers who file for workers' compensation benefits. It also covers a few things not in the law. For example, the public policy exception protects an employee who refuses to break the law on behalf of an employer.
The Rules Are Complicated, So Consult With an Experienced Wrongful Termination Lawyer
Many workers may have been wrongfully terminated and aren't even aware of it. We're here to protect your rights. Contact us any time for a free case evaluation. We'll listen to you, ask questions, and if we believe we can help you, we'll take your case.
What Isn't Considered Wrongful Termination in NC?
Essentially, the "at-will" rule enables your employer to dismiss you for any reason not otherwise prohibited by law – meaning the list of reasons you can be fired is much longer than the list of reasons you can't be fired. Outside of harassment, retaliation, and discrimination, just about anything goes.
You Can Be Legally Terminated for Refusing Employer Demands
Here are just a few examples of things your employer can generally ask or demand of you and, if you refuse, terminate you without penalty:
That you work overtime, weekend hours, or a schedule you do not like (though you may wish to read up on wage and hour claims)
That you meet unreasonable deadlines or demands to complete tasks in insufficient timeframes
That you perform work tasks that you dislike
Your Employer Can Legally Refuse Your Requests
Furthermore, as long as it is not discriminatory or retaliatory in doing so, your employer is within their rights to refuse requests. So, for example, if your employer terminates you or refuses these things, it is not wrongful to:
Deny you a promotion
Deny or refuse to grant a pay raise
Refuse a vacation or leave request
Your Employer May Have No Reason at All for Firing You
To drive the point further home, here are a few more reasons that an employer can fire you – again, assuming there is no violation of the specific laws protecting employees:
Woke up in a bad mood
Employer's spouse/dog doesn't like you
Thinks you're difficult to work with
The sky is blue
Doesn't like the same professional sports team
No reason at all
Being random, moody, or otherwise unfair isn't grounds for a wrongful termination lawsuit. Bad bosses are a dime a dozen. Generally, unless the termination violates the laws and rules prescribed in the previous section, the employer is within their rights.
What Is the Statute of Limitations for Wrongful Termination in NC?
Employees who believe they were wrongfully terminated in North Carolina must generally file their wrongful discharge claims with the Equal Employment Opportunity Commission (EEOC) within three years, according to NC General Statute Ann. § 1-52(5).
How Can I Sue for Wrongful Termination in NC?
Essentially, you have to prove that your employer fired you, demoted you, or did not hire you for engaging in a protected activity or being in a protected class. The first step is to gather the evidence. That may be harder after the fact, but if you anticipate a wrongful termination, you may be able to identify some proactively.
An NC wrongful termination attorney may be able to help you collect evidence. Here are some ideas about what evidence may help you build a case.
Anything you signed – These can include employment contracts, employee handbooks, corporate policy manuals, releases, non-disclosure agreements, non-compete agreements, human resources documents, and so on.

Why it matters: All of these materials create a picture of the job and your role in the organization. They might also give an experienced wrongful termination lawyer clues to the company's practices and may reveal problems contributing to your case.

Communications with your employer/supervisor – Emails, text messages, reports, and the like can all be sources of evidence. If you suspect you may be the target of wrongful termination, you should retain copies of any and all written correspondence. Also, prefer written correspondence to verbal communication as the former is more easily recorded.

Why it matters: Think of this as testimony, of a sort. It's not a "you said/they said" situation where it's your word against theirs. Written correspondence is a matter of record and a timeline of events. It is not uncommon for offenders to self-incriminate in written communication, so save all the documentation you can.

Job description and records of performance – Performance evaluations and records are good sources of information, as are documents that outline your responsibilities, like a job description. Even an ad from a recruitment site may be helpful.

Why it matters: Sometimes, an employer will cite a cause for dismissal. If that cause can be clearly refuted, it begs the question of the real reason for the dismissal. It's what you might call "bad optics." Why would a company fire a high-performing employee, after all?
Examples of Wrongful Termination Settlements in NC
Wrongful termination probably happens more often than you think and to people you may never expect. In North Carolina alone, there have been notable cases where people were fired wrongfully and fought back.
A North Carolina firefighter received a six-figure settlement for wrongful termination after speaking openly about issues he perceived in the department.
Two women recovered a six-figure settlement from their employer after being terminated for lodging complaints about wage violations.
A medical professional received a seven-figure settlement for being terminated after reporting patient neglect.
No two cases are the same, and while no one can guarantee a similar outcome in your case, it may be in your best interests to consult with an experienced North Carolina wrongful termination lawyer.
We Will Evaluate Your Case for Free
When businesses wrongfully terminate employees, tell them you mean business. The Law Offices of James Scott Farrin has helped North Carolina since 1997, and has recovered more than $1.6 billion1 in total compensation for more than 60,000 clients across our areas of practice.
Call us anytime, 24/7, at 1-866-900-7078, or contact us online for a free case evaluation if you believe you have been wrongfully terminated from your job. If there's any question in your mind, take no chances and call us right now. We're here to protect your rights.
Text Us