Wilson Social Security Disability (SSD): Here's What You Need to Know
---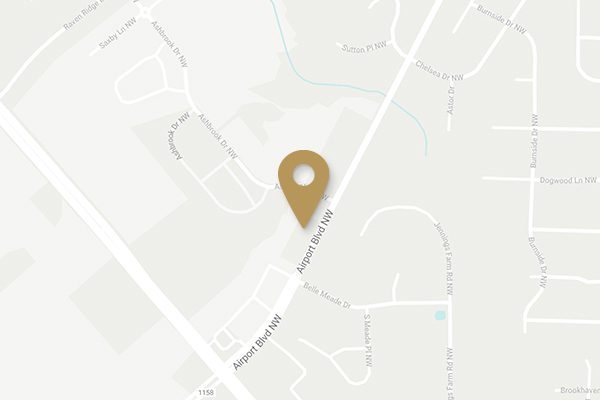 2315 Airport Blvd
Suite A
Wilson, NC 27896
Phone: 252-246-9090
Toll Free: 1-866-900-7078
You've worked all your life, but now you're suffering from a physical or mental limitation that's preventing you from going to work. What's more, the injury is expected to impact you for at least a year — or even result in death. How can you get something back from all those tax dollars you contributed, now that you need it most?
Farrin Fast FAQs on SSD
Which Conditions Qualify You for SSD?
What Is the Average SSD Payment?
About $1,200. (But individual payments vary based solely on the amount you worked and your average earnings.)
How Long Do Disability Benefits Last?
For as long as you remain disabled, or until you hit 65.
What Is the Attorney's Fee for a Disability Lawyer?
Typically 25% of any back pay, up to a $6,000 max.2
Applying for Social Security Disability in Wilson, NC
Applying for Social Security Disability can be a complicated and lengthy process. About two-thirds of applicants nationally are denied on their first attempt. That's not necessarily the same thing as saying that two-thirds of applicants weren't qualified, as many denied applicants go on to receive benefits in one of the stages of appeal. But it does mean that there can be many hoops to jump through in getting any benefits to which you may be entitled.
Submitting a complete claim with proper supporting evidence will be crucial to your chances at every stage. Apply as soon as you become disabled and consider enlisting the help of an attorney to help try to ensure your application submission goes as smoothly as possible. Denied claims due to missing records or an improper filling happen often.
Did You Know? Public employees may be eligible for disability benefits under the Disability Income Plan of North Carolina.
Jargon Blocker! Substantial Gainful Activity
As a general rule, if you can engage in Substantial Gainful Activity, you're not eligible for Disability. If you're not blind and you earn more than about $1,300 a month, you're probably engaging in SGA.
Tip: If you are not eligible for SSD because you haven't paid enough in payroll taxes in recent years, but have a qualifying injury, you should apply for needs-based SSI disability benefits.

Appealing a Wilson SSD Denial
If a person is denied and appeals their claim, the first appeal ("reconsideration") will be reviewed by someone at the DDS who was not involved in the initial determination. For the reconsideration phase, your application and supporting evidence are reviewed again. If you were denied for medical reasons and you have new evidence of your disability, that can be submitted during reconsideration.
If your reconsideration is unsuccessful, you may request a hearing with an Administrative Law Judge. In addition to reviewing documents and records, the judge can hear testimony from you and any witnesses.
If the judge doesn't rule in your favor, you may request a review by the Appeals Council. If the Council accepts your case for review, they're looking to see if the judge at the last hearing made a mistake in applying the law. If they think so, they'll likely order another hearing.
The last resort is going to U.S District Court. An attorney can help you assess at each stage what your best options are.
Keeping Hope Alive
If you've already applied and been denied, you might be feeling like the battle is lost. Many people think of an appeal as a long-shot, last ditch attempt. In reality, the fight may be far from over. Having representation for your appeal hearing makes you about three times more likely to get approved for benefits than someone who doesn't (U.S. Government Accountability Office). A Disability attorney in Wilson can advise you on what your best next steps might be, wherever you are in the process.
Disability Resources: Wilson Committee for Persons with Disabilities (WCPD)
The WCPD acts as a liaison between people with disabilities in Wilson and agencies who offer assistance to people with disabilities. Their goal is to enhance the quality of life for persons with disabilities by working to remove barriers and stigmas. In addition to creating public awareness, the WCPD advises the mayor and city council. One of the organization's key mission statements is to expand opportunities for persons with disabilities through gainful employment and successful support programs and services.
Hiring a Disability Lawyer from James Scott Farrin Is the Way to Go in Wilson, NC
As you see by now, these cases are often difficult to win. They can be even harder without knowledgeable representation. Hiring a lawyer can drastically enhance your chances for success, and takes a huge burden off your plate.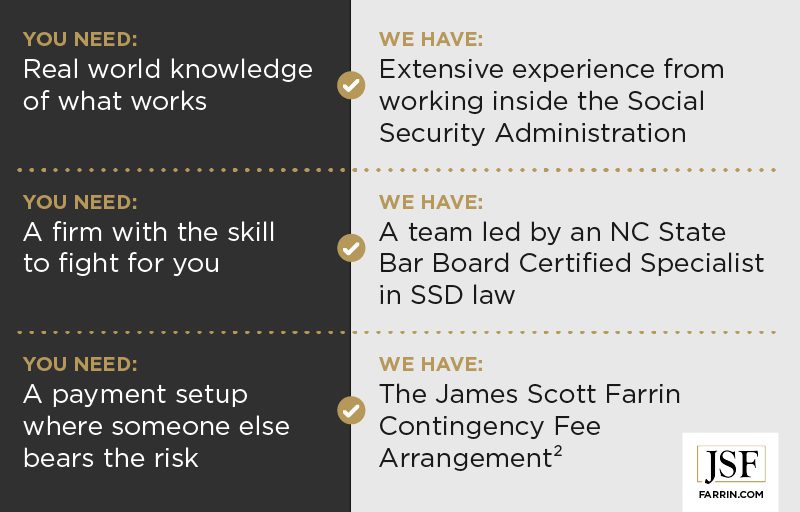 Learn More: The James Scott Farrin Contingency Fee Arrangement2
Are the battle-tested advocates at the Law Offices of James Scott Farrin right for you? Find out for free.

1-866-900-7078