When a worker is injured on the job, Workers' Compensation is supposed to kick in and replace the earnings he or she is missing due to the injury. But how much does Workers' Comp cover? How long do the benefits last? An experienced Workers' Comp attorney can help answer these questions.
For now, we return to the story of Charles, our fictional example worker who was hurt on the job in North Carolina. If you have not, you may wish to read part one and part two of this series to get up to speed.
Wage Replacement Benefits of Workers' Compensation in North Carolina
Whether they're living alone or providing for their families, workers depend on their earnings to stay afloat. The bills keep coming in even if the paychecks do not. So how much can an injured worker get, and for how long?
The answer is, it depends. How much an employee gets to replace wages depends on a few factors, and is governed by North Carolina General Statute 97-2(5).
A worker can receive wage replacement benefits for as long as their doctors say they are unable to work. Contact our workers' compensation attorneys today for a free case evaluation.
How Much Did the Worker Make Before the Injury and How Much of His or Her Wages Are Replaced by Workers' Comp?
This seems simple, but it's deceptive. How much Charles gets when he is unable to work depends on how much he earned in an average week before he got hurt. This is called the Average Weekly Wage (AWW). To start with, there are four ways to calculate AWW:
If Charles worked for his employer for more than a year before getting hurt, his earnings over the last year are divided by 52 weeks. This excludes any period of seven or more days that the workers was not earning. Ex: $52,000 / 52 weeks = $1,000 per week. In this example, Charles' AWW is $1,000.

If Charles worked for his employer for less than a year, his earnings during that time are divided by the number of weeks worked. So if a worker has been employed for six months, the earnings are divided by 26.

If Charles had worked for his employer for less than three months, and the period of work is too short to provide a fair amount, then the earnings of a similar worker can be substituted. So, the wages of a worker performing similar duties at a similar skill level in the same location could be used to determine his average weekly wage.

In case where none of these methods would produce a fair result, other methods can be used to try to approximate how much Charles would be earning if he had not gotten injured.
The numbers are based off the gross, or pre-tax, wages of the worker. It counts as income things like bonuses, overtime, stipends, per diem, and allowances in addition to wage, such as those for housing or fuel. Whatever all of those sums add up to is the gross income. That number is then divided as necessary to provide the Average Weekly Wage.
Average Weekly Wage is important because in North Carolina, the Workers' Compensation wage replacement benefit is set at two-thirds of that AWW, up to a maximum amount set by the North Carolina Industrial Commission each year. This two-thirds is called the Compensation Rate.  For 2020, the maximum compensation rate was set at $1,066.
So, if Charles was earning $52,000 a year, divided by 52 weeks, his AWW would be $1,000, and his Compensation Rate would be two-thirds of that, or $666.66.  Therefore, he would be entitled to receive a check for $666.66 from the insurance company every week that his authorized doctor said he was unable to work because of his injury. No taxes are taken out of these checks.

How Long can a Worker Receive Wage Replacement Benefits?
Injured workers, like Charles, can get weekly checks at their Compensation Rate, as long as their authorized doctors says they are completely unable to work, up to a maximum of 500 weeks. This is called Temporary Total Disability or TTD.
If an injured worker, like Charles, is capable of doing some work, but cannot earn as much as he earned before he got hurt, he can receive partial payments from the insurance company.  These checks will be two-thirds of the difference between what Charles earned before his injury and what he earns after his injury.  This is called Temporary Partial Disability or TPD.
For example, Charles' doctor says he can only work 20 hours a week. Charles goes back to work, but instead of earning $1,000 a week, he is only earning $500.00 a week.  He would be entitled to get two-thirds of the difference from the insurance company.  $1,000.00 – $500.00 = $500.00 ÷ 2/3 = $333.33.

A Word on Permanent Partial Disability (PPD)
This part of Workers' Compensation law can be very confusing, so it is important to understand that each worker's situation is unique, and the most beneficial course of action may be different from case to case. Here is a barebones explanation.
Payment for a Permanent Partial Disability is calculated by looking at North Carolina General Statute 97-31 and figuring out how many weeks of benefits the injury is worth. For example, a 100% injury to the knee is worth 200 weeks of benefits at the employee's compensation rate. If an employee was given a disability rating of 10%, it would be worth 20 weeks of benefits.  In this case, he would be entitled to receive a payment of 20 weeks at his compensation rate.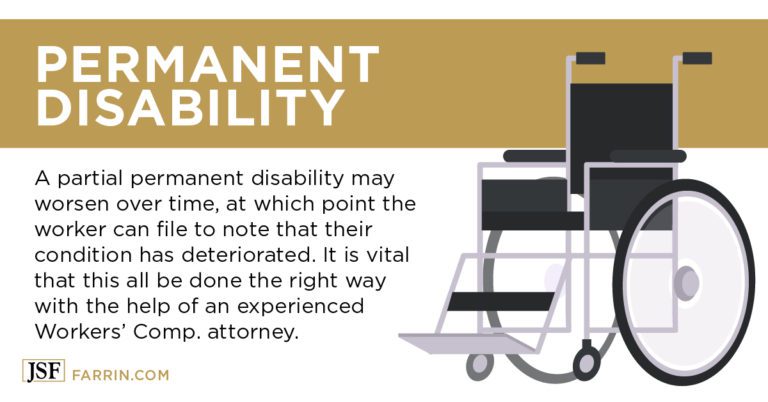 The Benefits and Battling to Keep Them
It happens all the time. A worker is receiving treatment and wage replacement benefits and, after a period of time, the insurance company stops paying them, or pushes the worker to return to the job. Again, this is all part of doing business and insurance companies are businesses. Paying less in benefits equals more profit.
However, injured workers should never be rushed back to work. This only increases their risk of getting reinjured and poses a risk to those around them.
There are only two reasons an insurance company is technically allowed to cancel Charles' benefits – if he returns to work or if they get permission from the NCIC. Lots of battles arise when the authorized doctor says the injured worker is ready to go back to work full duty, but the injured worker disagrees.
In this situation, the insurance company will file an application with the Industrial Commission for permission to terminate the worker's benefits.  The worker, or more likely the worker's attorney, will fight back by seeking a second opinion with another doctor.  If that doctor believes that the injured worker is NOT able to return to full duty work, the worker's attorney can submit that doctor's opinion to the Industrial Commission to try to protect the worker's benefits.
Returning to Work
We've followed Charles from the beginning. Now his saga is coming to an end. After six months of treatment, he's feeling better. Not quite 100%, as he still has very little strength in his hurt shoulder due to not being able to use it. His back, however, is feeling a lot better and improving every day, for which he feels fortunate.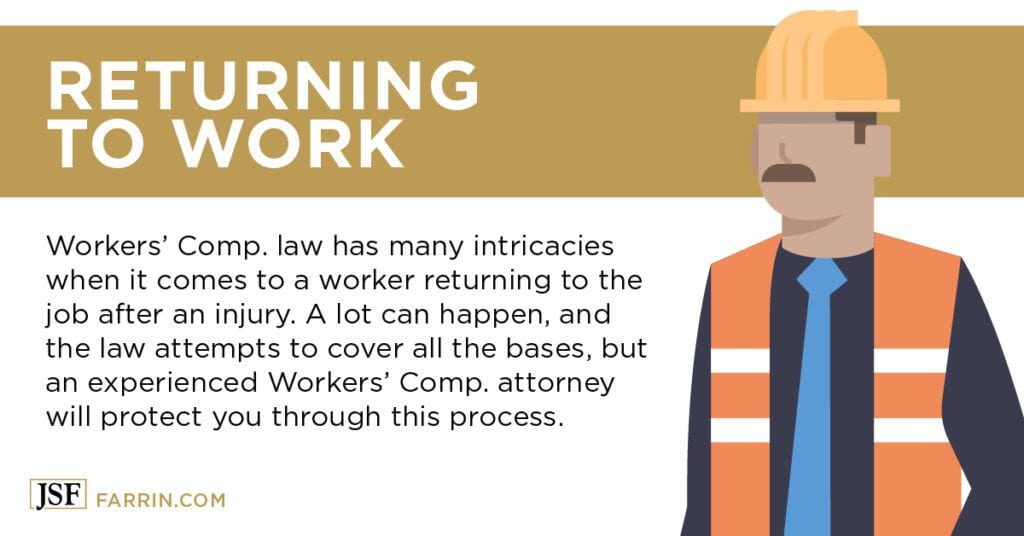 Charles' doctor finally clears him to return to work, but not at his full pre-injury level. His shoulder is not yet ready for that. So the doctor recommends a trial return to work. This is basically a time when Charles goes back to work to see what he's capable of doing. Medical benefits are still in force, but the wage replacement may be suspended depending on how much he is earning. (See TPD explanation, above).
There are a number of things that can happen at this point, and handling them can be complicated:
Charles can accomplish the modified or reduced tasks that his employer assigns him until he's fully capable again of returning to his pre-injury job.

Charles has difficulty performing the modified or reduced tasks provided by his employer. He needs to return to the authorized doctor and see about getting more appropriate restrictions.

Charles reinjures his back while performing the modified or reduced tasks. Again, he should return to his physician, be restricted from all work until his condition improves, and have his wage loss benefits reinstated.

Charles continues working at the modified job until his doctor says he has completed his treatment. Unfortunately, his doctor says he is not able to physically handle his original pre-injury job. It may be time for Charles to . Alternatively, instead of settling, the insurance company may decide to try to locate a new job for Charles at a different company.
Vocational Rehabilitation for Injured Workers
If a worker is injured and cannot return to his or her former job, the insurance company may choose to provide vocational rehabilitation. This training can include:
transferable skills analysis and testing

resume, interviewing and job application services

job search assistance

retraining/education

other services deemed appropriate
The End of Charles' Story of Workers' Compensation in North Carolina
Our friend Charles has been through a lot. From a hurt back and shoulder through the workers' comp process, he's been faced with many challenges. Everyone likes a happy ending, so Charles is able to return to work and makes a full recovery. Many, many workers in North Carolina are not so lucky.
In fact, many find themselves at the mercy of a system that they do not fully understand. In many of the examples of the process with and without an attorney in parts one and two of this series, the main takeaway may appear to be convenience. The truth is far deeper. A worker can, if he or she is so inclined, read everything possible on workers' comp law in North Carolina and still miss something small that leads to big problems.
Charles was an example, and it is easy to minimize the differences when you're not actually injured and in the system. Having an advocate with experience working in the system, battling insurance companies, and looking out for your best interests is a huge advantage in terms of both time and stress. While no result is guaranteed, who has a better chance of successfully navigating the workers' comp system: an attorney who is dedicated solely to the practice of workers' compensation law, or a worker who is in pain and finding his or her way through the system for the first time?
If You Were Hurt at Work, Contact an Experienced, Dedicated Workers' Compensation Attorney
It's not just a case, it's your livelihood. From medical coverage to the money to pay bills, you need help as soon as possible. There are many great workers' advocates in North Carolina. To speak with one of ours, just call 1-866-900-7078. You'll hear a friendly voice, and get a free case evaluation, with no obligation. You can also chat with us, or contact us online. Whatever is easiest. Don't sit and suffer. Tell them you mean business.
You May Also Be Interested In
---
The Case of Charles Part 1: Hurt at Work and the Journey of a NC Workers' Comp Claim
Charles' Story Pt. 2: Filing for a Hearing, Medical Treatment and What to Watch For
Workers' Compensation Settlements in NC: Proceed With Caution!