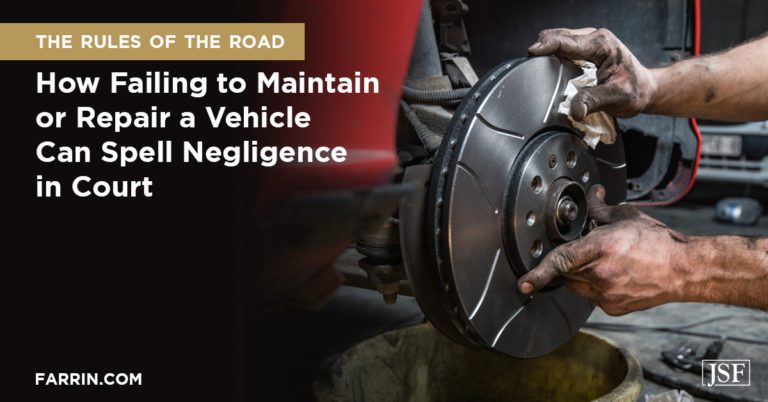 We've all seen them. Those cars on the road that we look at and wonder, how is that thing still moving? How did it pass inspection? Who would drive a vehicle that's in that condition? They're idle thoughts, but there is a very real threat. Negligent maintenance of a vehicle makes it more prone to failure. Crashes follow.
Notice, I do not say accident. Any crash caused by a driver's negligent vehicle maintenance is not an accident – it's a choice. And, if the court sees it that way, a negligent driver may be on the hook for thousands in damages or more.
If you have been hurt in an accident by the negligence of another, call 1-866-900-7078 for a free case evaluation.
The Basics: What North Carolina Law Requires in Regards to Vehicle Condition
As every driver in North Carolina knows, a vehicle has to pass a yearly safety inspection in order to have its registration renewed and be legal to operate. There are a few exceptions to this rule, but let's focus on the vast majority of cars on the road that must pass inspection.
The North Carolina Department of Motor Vehicles requires the annual safety inspection to be completed no more than 90 days prior to the renewal of the vehicle's registration. It's a simple but thorough inspection by a licensed mechanic, who uses a checklist established by the state to ensure the vehicle is safe to operate. In addition to safety, 22 counties also require an emissions inspection at the same time.
The safety inspection covers:
Lights and signals

Braking systems

Steering systems

Tires

Horn

Mirrors

Windshield wipers

Exhaust system

Window tint
If something does not pass the safety inspection, the driver will be notified and the vehicle will require repair or maintenance in order to pass the inspection and be registrable to drive. These inspections are intended to help reduce instances of negligent vehicle maintenance, and hopefully, the accidents caused by it.
Consequences on the Road – and in the Courtroom
People who drive vehicles with critical components in poor condition are asking for trouble, on the road and beyond. Operating a vehicle in such a way is negligent, and if that can be proven, insurance may not cover the damages incurred in an accident.
Bear in mind, an accident with property damage is bad enough. What if someone is injured or worse? These consequences rarely come to mind at the time, but they're very real.
The case law is cautionary.
Lights Lights Lights
You have to have sufficient light on your vehicle for driving conditions. It's not just so you can see the road – other drivers have to see you. Whether we're talking headlights, tail lights, brake lights, or turn signals, make sure they're all working.
The precedential case law comes from the 60s here. In White v. Mote, a town was sued because its employees failed to have lights on their work vehicle. Perhaps the court in Scarborough v. Ingram said it best: "The statutes prescribing lighting devices to be used by motor vehicles operating at night (G.S. §§ 20-129 and 129.1) were enacted in the interest of public safety. A violation of these statutes constitutes negligence as a matter of law."
In other words, if you operate a vehicle without proper lighting equipment, you're acting negligently. And in case you're wondering, according to Bigelow v. Johnson, strapping a flashlight to a vehicle does not meet legal requirements.
Bad Tires Are a Bad Decision
Take for example the case of Scott v Clark. In this case, two pickup trucks were approaching each other on a highway. One of the trucks suffered a blowout of the front left tire, causing the driver to lose control, swerve into the oncoming lane, and strike the other truck killing its driver.
It was found that the driver of the truck that suffered the blowout was driving on a used mobile home tire on the left front corner of the vehicle. The tire was specifically labeled as such. Furthermore, it had only 15-20% of its tread remaining, and numerous holes. The tube inside the tire was satisfactory, but the tire was entirely unsafe. (This was in the 60s, and some automotive tires still used tubes at the time.)
The state requires tires to be in good condition. Check your tires every so often – not just yearly at the inspection!
Steering Away From Danger
It seems pretty simple to most people that if your vehicle has a steering issue, you should have it towed – not drive it. The law basically says the vehicle must be equipped so that a driver can safely operate it.
This should not be confused with a failure of the steering parts while in operation. The law does not expect us all to be mechanics. However, when we are aware of a problem with our steering mechanisms, we're expected to cease operation of the vehicle and have the issue remedied.
So, if a state inspection finds that there are steering parts in need of replacement and you continue to operate the vehicle without doing so, you risk an accident and may be held liable for negligence!
Stopping Power
Brakes may be the most ignored part of vehicle safety systems. It's not usually easy to tell when the brake pads, drums or rotors are worn. With lights and tires, a visual inspection is simple. Modern brakes will make noise when they're at the end of their life, and changes in braking performance should alert drivers to the need for inspection.
If you knowingly operate, or allow to be operated, a vehicle with faulty brakes as in Wilcox v. Motors Co, the law will hold you negligent. Unexpected failures, such as the one in Mann v. Knight, are not negligent.
In Other Words…
Much of the case law that informs the idea of operator negligence in vehicles depends on what someone knowingly did. If you did not know or could not reasonably know of a defect, you cannot be held negligent. A vehicle inspection is a record of information.
What about defects that manufacturers knew about but didn't disclose? This happens too often. See how attorneys have been fighting for car safety reforms since the start.
Insurers and Negligent Vehicle Maintenance
Let's start with this: Because the other driver can always argue that they were not on notice of the poor condition of the vehicle, insurers usually have a basis to fight negligence in these cases.
Of course, every North Carolina driver is required to have some form of car insurance. The driver at fault usually bears the brunt of the claims – through the insurance company that's covering them. If a driver is proven to be negligent by operating an unsafe vehicle, the insurance company is going to fight hard to avoid paying claims.
This is because most of the insurance policies, if you bother to read them, are agreements on both sides. The insurance company agrees to cover the driver, but the driver agrees to be responsible for how they conduct the task of driving, and that includes the condition of the vehicle.
For example, let's say a driver knows his car has a problem that reduces its safety on the road – in this example, let's say his vehicle inspection revealed a leak in his brake lines. He chooses to drive the car in that condition for the next few weeks, never quite finding the time to have it repaired. Then, he rear-ends someone during a commute, totaling both vehicles and injuring the other driver. His insurance company could very well fight any payout because he was driving the car knowing the brakes were bad, and surmise that the rear-end collision was the result of negligent maintenance of a vehicle – i.e. ineffective braking equipment.
This could cost the driver tens of thousands of dollars. First, the other driver's insurance company isn't going to want to pay for their insured's medical bills or car. The faulted driver's insurance isn't either. He could be left holding the bag. He'll surely be sued for those damages. The uninsured/underinsured motorist coverage on the victim's policy may engage, but it may be well short of the amount necessary to make the victim whole. The rest is coming from the faulted driver's pocket.
Makes a few hundred dollars' worth of repairs seem like a real deal, doesn't it?
If You've Been Hurt in a Crash That Was Not Your Fault, We're Here to Help
Being injured in accident means you're in pain, adds stress, and may make it difficult to work and earn a living. At the Law Offices of James Scott Farrin, we understand. Let us handle your case so you can focus on getting better. For a free case evaluation, call us at 1-919-899-1782 or click here.
You May Also Be Interested In
---
Answers to the Most Frequent and Urgent Car Accident Injury Questions
Road Debris – Who Pays for Your Damages?
Long-Term Trends in Crash Safety on North & South Carolina Roads, and How Attorneys Have Driven Safety Enhancements
Tire Tread Depth Safety Standard May Be Too Low