When you're hurt on the job and the insurance company accepts your claim, they have the right to pick the doctors you see. And since they get to stop paying your benefits once you're back to work, it's not surprising that some insurance companies have been known to send you to doctors who may return you to work quickly – sometimes before you feel completely healed!
We see injured workers all the time who are released to return to work by their treating doctors too soon. Fortunately, North Carolina's workers' compensation laws give you a way to try to get a second opinion for workers' comp from a doctor who isn't chosen solely by the insurance company.


What Are My Rights Regarding Workers' Comp Second Opinions?
North Carolina's workers' compensation laws protect your right to request a second opinion from a doctor you choose. There are two kinds of second opinions in North Carolina. One is called a "comprehensive" second opinion and the other is called a "ratings-only" second opinion.
Comprehensive Second Opinion
Once the doctor your insurance company selected gives you the green light and concludes he or she's done all he can, you may have questions. You may want to know, "Is this really as good as I am going to get? Can I really go back to doing my job? Am I really not in need of more medical care?" To answer these questions, you may need a comprehensive second opinion with a doctor other than the one the insurance company handpicked.
A comprehensive second opinion is designed to let a doctor evaluate you so he or she can form an opinion about what's wrong with you, what treatment you may need, what work restrictions you should be under, and any permanent disability you suffer.
This is similar to any second opinion you're used to – like when you get a second opinion on your car after a mechanic says you need to replace your engine, but you want to know if other options are available.
Ratings-Only Second Opinion
At the conclusion of treatment in a workers' compensation case, if you've suffered permanent damage, you'll be given an impairment rating by your doctor. For example, a doctor might say you lost 10% of the use of your arm as a result of your work injury. This rating will determine how much you're due for damages for your workers' comp claim, so it's extremely important.
You can choose to get a second opinion on this rating, during which a doctor will evaluate you to form an opinion only on how much permanent disability you have as a result of your work injury (your rating).
You should ask for a ratings-only second opinion only if you agree with your treating physician that you're as good as you're going to get, and you don't need more medical treatment. If you get a ratings-only second opinion, the doctor you go to will not generally offer his or her opinion about your diagnosis, treatment, or work restrictions.
Is anyone actually on
your
side in this process? That's where we come in. Get your
free case evaluation
right now.
There are two kinds of second opinions in NC – comprehensive and ratings-only. For a free case evaluation, give James Scott Farrin a call today at 1-866-900-7078.
Asking for a Comprehensive Second Opinion
If you're unhappy with the treatment you've received from the handpicked insurance company doctor or the work restrictions he or she has placed on you, you can submit a written request to the insurance adjuster assigned to your claim and request that another doctor evaluate you. When you make this request, you shouldn't just ask for an appointment with any random doctor. If you do, the insurance company may send you to another doctor of their choosing. Request a doctor you select.
Once you make this written request for a second medical opinion, the insurance company will do one of three things:
Agree to one of the doctors you suggested

Suggest a different doctor (rarely a good option for you, because you may end up with another doctor that you feel, is not sympathetic to your situation)

Deny or ignore your request for a second opinion altogether
It's been my experience that most insurance companies have systematically tended to opt for #2 or #3. My two cents? Challenge those decisions. Neither is likely in your best interest.
If you and the insurance company do not agree to a second-opinion doctor within 14 days of your written request, you have the right to ask the North Carolina Industrial Commission, which runs the workers' compensation system, to order the insurance company to authorize a second opinion evaluation.
This requires filing papers with the Industrial Commission asking them to make the insurance company pay for a second opinion for your work injury. The insurance company will respond to your request, and then the Industrial Commission will make a decision. Even if the Industrial Commission orders the insurance company to allow you to see the doctor of your choice, the insurance company can slow down the process by dragging their feet or refusing to pay what the doctor is charging to complete your evaluation.
Of course, as attorneys who have our clients' best interests at stake, we have often helped injured workers navigate the second-opinion maze.
Asking for a Ratings-Only Second Opinion
If you're asking for a ratings-only second opinion, North Carolina's workers' compensation laws allow you to select any doctor you would like to evaluate. The workers' compensation insurance company is not supposed to have a say. But let me emphasize, they can (and many often do!) drag their feet or refuse to pay what the doctor is charging to complete the second opinion. This slows down the process or may prevent you from seeing the second-opinion doctor altogether.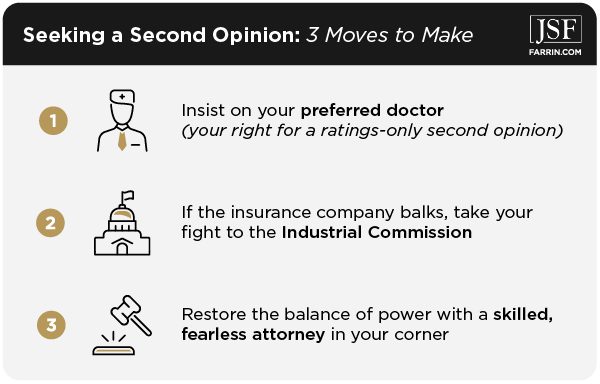 What Can I Do to Protect Myself From the Insurance Company?
The law gives you rights! The bad news is that many insurance companies have strategies they've used over and over to gain an advantage. The good news? We have strategies of our own.
They start with our workers' comp team. Many of these folks have worked for the insurance companies we deal with every day. They know firsthand how to recognize the insurance company's "delay and deny" maneuvers, and other legal, but not very nice, tactics. And they know how to mount a counter offense.
The most important issue is for you to get better so you can go back to work if and when you're medically ready.
North Carolina Workers' Comp Lawyers Evaluate Your Claim – FREE
We know worker's comp laws inside and out, but don't just take our word for it.
Meet Jack M. | Only a year after a severe injury, Jack was feeling pressure to settle his workers' comp case prematurely. A friend referred him to our office to help level the playing field.
Peer-Reviewed, Award-Winning, Professionally-Recognized
In a peer-reviewed survey, the Law Offices of James Scott Farrin achieved the highest tier ranking possible for Workers' Compensation in the Greater Raleigh Metro area by U.S. News – Best Lawyers® "Best Law Firms" for 2019, 2020, 2021, and 2022.3
Many of our workers' compensation lawyers are North Carolina State Bar Board Certified Workers' Compensation Specialists. There are only 152 Board Certified workers' comp attorneys licensed to practice in the whole state.4 In addition, we have on the team two former commissioners for the North Carolina Industrial Commission (one of whom is also a former state senator!).
And here are a few more good reasons to choose the worker's comp team at the Law Offices of James Scott Farrin:
Some of our attorneys speak at seminars for other workers' compensation attorneys. Others have written books about other areas of law, and several have collected awards for NC workers' compensation, including five who were named to the "Best Lawyer" list by Best Lawyers in America for 2021.3
All supported by skilled, experienced staff with dedicated, caring paralegals. And they are ready to fight for you.
Tell Them You Mean Business
If you want a second opinion, but feel like you're getting the runaround, contact us online or call us for a free case evaluation any time at 1-866-900-7078.
3 Visit https://bestlawfirms.usnews.com/ and https://www.bestlawyers.com/ for more information about criteria for inclusion.
4 Figure provided by the N.C. State Bar as of February 2021.
You May Also Be Interested In
---
Why Would Your Workers' Comp Claim Be Denied? Learn Where Things May Have Gone Wrong
I've Been Given a Workers' Comp Rating. Should I Close My Case?
Your Workers' Comp Claim Has Been Denied. Now What?