As an attorney, I know that two things are true when helping truck accident victims: 1. there are many things you can do to try to maximize your compensation if you're involved in an accident with a large truck or commercial vehicle. 2. just a small misstep can cost you a lot of potential compensation that you may be counting on. So in this article, I'll cover what to do, and what not to do, after a truck wreck.
What Do I Need to Know About Truck Accidents?
The risk of truck accidents is an unfortunate reality that drivers all over the country must confront when they get behind the wheel. Truck drivers work long hours, and drowsy driving increases the likelihood of an accident. Whatever the cause, when these collisions between a passenger car and a truck occur, the wreck can be very damaging and destructive.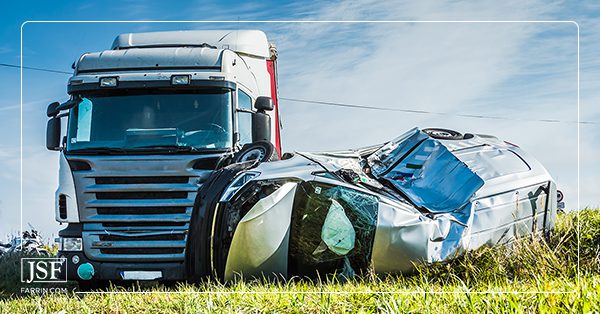 Seeking compensation for your injuries is generally more complex after a truck accident than if you were in a wreck with another car. For example, while car accidents often just involve the two drivers, trucking accidents typically involve multiple parties, such as:
The drivers
The trucking company, or the truck driver's employer
The truck's owner
The owner of the truck's cargo
Anyone who performed maintenance or repairs on the vehicle
One frustrating similarity between a car accident and a truck accident is the high likelihood that insurance companies will try to minimize any payout to you. I've seen straight-faced insurance adjusters offer laughable settlement amounts to clients who'd sustained serious injuries from truck crashes. My goal is to help you try to maximize any compensation from your truck accident, so let's begin with what you should do.

What You Should Do After a Truck Accident
Get safe and call 911.
After the wreck, try to get to a safe place, preferably off the road and away from traffic. If there are other people or other vehicles involved, make sure you're okay before you try to help them. Call 911 as soon as possible. Emergency personnel can take you to the hospital for any serious injuries. A police officer will respond to the scene and produce an accident police report. This report can be an important part of your trucking accident insurance claim.

Document the details.
If possible, take photos of all the damage to your vehicle and the other vehicle(s) involved in the crash. Try to collect witness statements from people who saw what happened. If you're injured, try to take photos of your injuries, but not if doing so is painful or uncomfortable. Taking these steps can help you build your case and can make it less likely that the insurance company will try to reduce or deny your claim.

Exchange information.
Make sure you get the trucker's contact information as well as the name of the company they work for. Try to capture the contact information of any other drivers or anyone else involved in the accident, as well. This information will help your attorney start investigating your case immediately and seek all sources of possible compensation for you.

Seek medical treatment.
Seek medical attention after your wreck whether you feel that you're injured or not. This is crucial for a few reasons:

You may have injuries that need immediate attention from a medical professional.

You could have injuries and not realize it.

You'll want immediate documentation of injuries and harms you've suffered.

The insurance adjuster may question why you didn't seek medical attention immediately after the accident in an attempt to reduce or refuse your claim.

Contact your insurance company.
Your insurance provider needs to have all the details about your crash including injuries you suffered and damage to your vehicle. Contact them as soon as possible (while screening calls from the at-fault party's insurance adjuster, who is not on your side).

Contact an attorney.
The sooner you contact an attorney, the more likely you may be to experience a positive outcome for your personal injury claim. The insurance adjuster may reach out to you soon after the accident, and an experienced truck accident lawyer can help you prepare for what to say to support your truck accident claim.

Keep all records relating to the accident and its aftermath.
The more information you have detailing the events of the accident, the better. Record every fact and detail that you can about everyone and everything involved in the accident and its aftermath, including evidence at the scene, property damage, and whether anyone suffered injuries. This will help you and your truck accident lawyer pursue your claim. It will also help if you need to file a truck accident lawsuit.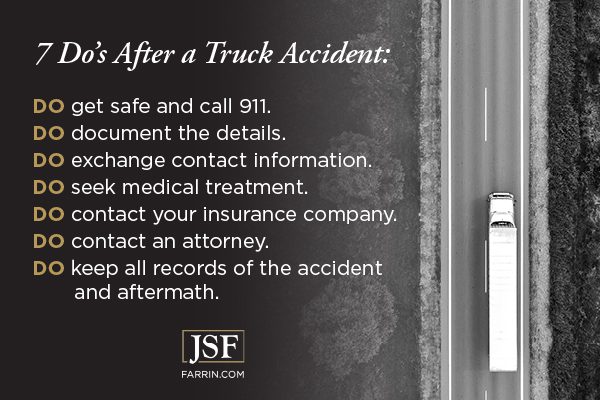 What You Shouldn't Do After a Truck Accident
Don't skip medical attention.
Even if you feel fine, it's possible that you may have sustained injuries during the crash that you're not yet aware of. The brain releases pain-killing chemicals when the body is subjected to physical trauma such as what you'd experience in a truck accident. The result is that you may be injured and not realize it until after the chemicals wear off and the pain sets in. This is why you should seek immediate medical attention after a crash you're involved in.

Don't talk to the at-fault party's insurance company unprepared.
It's likely that soon after your accident, you'll receive a call from the other party's insurance adjuster. This person is likely to be friendly and will probably want to ask questions about the truck accident "just to find out what happened." They may seem curious about things like weather conditions and what you did in the immediate aftermath of the crash. However, this person is not your friend. If they can establish that you are even partially responsible for the truck crash, it can mean a significant or complete reduction in compensation. An experienced truck accident lawyer can help you try to protect your legal rights and recover maximum compensation when taking on the adjuster.

Don't neglect your follow-up care.
An all too common mistake for victims of a truck accident is to seek immediate medical care but then not follow up in the weeks after the wreck. Following up on your medical care and following doctors' orders are important for two reasons. First, you want to recover fully without any lingering issues or future symptoms. Second, continuing to seek care until you're healed can help with your potential financial recovery by supporting and sustaining your medical record.

Don't wait on the insurance company.
The insurance adjuster has time on their side. If you push for fair compensation, some may drag out the process, putting off having to pay you for as long as possible while your bills pile up. In this case, a lawyer can fight for you to try and compel them to move quickly and reduce delays.

Don't accept less than you may deserve.
Instead of dragging their feet, the insurance company may send you a quick, lowball offer and hope you take it without first consulting an experienced lawyer. A for-profit insurance company for the at-fault truck driver wants to resolve your case for the least amount possible. A fast offer can be tempting but probably won't be enough to cover all your crash-related expenses.
How Can a Truck Accident Lawyer Help Me Deal with the Insurance Company?
Your personal injury lawyer should serve as your guide while you navigate the complex situation you find yourself in after your truck crash. Here are some of the things a lawyer can do for you:
Help you take control – You may feel overwhelmed after a crash involving massive vehicles or large commercial trucks, especially if you're seriously injured or are dealing with the wrongful death of a loved one. A personal injury lawyer can use their knowledge and experience to guide you and help you try and receive maximum compensation after the accident.

Level the playing field – The truck driver, the trucking company, and their insurance providers all generally have a financial incentive to reduce or refuse your claim regardless of how much you've suffered. Your lawyer is on your side, and fights for you to try to get you as much as possible, as quickly as possible.

Free you to focus on what matters – When you've been in a crash, your primary focus should be on getting better. While your lawyer handles the legal side of things, you can concentrate on your family and getting back to normal as much as possible.
Why Should I Contact the Law Offices of James Scott Farrin?
We fight to try to get you as much as possible, as quickly as possible. Since 1997, we've helped more than 60,000 people recover over $1.6 billion in total compensation. And counting.1
Several of our attorneys have experience working for insurance companies, so we know how they operate and how to deal with them. And you can afford to hire one of our recognized professionals because we work on a contingency fee basis. That means we collect no attorney's fee unless we're able to recover for you.2
"I think …especially with a trucking accident, [people] really do need to seek the advice of an attorney's office, because they know the laws…better than a common person does, and you need someone to help you that you can trust, that you feel good about, to fight for you."— Jennifer V., happy client
When you've been injured by a reckless trucker, it's time to tell them you mean business. Contact us online or call 1-866-900-7078 now for a free case evaluation.

Frequently Asked Questions