If you have been hurt on the job, workers' compensation will generally provide you with medical care and financial assistance to help get you back on your feet. Workers' comp financial assistance takes the form of lost wage compensation (also known as temporary total disability (TTD) benefits, lost-time benefits, lost wage benefits, and temporary lost wages), and these payments can help injured employees pay bills and feed their families while they are out of work.
But how often do you receive lost wages benefits?  And when do you receive these payments? I hear these questions often from clients – because they are important. If you are out of work because of a work-related injury, the answers to these questions can impact your day-to-day life.
Below, I will address these and other common workers' compensation benefits payment questions. I'll also let you know what pitfalls to avoid and what do if the insurance company misbehaves.
How Often Will I Receive My Workers' Compensation Checks for Lost Wages?
In both North Carolina and South Carolina, if you're eligible, your employer's workers' compensation insurance company is generally required by law to send lost wage payments to you on a weekly basis.
In some instances, your state workers' compensation commission (the North Carolina Industrial Commission or the South Carolina Workers' Compensation Commission) may authorize monthly or quarterly payments instead.
When Will I Start Receiving My Workers' Comp Checks?
Eligible injured workers in the Carolinas are generally entitled to receive temporary lost wage compensation starting on the eighth calendar day following their inability to work. If approved for benefits, your first workers' compensation check will not include payment for days 1-7.
So how do you get paid for those first seven days?
In North Carolina, you are not eligible for lost wages compensation for the first seven days of lost time unless your disability exceeds 21 days.
In South Carolina, if you are out of work for more than 14 days, you are then eligible to receive lost wage compensation for the first seven days, as well.
Remember: Temporary lost wages are not the same wages that you were receiving at work prior to your accident or illness. Temporary lost wage compensation is typically 66 and 2/3% of your average weekly wage, which is your average pretax earnings per week. Your weekly workers' compensation checks are not taxed.
What if the Insurance Company Doesn't Send My Checks?
Perhaps you've been approved for benefits but your first check never arrives. Or maybe you can't return to work per doctor's orders but your employer's insurance company stops sending you lost wage compensation anyway. You, or your attorney, should first call the insurance company to see if you can resolve the issue.
If this is unsuccessful, you can seek to recover a penalty for late or wrongfully terminated checks (in addition to temporary lost wages).
In North Carolina, you can file a motion or written request (which should include supporting documentation) with the Executive Secretary's Office to request a 10% late payment penalty from the insurance company, or your employer if self-insured.
In South Carolina, you can request a hearing with the South Carolina Workers' Compensation Commission (SCWCC), and if the refusal to pay your checks is found to be unjustified, the insurance company or your employer can be charged a 25% penalty.
Why Your Check May Be Missing
Unfortunately, delays in getting your worker's comp check are common in workers' comp cases. Sometimes, delays can be caused by issues with the mail or administrative oversights.
In other instances, the insurance company may argue that you're not entitled to payments, or there may be a dispute about how much you should be receiving. Whatever the reason, for longstanding delays and outright refusals to pay, an experienced workers' comp attorney can help you fight for all the benefits you may be owed.
For example, we had a client that came to us after she had attempted to return to work. Shortly after returning, our client realized that she couldn't keep up with the requirements of the job and ended up having to come back out of work.  However, the insurance company refused to restart the injured workers' checks, arguing that she had suitable employment available.
We got involved and filed a Form 23, Application to Reinstate Payment of Disability Compensation. After a telephone hearing, we were able to get our client's checks restarted since she was unable to remain at work.1 This is all too common of an occurrence.
How Will I Receive My Workers' Compensation Benefits Checks?
Your employer's insurance company will typically send the check via U.S. mail. However, you can ask if direct deposit is available.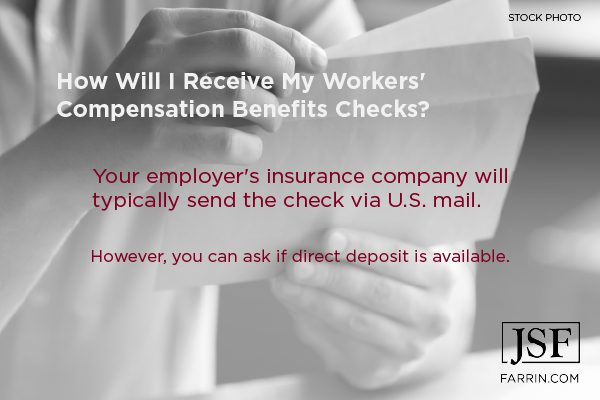 How Long Will I Receive My Temporary Disability Benefits Checks?
Each state determines the length of time an injured worker can receive workers' compensation benefits.
In North Carolina, eligible workers can received TTD for any period they are unable to return to work due to their work-related injury. These benefits continue as long as they remain disabled. If a worker is able to return to work, then the insurance company is permitted to stop these checks.
Additionally, if the insurance company claims that a worker is no longer disabled due to their injury, then it may file an application to have the TTD checks terminated. If this happens in your claim, I recommend that you seek the guidance of an attorney as soon as possible to try to ensure that these weekly benefits continue.
Similarly, in South Carolina, eligible workers can receive TTD while out of work as a result of the workplace injury. If they return to work, these benefits will be suspended.
Once an injured employee in S.C. is more than 150 days out from the date of injury, the insurance company is prevented from stopping these ongoing benefits. If the insurance company claims that a worker is no longer disabled or has reached maximum medical improvement (MMI), then it may file a hearing request to have the SCWCC determine the extent, if any, of the ongoing disability.
In both states, the maximum length of time to receive Temporary Total Disability benefits is generally 500 weeks.
Do You Need an Attorney for Your Workers' Compensation Claim?
Workers' compensation claims and the workers' comp process can be complicated.  If you are temporarily disabled by a work injury, an attorney can help you seek the temporary disability benefits you may need to support your family while you recover.
Your attorney will:
ensure that your workers' comp claim is filled out correctly and filed on time
gather evidence, review medical records, and interview coworkers and doctors
handle the insurance company and try to counter any delay or lowball tactics
help protect your rights as an injured employee
advise you and keep you informed every step of the way
At my firm, our workers' comp lawyers can also help you seek supplemental job displacement benefits, such as vocational rehabilitation, which can help you rebuild your work skills as you recover from a workplace injury. And if the insurance company denies your claim, we can help you make an appeal to a workers' compensation judge.
Why You Should Call the Law Offices of James Scott Farrin
We have a strong, dedicated workers' compensation team. Several of our workers' compensation attorneys are former defense attorneys for insurance companies, and our team applies this inside knowledge as we work our workers' compensation cases.
We were selected for the 2023 U.S. News – Best Lawyers "Best Law Firms" list for the eighth consecutive year.3 We received a Tier 1 ranking (the highest) for Workers' Compensation Law – Claimants.
If you have been injured at work and want an experienced workers' comp team fighting to protect your rights, call us a 1-866-900-7078 today or contact us online for a free case evaluation.
Frequently Asked Questions About Workers' Comp Payments