ALS Camp Lejeune Victims Can Finally File For Compensation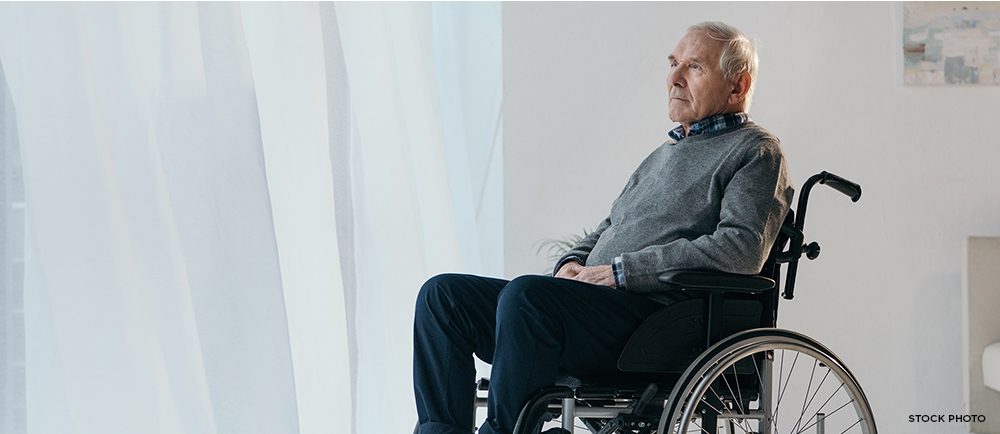 As many as one million Camp Lejeune Marines, their family members, and base workers may have been exposed to contaminated water that has been linked to many serious illnesses, including amyotrophic lateral sclerosis (ALS), also known as Lou Gehrig's disease. If you are struggling with the physical, emotional, and financial consequences of this fatal neurological disease, you can finally seek compensation from the government.
We are currently helping hundreds of people seek compensation for the harms and losses suffered due to exposure to the contaminated water at Camp Lejeune. Some of our clients aren't sure how to prove that their ALS was caused by the base's water or how to find out if their loved one spent time at the base. We help them with these issues, and many more, as we try to build the strongest claims possible.
If you, or a loved one, developed ALS after spending time at the Camp Lejeune Marine Corps air station, we can help you, too.
The Toxic Substances That Contaminated the Water at Camp Lejeune
The Agency for Toxic Substances and Disease Registry (ATSDR) has been assessing the health risks from hazardous substances associated with the drinking water at Camp Lejeune since the late 1980s. It concluded that three water distribution plants – Hadnot Point, Tarawa Terrace, and Holcomb Boulevard – "have historically supplied finished water to the majority of family housing units at the Base and were contaminated with volatile organic compounds (VOCs)."
Water from the Tarawa Terrace plant contained dangerous levels of Perchloroethylene (PCE), a poisonous chemical used as a solvent by commercial dry cleaners. The Hadnot Point plant water was contaminated with excessively high levels of Trichloroethylene (TCE), an odorless, colorless liquid used as a solvent and degreaser, and other VOCs, such as benzene, vinyl chloride, and trans-1,2-dichloroethylene. And the Holcomb Boulevard Water Treatment plant came online in 1972 and received periodic transfers of water from the Hadnot Point plant.
People bathed in, drank, and washed their clothes in highly-toxic water supplied by these three plants, and many are suffering from ALS and other debilitating diseases because of it.
Camp Lejeune Water Contamination Potentially Linked to ALS
The Veterans Administration (VA) created a list presumptive conditions, such as kidney cancer and liver cancer, which it presumes were caused by exposure to the contaminated water at Camp Lejeune. ALS is not on this list, but this does not mean Camp Lejeune veterans suffering from it cannot apply for compensation.
Many people mistakenly believe that they cannot apply for Camp Lejeune compensation unless they have one of the VA listed conditions. Another misconception is that exposure to other toxins, such as those found in tobacco, makes individuals automatically ineligible for compensation. An experienced lawyer can help you address these issues and seek compensation for ALS. Contact us for a free case evaluation.
Signs and Symptoms of ALS
ALS is a progressive nervous system disease that affects nerve cells in the brain and spinal cord, causing loss of muscle control. As this fatal disease progresses, those with it lose the ability to control the muscles needed to move, speak, eat, and breathe.
Symptoms of ALS vary greatly from person to person, depending on which neurons are affected. The disease often starts in the hands, feet or limbs, and then spreads to other parts of the body. Signs and symptoms of ALS might include:
Difficulty walking or doing normal daily activities
Tripping and falling
Weakness in the legs, feet, or ankles
Hand weakness or clumsiness
Slurred speech
Trouble swallowing
Muscle cramps
Twitching in the arms, shoulders, and tongue
Inappropriate crying, laughing, or yawning
Cognitive and behavioral changes
If you have these symptoms, it's time to visit your doctor. If you have been diagnosed with ALS, it's time to consult with an attorney and seek justice.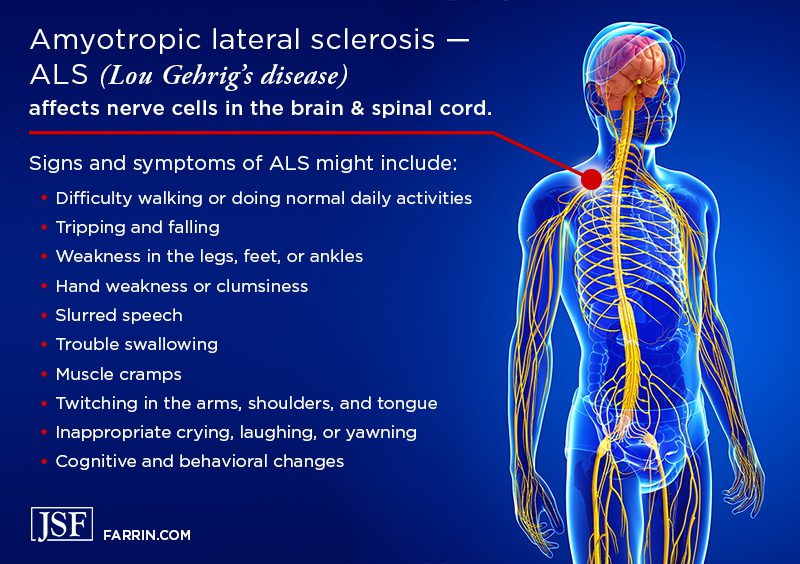 Camp Lejeune Justice Act Included in New Law
The Honoring Our Promise to Address Comprehensive Toxics (PACT) Act of 2022, which was signed into law on August 10, 2022, includes the Camp Lejeune Justice Act of 2022. This section (Section 804) makes it possible for the people who lived and worked at the Camp Lejeune Marine Corps base to seek compensation if they have ALS.
The Act specifies that claimants who were exposed to the water at Camp Lejeune for 30 days or more between August 1, 1953 and December 31, 1987* have a limited time to submit their Camp Lejeune claims. Call us today at 1-866-900-7078 to start your claim.
You don't need anything in hand to call. Just speak with a member of our team and share your story to have your claim reviewed for free.
*The 30 days don't need to be consecutive.
What to Do if You Believe Your ALS is Due to Camp Lejeune's Water
You can seek compensation from the government, and we can help. The process for seeking compensation for ALS developed at Camp Lejeune begins with filing an administrative claim. If the claim is denied or you feel that the government's settlement offer is unfair, you can then file a lawsuit. It is prudent to have an attorney's assistance at the beginning of this process since any mistakes made on the initial claim can affect the potential settlement amount or any later lawsuit.
How James Scott Farrin Can Help Veterans Suffering From ALS
The Pact Act requires that all Camp Lejeune water contamination claims be filed in the U.S. Eastern District Court of North Carolina, where our firm has multiple offices and experienced attorneys who are ready to fight for your rights.
In addition to filing your ALS claim, we can help you by:
Gathering and organizing your medical records and service documents to try to prove eligibility
Identifying considerations for seeking maximum compensation
Negotiating with the government on any settlement offer
Potentially representing you in court if you are not satisfied with the compensation offer or your claim is denied
The Law Offices of James Scott Farrin has the resources and the experience to take your case as far as it needs to go. Our firm led one of the nation's largest civil rights cases, which ended in a $1.25 billion settlement to 18,000+ African-American farmers who suffered discrimination by the government.3 And we are currently pursuing class action lawsuits against 3M for distributing defective earplugs to U.S. soldiers, DuPont/Chemours for contaminating drinking water, the State of North Carolina over retired government employee health benefits, Audible/Amazon, and others.
FAQs About ALS and Camp Lejeune Contaminated Drinking Water
What Do I Owe if We Lose?
We strongly believe that you shouldn't have to pay anything upfront to seek justice. We will work with you on a contingency fee basis which means that you won't owe us an attorney's fee unless we recover for you.2
What Camp Lejeune Settlement Amounts Are Expected for ALS?
Potential ALS settlement amounts will vary because every claimant has a different set of circumstances, but you can seek compensation for lost wages, health care benefits (past and future), and pain and suffering, and loved ones can seek death benefits.
Learn More: What Am I Owed?
Who Is Eligible to File a Camp Lejeune ALS Lawsuit?
Marine Corps veterans as well as base employees – and their family members – who spent more than a month at Camp Lejeune between August 1953 and December 1987 are eligible to file a Camp Lejeune ALS lawsuit. But time to make a claim is limited, so don't hesitate.
We are currently working with hundreds of Camp Lejeune victims, and our goal is to try to ensure that no one affected by the contaminated water is left behind. If you, or a loved one, have been diagnosed with ALS after spending time at the Camp Lejeune Marine Corps base, we can help you seek compensation. Contact us online for a free case evaluation.
3 Each case is unique and must be evaluated on its own merits. Prior results do not guarantee a similar outcome. Re Black Farmers Discrimination Litigation, the Law Offices of James Scott Farrin led a team of firms to recover $1.25 billion for Black farmers from the U. S. government for discrimination.