The Connection Between Non-Hodgkin's Lymphoma and Camp Lejeune Water Contamination
What happens when the brave people who serve and fight for our country suffer adverse health effects from exposure during that service? We strongly believe that it then becomes time to show our respect and gratitude by helping them fight for compensation for the harms and losses they have suffered.
Unfortunately, many of the men and women who trained at the Marine Corps Base Camp Lejeune, as well as their family members and the people who worked at the base, were exposed to contaminated water, and some developed Non-Hodgkin's lymphoma, a type of cancer that develops in the lymphatic system and can spread throughout the body.
What Contaminated the Drinking Water at Camp Lejeune?
Three water treatment plants that supplied water to Camp Lejeune from 1953 to 1987 were contaminated with the lethal chemicals, such as Trichloroethylene (TCE), Perchloroethylene (PCE), benzene, and vinyl chloride. This tainted water was used by the military personnel who worked and lived at the base, as well as by their families and non-military base workers.
The Hadnot Point plant provided drinking water to the main portion of the base, including the barracks and most workplaces, and TCE, PCE, and benzene were detected at very high levels in its distribution system. The Tarawa Terrace plant provided drinking water to the Tarawa Terrace housing area at the base, and high levels of PCE were detected in its distribution system. The Holcomb Boulevard plant was not contaminated, except for periodic transfers of water from the Hadnot Point plant.
Non-Hodgkin's Lymphoma Is Linked to Contaminated Water at Camp Lejeune
The Agency for Toxic Substances and Disease Registry (ATDSR) performed an in-depth assessment of the causal relationship between the drinking water contaminants at Camp Lejeune and specific cancers and diseases. It concluded that there was sufficient evidence to support the fact that exposure to TCE and benzene can cause Non-Hodgkin's lymphoma. Additionally, the Veterans Administration has stated that Non-Hodgkin's lymphoma is one of eight "presumptive conditions" for Camp Lejeune water contamination.
Do I Need to Prove My Non-Hodgkin's Lymphoma Was Caused by Camp Lejeune Water?
Not necessarily. Because Non-Hodgkin's lymphoma has already been linked to water contamination by the government, you may be entitled to compensation:
Even if you were exposed to other contaminants on other bases after Camp Lejeune
Even if you don't know what specifically caused your cancer
Just call tel:1-866-900-7078and share your story to have your case reviewed by an attorney.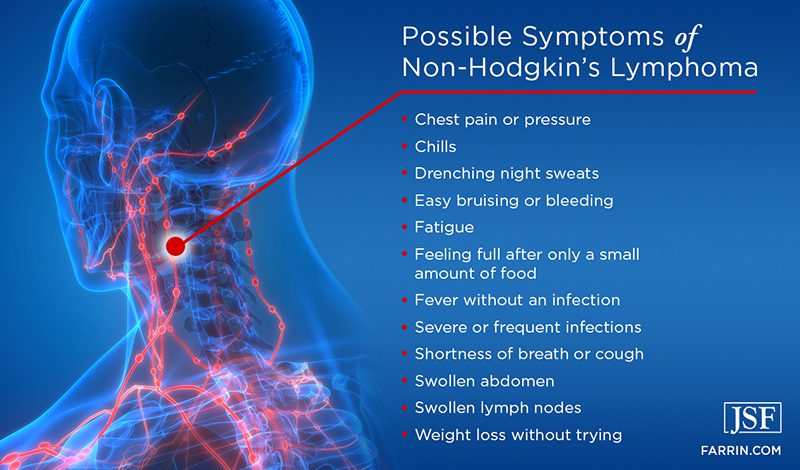 Symptoms of Non-Hodgkin's Lymphoma
In Non-Hodgkin's lymphoma, certain white blood cells grow abnormally in the lymph nodes and can form tumors throughout the body. The American Cancer Society lists the following conditions as possible symptoms of Non-Hodgkin's lymphoma:
Chest pain or pressure
Chills
Drenching night sweats
Easy bruising or bleeding
Fatigue
Feeling full after only a small amount of food
Fever without an infection
Severe or frequent infections
Shortness of breath or cough
Swollen abdomen
Swollen lymph nodes
Weight loss without trying
If you are experiencing any of these symptoms and spent more than a month at Camp Lejeune between 1953 and 1987, we urge you to consult with a doctor. If you, or a loved one, have been diagnosed with Non-Hodgkin's lymphoma and spent time at the base, please contact us, and let us fight for your rights.
Camp Lejeune Justice Act Finally Passed Into Law
Tens of thousands of individuals have been anxiously awaiting the passage of the Honoring Our Promise to Address Comprehensive Toxics (PACT) Act, and on August 10, 2022, President Biden signed the Act into law.  Prior to this date, veterans were sometimes prohibited from seeking damages for the illnesses caused by exposure to toxic chemicals because of time limitations surrounding the claims process. The PACT Act resolved this dilemma and instituted a new two year deadline for individuals to make claims for compensation.
Section 804 of the Act, entitled the Camp Lejeune Justice Act of 2022, allows the people who lived, worked, and trained at Camp Lejeune between 1953 and 1987 to seek compensation from the government for the harms caused by exposure to contaminated drinking water – harms such as developing Non-Hodgkin's lymphoma and other cancers.
If you were exposed to Camp Lejeune contaminated drinking water for 30 or more days between August 1, 1953 and December 31, 1987, and have developed Non-Hodgkin's lymphoma, you may be eligible for compensation. Contact us today.
What Do I Do if I Think Camp Lejeune Water Caused My Non-Hodgkin's Lymphoma?
You can seek compensation from the government for the harms and losses you have suffered. The initial step is filing a Camp Lejeune water contamination claim. If your claim is denied or you feel that the offer is not sufficient, you can then consider filing a Camp Lejeune lawsuit.
Our attorneys can help you throughout the process by:
Explaining the claims process
Ensuring compliance with timelines and procedures
Backing your claim with facts and evidence
Filing your claim in the U.S. District Court for the Eastern District of North Carolina
Representing you in court, if needed
Why Choose Us to Help You With Your Camp Lejeune Water Contamination Case
The Law Offices of James Scott Farrin has offices and experienced trial attorneys in the U.S. Eastern District Court of North Carolina, where all claims must be filed. We are already helping hundreds of Camp Lejeune victims by identifying possible compensation considerations and helping them build thorough claims, backed by facts and evidence, and filing those claims accurately and on time.
And we are ready to represent Camp Lejeune victims in court, if needed. We have significant experience fighting for the rights of individuals against large entities. Our firm led one of the nation's largest civil rights cases, which ended in a $1.25 billion settlement to 18,000+ Black farmers who suffered discrimination by the government.3 Currently, we are helping veterans suffering from hearing loss seek compensation from 3M in one of the largest multi-district litigations in U.S. history.
Contact us for a free case evaluation. Let us help you, too.
Frequently Asked Questions
What Do I Owe if the Government Denies My Claim?
We work on a contingency fee basis, which means that we collect an attorney's fee (a percentage of any compensation) only if we recover for you.2
Can Civilian Employees Make a Camp Lejeune Claim?
Yes, the PACT Act allows civilian workers, as well as military personnel and their families, who lived or worked at Camp Lejeune between 1953 and 1987 and have developed Non-Hodgkin's lymphoma to file a claim for compensation.
What If I Can't Remember When I, or My Loved One, Was at Camp Lejeune?
Many people may not remember or know the specifics of where they, or their loved ones, were stationed or worked. We encourage you to contact us if you, or your loved one, have Non-Hodgkin's lymphoma – even if you are unsure of the exact time spent on Camp Lejeune's base – so we can try to help you determine if the government may owe you compensation.
3Each case is unique and must be evaluated on its own merits. Prior results do not guarantee a similar outcome. Re Black Farmers Discrimination Litigation, the Law Offices of James Scott Farrin led a team of firms to recover $1.25 billion for African-American farm
Text Us