Experienced Workers' Comp Lawyers in Sanford Who Care
---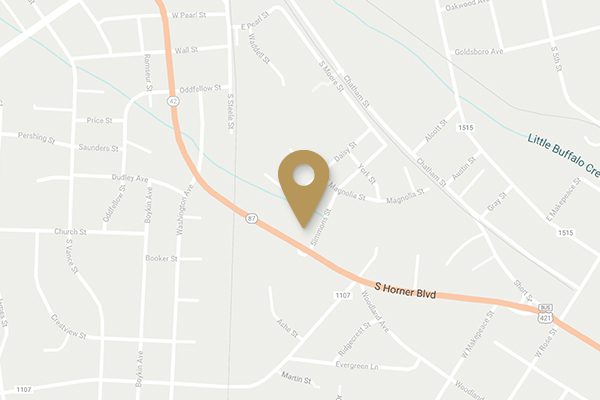 703-B South Horner Boulevard

Sanford, NC 27330
Phone: 919-775-1564
Toll Free: 1-866-900-7078
Sanford's infrastructure, land, water, sewer, electric, natural gas, and telecommunication assets are luring large companies to the city. In 2020, four of the biggest job creators listed in Business North Carolina Magazine chose Sanford as their choice for new site or expansion investment.
Three of the top five current employers in Lee County are manufacturers, an industry that can be dangerous for its employees. From 2012-2018, the manufacturing and retail industries traded back-and-forth the #3 and #4 position among industries for the highest number of nonfatal injuries and illnesses in the U.S.
If you have been injured at work, seek the advice of a workers' comp lawyer in Sanford, NC to learn how to file for workers' compensation and what types of benefits you may be entitled to. At the Law Offices of James Scott Farrin, several of our workers' comp team attorneys have been selected by their peers to receive workers' compensation awards. Contact us today to learn more about your workers' rights – the evaluation is free.
2020 Top Employers in Lee County, NC
| Company | Industry | Employees |
| --- | --- | --- |
| Lee County Schools | Educational Services | 1,000+ |
| Caterpillar, Inc. | Industrial manufacturing | 1,000+ |
| Pilgrim's Pride Corporation | Chicken production/manufacturing | 500-999 |
| Pentair Water Pools & Spa, Inc. | Industrial manufacturing | 500-999 |
| Kelly Services, Inc. | Admin and Support Services | 500-999 |
Source: Access NC 2020 & NC Department of Commerce Labor & Economic Analysis, 2020
Do I Have a Workers' Compensation Claim?
When you get hurt on the job or get sick due to your work, you may have a workers' compensation claim. Common types of injury claims involve on-the-job accidents and machinery mishaps, but claims are not limited to accidents that occur at construction sites or manufacturing facilities.
Office workers, lab technicians, and medical personnel also sustain injuries and illnesses due to falls, repetitive movements, and exposure to harmful substances, among other things. Where there's work, there's the possibility of injury or illness.
Does My Employer Have to Carry Workers' Compensation Insurance?
In North Carolina, employers with three or more employees are generally required to carry workers' compensation insurance. This no-fault insurance is meant to protect employers from being sued by their employees and also provide for medical expenses and lost wage benefits to qualifying employees.
Employers who fail to carry workers' compensation insurance may face penalties, misdemeanor or felony charges, or they may be imprisoned.

Can I Be Fired for Making a Workers' Comp Claim?
You employer is not legally allowed to fire you solely for making a workers' comp claim. This type of behavior is considered to be retaliation and is prohibited in North Carolina by the Retaliatory Employment Discrimination Act (REDA).
Unfortunately, this does not ensure that your employer won't break the law and fire you for filing a workers' comp claim. And sometimes, they may even fire you for getting injured. If you employer terminates your employment after you file a claim, speak with a Sanford workers' compensation attorney to help determine if this change in employment status has an effect on your claim or on your need for representation.
What Do I Do if My Workers' Comp Claim Has Been Denied?
If you claim is denied, call a workers' comp attorney in Sanford to help you decide on next steps. And do not despair, you are not alone.
Workers' comp claims can be denied for a variety of reasons, such as:
Inaccurate or incomplete information on the claim
Missed claim submission deadlines
Determination that you do not need medical treatment to recover
Determination that you do not need time off work for your injury
Failure to follow treatment instructions
Disputes about how the injury or illness occurred
A lawyer can help you figure out the reason for the denial and plan a strategy for going forward.
Should I File an Appeal?
If your initial workers' comp claim has been denied, North Carolina has an appeals process.
The process includes the following four phases:
File a claim with the North Carolina Industrial Commission (NCIC) to appeal the decision
If denied, you can:
File a request for a hearing with the NCIC and attend mediation
If you and your employer can not reach resolution in the mediation, you can:
Request a hearing before a Deputy Commissioner of the NCIC
If you are not satisfied with the Deputy Commissioner's decision, you can:
Appeal to the Full Commission of the NCIC
How Can a Workers' Compensation Lawyer in Sanford Help Me?
A workers' comp attorney can take care of many aspects of your claim so you can focus on healing.
Some of the ways a lawyer can assist you include:
Filing the initial claim
Meeting critical deadlines
Communicating with the insurance claims adjuster
Collecting medical records
Informing you of the various types of benefits to which you may be entitled
Fighting to protect your rights as an employee
Helping you seek the medical treatment you need to heal
Assisting you in requesting a second doctor's opinion, if needed
Advising you at each step of your claim
Guiding you through the appeals process, if needed
Choosing the right workers' compensation lawyer for your case depends on many factors. Your workers' compensation lawyers in Sanford should have:
Knowledge – Do they have team members who have worked for insurance companies?
Experience – How long have they been representing injured workers?
Resources – Do the firm's attorneys have manageable caseloads?
Communication – Do they seem to be actively listening to you? Are they good at follow-up?
Involvement –Do they appear to be personally committed to working on your case?
Personality – Are they empathetic? Passionate about defending your rights?
How Does a Workers' Compensation Lawyer Get Paid?
We, like many Sanford workers' compensation attorneys, work on a contingency fee basis – which means our attorney's fee is a percentage of any total amount we recover for you.2  This type of payment structure eliminates up-front costs, and there are no hourly fees to worry about.
Simply put, we are motivated to get you as much as possible, as quickly as possible.
Our Workers' Comp Lawyers Fight for Injured Workers' Rights
We fight for the rights of injured workers every day at the Law Offices of James Scott Farrin. Several of the attorneys on our workers' comp team were selected by their peers to the "Best Lawyers Workers' Compensation Law – Claimants" list by the Best Lawyers in America publication in 2021.3 Our team also has several North Carolina State Bar Board-Certified Specialists in workers' compensation law.
At the Law Offices of James Scott Farrin, our goal is to help you fight for the best result possible on your claim. Contact us for a free case evaluation. When you are ready to arm yourself further, visit our Sanford, NC office location or give us a call at 1-866-900-7078.
3For more information regarding the standards for inclusion for the "Best Lawyers" list, visit: www.bestlawyers.com.
Practice Areas