Our Disability Lawyers in Sanford Can Help You
---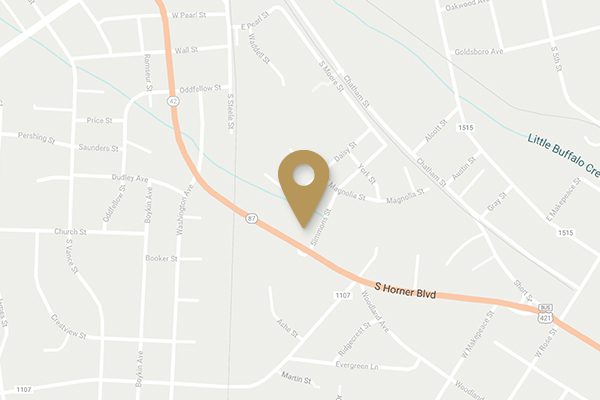 703-B South Horner Boulevard

Sanford, NC 27330
Phone: 19197751564
Toll Free: 1-866-900-7078
An injury resulting in disability can happen anytime and anywhere. If you're here for yourself or a loved one, you know this all too well.
For Lee County in 2019, the number of people who received Supplemental Security Income (SSI) payments due to disability or blindness was 1,509. Unfortunately, it's likely that many of those individuals had to fight very hard for their benefits.
Now that you're disabled, you need benefits to help you pay the bills. How do you get approved, and how do you survive until approval? Read on to discover the answers to these and other commonly asked questions.
Every case is different. Do you need an attorney to evaluate the specifics of yours? It's completely free, so
contact us
today.
How Do I Get Approved for Disability Benefits?
To get approved for Disability benefits, you must past two tests. First, the Social Security Administration (SSA) assesses your work history. Then, the SSA determines whether they consider you disabled. To be eligible, you must have worked long enough and recently enough – and thus paid enough in relatively recent taxes.
What counts as long enough and recent enough? The basic rule for Social Security Disability Insurance (SSDI) is that you must have worked at least five years of the last 10. If you haven't worked enough, you may be eligible for SSI, but you have to meet certain income requirements before your medical issues will be reviewed.
If you "pass" the work history test, the SSA will evaluate the severity of your injury. If they determine that the injury is serious enough, you will be eligible for benefits. Whether you're injured severely enough by SSA standards is based on how much you are capable of working. If you can engage in "substantial gainful activity," meaning you earn more than about $1,300 a month, you're probably ineligible for benefits.
Tip: Disability benefits last for as long as you remain disabled, or until you hit 65.
How Do I Contact the Sanford Social Security Office?
The Social Security office for Sanford is located at: 401 Tiffany Dr., Sanford, NC 27330. They can be reached at (877) 319-5774.
How Long Does It Take to Get Disability?
Every case is different, but it's a months-long process at minimum. Small mistakes like incomplete paperwork can set you back to square one. If you're denied, as most people are initially, appealing will add months to the process. It may end up being much more arduous than you are anticipating.
How Do I Survive While Waiting for Disability Approval?
If you've suffered a disabling injury, you can't work. That's why you're applying for Disability. But how are you supposed to pay the bills while you wait for possible assistance in paying your bills?
In some situations, the SSA will provide "presumptive" payments to you while you wait for your claim to be processed. These payments may last up to six months or until state Disability Determination Services decides whether or not you are considered disabled.
It's important to note that presumptive Disability payments are not based on your financial need, but on the severity of your disability and the SSA's assessment of how likely it is that your claim will ultimately be approved.
Circumstances That May Qualify for Presumptive Disability Payments
Leg amputation
Total deafness
Total blindness
Bed or wheelchair confinement
Suffering a stroke
Cerebral palsy, muscular dystrophy, or muscular atrophy
Down syndrome
Other disabilities or impairments where a person is unable to care for themselves
Birthing a severely underweight baby
Symptomatic HIV or AIDS
A terminal illness with a life expectancy of six months or less
Serious spinal cord injuries
End-stage renal disease
ALS/Lou Gehrig's disease
If you are ultimately deemed ineligible for benefits, you do not have to pay back any presumptive payments you received.
What Are the Most Approved Disabilities?
The disabilities most commonly approved by the Social Security Administration include:
Musculoskeletal Disorders, such as scoliosis or fibromyalgia
Special Senses Disorders, such as abnormalities of the eye resulting in blindness
Respiratory Disorders, such as COPD and pulmonary fibrosis
Cardiovascular System Disorders, such as heart failure or coronary artery disease
Digestive System Disorders, such as liver dysfunction and inflammatory bowel disease
Genitourinary Disorders, such as disorders resulting in chronic kidney disease
Hematological Disorders, such as disorders of thrombosis and hemostasis
Skin Disorders, such as chronic infections of the skin and burns
Endocrine Disorders, such as diabetes or neuropathy
Congenital Disorders that Affect Multiple Body Systems, such as Lyme disease
Neurological Disorders, such as a stroke or traumatic brain injury
Mental Disorders, such as bipolar disorder or schizophrenia
Cancers, like leukemia or pancreatic cancer
Immune System Disorders, like lupus or rheumatoid arthritis
How Can I Increase My Chances of Getting Disability?
With a Disability lawyer in Sanford, your chances of winning can be significantly better than if you try to do it alone.
One of our attorneys can help you:
Collect essential records
Navigate confusing paperwork and procedures
Keep track of make-or-break deadlines
By drawing on inside knowledge
Appeal if you're denied
What can a lawyer do for you? In the words of Disability client Ralph M., "they did it all."
If you're unsuccessful initially with your application, you can request a hearing with a judge that may include testimony and witnesses. According to the U.S. Government Accountability Office, those with representation at these hearings are nearly three times more likely to be approved for benefits.
Lois was happy one of our
Disability lawyers
for Sanford was able to help her. A corrections officer disabled by a fall at church, she had us to shoulder the burden on her behalf, while she focused on getting better: "I just totally turned it all over to the firm here, and they handled every bit of it for me."
Read Lois' story
.
Can I Afford an Attorney?
Social Security Disability attorneys for Sanford often see clients in devastating financial straits through no fault of their own. If your attorney is successful in getting you benefits, the attorney's fee you pay will come from the award you receive, not out of your pocket.2 In addition, the attorney's fee is capped at 25%, only applies to back-due benefits, and can never exceed $6,000.
This structure means you can obtain the benefits you may deserve without having to pay anything up front.
Why Hire an Attorney From the Law Offices of James Scott Farrin?
Our team of Social Security Disability lawyers for Sanford is led by one of the rare North Carolina State Bar Board Certified Specialists in Social Security Disability law, Rick W. Fleming.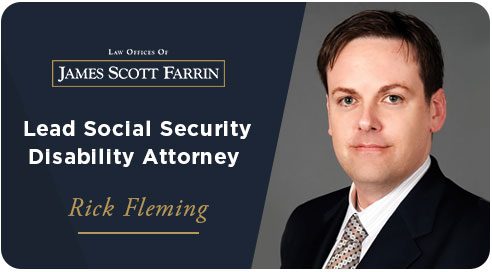 Rick's impeccable credentials include:
Past Secretary of NOSSCR (National Organization of Social Security Claimants' Representatives), a dedicated Bar association for those who fight on behalf of disabled clients
Admitted to practice before the Supreme Court of the United States
Multi-Time Winner, North Carolina Advocates for Justice, Order of Service award
Fluent in Spanish
Past Chair, NC State Bar Social Security Disability Law Specialty Committee
In addition, several of our paralegals have at least six years of experience as examiners for the SSA. Some of them were certified as "Level II" examiners, meaning they were involved in reconsiderations and conducting Disability reviews. Our team often draws on this inside knowledge as we relentlessly pursue benefits for our clients.
Claim your free case evaluation right now. Call us at 1-866-900-7078 any time to talk to someone, or have someone contact you by filling out our online form. We want to help you fight for all of the benefits you are entitled to under the law.