Getting injured or sick on the job is highly stressful – especially if you are unsure if you'll be able to heal 100% and return to work.
Unfortunately, in some circumstances, injured workers are unable to return to their exact jobs after medical treatment. One of the types of N.C. workers' compensation benefits that can help employees in this situation is vocational rehabilitation. But this benefit can be used against you if you are not careful.
Vocational rehabilitation, or vocational rehab, is assistance and training provided to help an injured worker return to the workplace or obtain an alternate suitable job.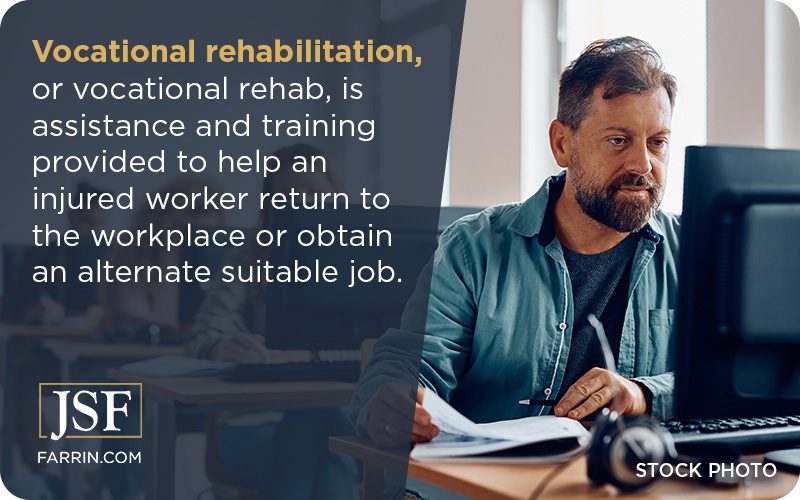 For example, if a car mechanic injures his back at work and can no longer stand or bend over for long periods of time, he may not be able to return to his former job repairing cars. However, with the right computer training, he may be able to take on an administrative job at the auto repair shop. And the vocational rehabilitation services outlined in the North Carolina Workers' Compensation Act can provide this type of re-training.
It should be noted that this is an ideal situation, and in my experience, not a common one.
Unfortunately, my experience is that vocational rehab doesn't often lead to job training or education. Instead, it often results in the injured worker meeting with the vocational rehab professional every couple of weeks and applying for jobs within their work restrictions or within 50 miles of where they live – whether they like the job or not.
Alternatively, some employers and insurance companies may not be forthcoming that this benefit is available. As with medical expenses and lost wages compensation, any vocational rehabilitation services are paid for by workers' compensation, and they come at a cost.
In this guide, I provide answers to some of the most common questions I hear about workers' comp vocational rehab to assist you as you recover from your work injury or illness and plan for your return to the workforce.
Our experienced workers' comp team has been helping injured workers for 25+ years, and we know the ins-and-out of the vocational rehabilitation process. For a free professional opinion on your workers' comp case, please call the Law Offices of James Scott Farrin today at 1-866-900-7078.
How the Need for Vocational Rehabilitation Is Determined
N.C. workers' compensation law states that to determine what vocational rehabilitation services may be needed, there should be a vocational assessment and an individualized written vocational rehabilitation plan for the injured worker. These two key elements should be provided by a qualified vocational rehabilitation professional, who is generally chosen by the employer.
Your employer and their insurer are protecting their interests, not yours. If they can require that you attend vocational rehab and you are hired by another employer through the process, they can generally stop your weekly checks, and your case value decreases.
An experienced workers' comp attorney helps you try to make the most of vocational rehab services by:
ensuring that the insurer follows the correct process
attending the initial meeting between you and the vocational rehab professional
facilitating straightforward communication between all involved parties
reviewing proposed employment opportunities for suitability
Don't leave things to chance. If you have questions about your workers' comp claim, I urge you to get a free case evaluation right away.
What Is a Vocational Assessment?
A vocational assessment is a description of the injured worker's possible need for and expected benefits from job rehabilitation services. It is designed to help all parties determine the employee's employment potential.
When preparing the assessment, the vocational rehab professional generally interviews you and takes into consideration your:
medical condition and injury
limitations and capacity to do physical work
job situation and employment potential
expectations and requests for training
work qualifications, including skills and education
What Is a Vocational Rehabilitation Plan?
A vocational rehabilitation plan is an individualized, written plan which includes recommendations for vocational services.
Vocation rehabilitation services in North Carolina may include, but are not limited to, the following:
vocational assessment
vocational evaluation and exploration
sheltered workshop or community-supported employment training
job counseling
job analysis, job modification, and job development and placement
labor market survey
vocational or psychometric testing
analysis of transferable skills
work adjustment counseling
job-seeking skills training
on‑the‑job training
training or education through North Carolina community college or university systems
Vocational rehab can be complicated, but our experienced workers' comp team can help you navigate the process.
Who Requests Vocational Rehab and When Does It Start in N.C.?
In North Carolina, your employer or you can request vocational rehabilitation services.
Your employer or their insurance company may request an assessment of your vocational potential and an individualized written rehabilitation plan at any point during your claim, regardless of whether you have reached maximum medical improvement (MMI) yet.

If your employer or their insurance company requests vocational rehabilitation, you must comply or your weekly checks may stop.

You may request vocational rehabilitation services if you have not returned to work in any capacity or have returned but are earning less than 75% of your pre-injury wage. Vocational rehabilitation services, such as education and retraining, can begin after completion of your vocational assessment and rehabilitation plan.

If you request vocational rehabilitation, your employer or their insurance company may or may not choose to provide it. The only way to force them to provide services is to go through the hearing process, which can be lengthy.
How Vocational Rehab Can Help a Worker Return to Work
Vocational rehab professionals work with injured workers to seek suitable employment.
The N.C. Workers' Comp Act instructs vocational rehab professionals to prioritize returning injured employees to suitable employment with their current employers. However, if this cannot be accommodated, the focus turns to returning employees to the workforce through suitable employment with new employers.
Formal education or vocational counseling and training may also be provided to prepare employees who are switching employers or professions for their new work situations
Possible Downsides to Vocational Rehab
The process may not be right for you if your vocational rehab professional is:
not helping you obtain necessary skills
requiring you to apply for jobs that have already been filled
requiring you to apply for jobs that are not appropriate for your skill level and physical restrictions
requiring you to apply for jobs that you have no interest in performing
If this describes your situation, you should consult with your workers' comp attorney about how to appeal to the North Carolina Industrial Commission (NCIC) for a new vocational rehabilitation counselor. It may also be time to start the process of trying to settle your workers' compensation case.
The possible downsides to vocational rehab are greater than just being a waste of time. Utilizing vocational rehabilitation in your workers' comp case could place you at risk of losing your workers' comp benefits if you do not comply with the vocational rehabilitation plan.
Be proactive by bringing your lawyer to meet with the vocational rehab professional at the beginning of the planning process. We'll try to ensure that your vocational rehabilitation plan benefits you and is one that you want to follow, so you'll never be in danger of your workers' comp benefits being suspended for not following it.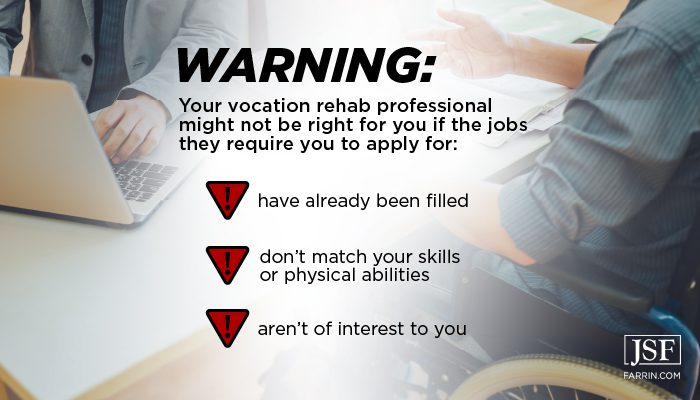 How a James Scott Farrin Attorney Can Significantly Increase Your Odds of Success
We can help you take control of your workers' comp case by:
handling the insurance company
answering your questions, managing all case details, and ensuring no missed deadlines
collecting medical records and other evidence
pursuing full wage loss benefits and payment for medical treatment and, if needed, vocational rehabilitation and the highest possible lump sum settlement
putting you first every step of the way
Several of our workers' comp attorneys have worked for insurance companies in the past and now use this inside knowledge to represent injured workers and help them with their workers' compensation cases. We also have several North Carolina State Bar Board Certified Specialists in workers' compensation law on our team — a designation that less than 1% of the 32,000+ attorneys licensed to practice in N.C. can claim.3
If you need assistance pursuing vocational rehab or other workers' comp benefits, we can help. And because we work on a contingency fee basis, you won't pay any attorney's fee unless we recover for you. Guaranteed.2
For a free case evaluation, contact us online or give us a call today at 1-866-900-7078.
FREQUENTLY ASKED QUESTIONS