The coronavirus (COVID-19) pandemic has ground much of the country to a halt. To help ease the financial strain, the government has passed a stimulus bill, called the Coronavirus Aid, Relief, and Economic Security Act, or CARES Act. Under this Act, adults that qualify will receive a one-time $1,200 stimulus check, though some could receive less. For every qualifying child under age 16, the payment will increase by $500, according to this FAQ published by the New York Times.
What Scams to Watch For: COVID-19 Stimulus Check Fraud
This mass distribution of money creates the potential for fraud, and there are already some cases being reported. The confusion over how and when the checks will be issued has not helped. According to a recent article from Forbes, here are some ways fraudsters are taking advantage of people:
SCAM #1: Someone contacts you via phone, email, social media, or text message and suggests that you might qualify for a special COVID-19 government grant and that it's necessary to first verify your identity and process your request.
TRUTH: They're trying to steal your identity. There is no such grant. Do NOT give out any private information, such as your Social Security Number or bank account number.
SCAM #2: Someone contacts you and claims that you can get more money from the government, or get your stimulus check faster. They just need to verify your information and collect a "processing fee."
TRUTH: The stimulus bill offers a specific benefit to qualifying individuals. No one can get you more money from the government, and no one can give it to you sooner.
SCAM #3: Someone claiming to be the IRS calls you to verify your direct deposit details so that you can receive your stimulus check.
TRUTH: While it is true that the IRS will direct deposit your stimulus check into a direct deposit account associated with your tax return (or cut you a paper check), they will NOT call you to confirm those details. Anyone who claims to be the IRS on the phone asking for your financial information is a scammer.
Stimulus Check Facts from the Federal Trade Commission (FTC)
To further clarify for the public what to expect and not to expect, FTC Associate Director in the Division of Consumer and Business Education, Jennifer Leach, published a blog on the FTC's website. In it, she clarified some key points to help consumers spot and avoid fraud:
The government will not ask you to pay up front to get your stimulus check.
The government will not contact you to ask for your Social Security Number, bank account number, or credit card number.
As of March 30, checks have not yet been issued. Any check you may have received thus far is bogus. If it requires you to verify information online or by other means before you can cash or deposit it, it's definitely fake.
You cannot do anything to receive your check sooner. It will come when it comes.
Leach further notes that, no matter what form it takes, or when it takes effect, anyone asking you to pay to receive your stimulus is a scammer. You can report scams to the FTC if you encounter one, and learn about known scams related to the COVID-19 outbreak and how to avoid them.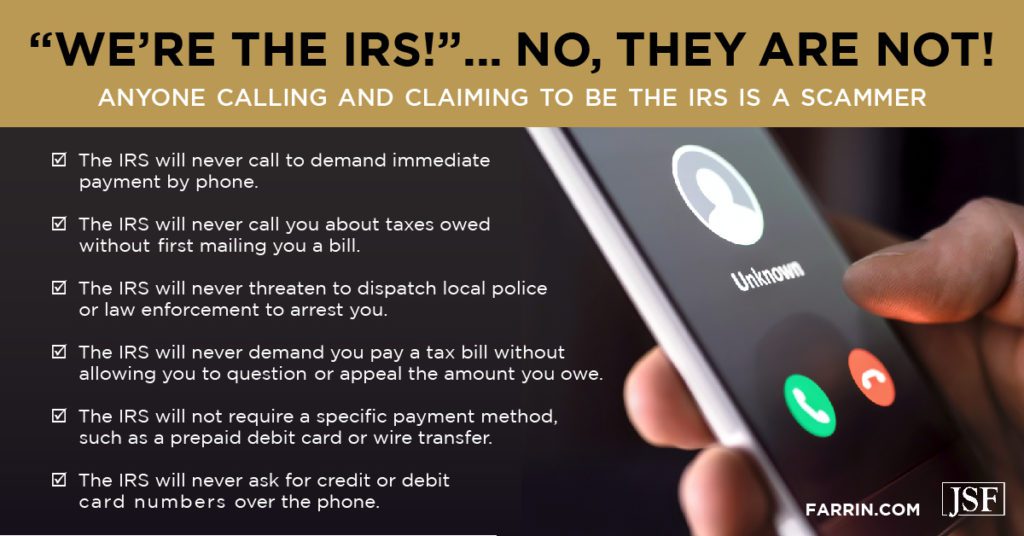 "We're the IRS!"
No, they aren't. Anyone calling and claiming to be the IRS is a scammer, whether they're talking about the stimulus check or not. Here's a checklist, in case you're wondering whether that "IRS" call is legitimate. When in doubt, it's likely a scam!
The IRS will never call you to demand immediate payment by phone.
The IRS will never call you about taxes owed without first mailing you a bill.
The IRS will never threaten to dispatch local police or law enforcement to arrest you.
The IRS will never demand you pay a tax bill without allowing you to question or appeal the amount you owe.
The IRS will not require a specific payment method, such as a prepaid debit card or wire transfer.
The IRS will never ask for credit or debit card numbers over the phone.
Businesses Are Also Getting Scammed
Fraudsters look for any opportunity to siphon funds off of the unwary. Businesses, especially small businesses, are vulnerable to a few methods.
These are often perpetrated by robocalls – auto-dialed recorded messages that listen for responses from the victim. Some of these robocalls may make claims about the availability of special funds or loans for businesses for COVID-19 relief if the business will verify or enter some private information, pay a fee, and so on. Some may attempt to convince the business that they have some sort of online listing that is pending verification, and will again attempt to gain access to private information.
These calls often use scare tactics and high-pressure scripts to make people react out of fear. If you think you've fallen victim to a coronavirus or COVID-19 scam, we encourage you to contact law enforcement immediately.
What to Do If You Are Contacted by a Scammer
First and foremost, do not give them any information. In fact, it's best just to hang up if you accidentally answer. Do not say anything. Just hang up or end the call. Don't engage them in any way, even to tell them you're onto them.
If you receive text messages, do not respond, and under no circumstances should you click any links they may contain. Delete these texts immediately.
Emails are another common method, and they do not always come directly from scammers. Well-meaning people who believe they're helpfully sharing information – via email or social media – can contribute to the spread of fraud. Do not click links in those emails or forward them to anyone. Delete them.
In addition to reporting scams to the FTC, you can report them to the Better Business Bureau (BBB), the Federal Communications Commission (FCC) or check out their scam alert page.
Stay Safe From COVID-19 and the Scammers Looking to Make a Buck
The Law Offices of James Scott Farrin continue to work for our clients and accept cases during this crisis, although how we serve you has changed a bit. Fraud of this kind falls outside of our legal expertise, but we are putting this information out because our community's health and safety are important to us. Don't let yourself or others fall victim of stimulus check fraud. Please share this post with everyone you know, as it may prevent a scammer from succeeding.
And if you or someone you know has been hurt through no fault of their own, the HurtLine is always open at 1-866-900-7078, or you can contact us online for a free consultation. We're ready to help you.